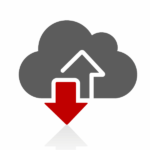 Cloud storage is a model where the digital data is stored in logical pools and the physical storage spans multiple servers and locations. Most companies deploy a hybrid data storage infrastructure combining traditional self-managed and cloud storage providers managed data repositories. 10Fold Communications has a team of Storage media specialists and proudly represents the following companies in this high-tech space
---
Present Clients
Headquartered in Poway, California, Apricorn provides hardware-based 256-bit encrypted external storage products to companies and organizations that require high-level protection systems. All Apricorn Aegis drives are encrypted and authenticated exclusively by its own onboard keypad and internal hardware where there is never any software involvement in the security parameters, establishing Apricorn technology as the standard for data security. <Read More>
---
 Based in San Mateo, California, Cloudian is the leader in enterprise object storage systems. The company turns information into insight with an infinitely scalable platform that consolidates, manages and protects enterprise data. Cloudian Enterprise Object Storage brings cloud technology and economics to the data center with uncompromising data durability, intuitive management tools and the industry's most compatible S3 API. Cloudian and its ecosystem partners help Global 1000 customers simplify unstructured data management today, while preparing for the data demands of AI and machine learning tomorrow. <Read More>
---

CloudVelox is the first company to automate key discovery, blueprinting, provisioning and synchronization processes that enable hybrid cloud operating models for physical and virtual workloads, including pilot light DR, cloud migration and cloud Dev/Test. Critical network and security services are extended into the cloud with a high level of automation to enhance security and compliance. Data in motion and at rest are secured. Customers report substantial increases in agility and reductions in capital and operating expenses. www.cloudvelox.com  

 @CloudVelox
---
 Panasas is the performance scale-out NAS leader for unstructured data, driving industry and research innovation by accelerating workflows and simplifying data management. ActiveStor® appliances leverage the patented PanFS® storage operating system and DirectFlow® protocol to deliver performance and reliability at scale from an appliance that is both easy to manage and deploy. The firms storage is optimized for the most demanding workloads in fields ranging from life sciences, media and entertainment to energy, government as well as education opportunities, and has been deployed in more than 50 countries worldwide.
---

 Portworx creates software-defined infrastructure for containerized applications. Portworx PWX enables the rapid deployment of stateful, distributed applications into production. With PWX, applications can be scaled rapidly without IT intervention. DevOps can provision storage to containers in an automated and container-centric way. This eliminates infrastructure tweaking and custom script writing that delay production deployment and scaling. Portworx solutions allow companies to become more agile and deliver innovation faster by bridging the worlds of enterprise application development, delivery, and production with the emerging containerized toolchain and DevOps culture. Portworx has a founding team that previously created the storage optimization company Ocarina Networks, acquired by Dell in 2010, and the team includes veterans from a range of enterprise vendors, including F5, Citrix, and Microsoft. <Read More>
---
The Workboard SaaS Solution transforms an antiquated approach to strategy alignment and progression into a dynamic, data-driven practice augmented by analytics and intelligence. It helps organization iterate, measure and achieve their strategy at market speed.
---
Past Clients

Exablox is the company re-imagining storage. Exablox solves businesses' runaway storage costs and information management nightmares by providing a scale-out cloud-based management solution that is both affordable and easy to use. OneBlox is an inclusive storage offering that combines an elegant hardware architecture and integrated, enterprise-grade software, including continuous data protection, inline deduplication and disaster recovery. Founded in 2010, Exablox is headquartered in Sunnyvale, CA and backed by leading Silicon Valley venture firms. www.exablox.com 

 @Exablox
---

eOriginal, Inc., founded in 1996, is the standard for eAsset® Management services for any business that needs the ability to verify secure, legally compliant and enforceable electronic asset documentation. eOriginal provides the maintenance, control and use of critical documents that have an intrinsic value, such as negotiable instruments, in a fully electronic environment, storing and protecting these assets throughout their entire lifecycle, including post signature execution. By maintaining the authenticity of original documents, the identity of the signatories, and the integrity of the content, eOriginal provides customers with the capability to realize the true benefits of fully electronic transactions and the resulting business process improvements. www.eoriginal.com 

 @eOriginal
---

IronKey solutions meet the challenge of protecting today's mobile workforce, featuring secure USB solutions for data transport and mobile workspaces. The IronKey line includes the world's leading hardware encrypted USB drives, PC on a Stick™ workspaces for Windows To Go, and cloud-based or on-premise centralized secure device management solutions. IronKey is the mobile security portfolio of Imation Corp. www.ironkey.com 

 @IronKeySecurity
---

Violin Memory transforms the speed of business with high performance, always available, low cost management of critical business information and applications. Violin's All-Flash optimized solutions accelerate breakthrough CAPEX and OPEX savings for building the next generation data center. Violin's Flash Fabric Architecture (FFA) speeds data delivery with chip-to-chassis performance optimization that achieves lower consistent latency and cost per transaction for Cloud, Enterprise and Virtualized mission-critical applications. Violin's All-Flash Arrays and Appliances, and enterprise data management software solutions enhance agility and mobility while revolutionizing datacenter economics. www.violin-memory.com 

 @ViolinMemory
---