Led by Ross Perich, a former award-winning television anchor and producer for CBS, NBC, and Fox affiliates, 10Fold develops creative video and animation to tell your story. We've invested in the filming and production equipment to deliver turn-key video and animation that supports your business.
Promotion Studios – We deliver award-winning productions that include customer testimonial videos, product launch demos, corporate overview and company culture videos, user conference keynote productions, man-on-the-street opinion videos, and entertaining animations to both educate and engage audiences.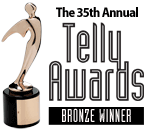 Awards – 10Fold has won many national awards, including the 2014 PR Daily Video Awards, 2014 and 2012 VEMA Award, 2014 and 2012 Telly Award, 2013 Hermes Award, the 2013 AVA Award, 2012 Bulldog Award and 2012 Platinum Audio Visual Award. Check out some of the video production work we have completed for innovative technology companies that saw video as a way to solve a business challenge or communicate an effective story to their key audiences.
---
Customer References:
CallidusCloud – Corporate Video

10

Fold
has developed award-winning whiteboard-style animation videos for this leading provider of sales and marketing effectiveness software, as well as this keynote production at CallidusCloud's 2014 worldwide user conference in Las Vegas.
---
[24]7 – Man on the street Video




10

Fold
has produced several videos for this big data-powered customer experience platform company, including an employee welcome video, multiple product launch CEO videos, and man-on-the-street survey videos.
---
Qylur Security Systems – Product Introduction Video

To launch this Homeland Security technology company from stealth mode,
10

Fold
produced a corporate overview and vision video that played on the big screen at Lincoln Center in New York City. This production won numerous national awards and has also been featured on many media properties to drive web traffic, including The Huffington Post.
---
CA Technologies / Nimsoft – Animation

Besides producing several customer testimonial videos for this IT monitoring solutions leader, 
10

Fold
was also the mastermind behind a nationally acclaimed thought leadership and animation video that accompanied a global launch of Nimsoft's Modern IT campaign.
---
More Video References:
Customer Reference
10Fold Culture and Events
More Videos
ProMotion Studios Videos and Animations
More Videos
10Fold Recruitment