CHALLENGE 
10Fold developed the ForgeRock Consumer Breach Report to gain traction against noisy competitors, including public and pre-IPO companies like Okta and Ping Identity, without significant news announcements available. Additionally, 10Fold lead the project without relying on internal data or content. 
SOLUTION 
The ForgeRock Consumer Breach Report was a study that revealed security threats and trends that impacted consumers and enterprises. Among the findings were: 
Personally identifiable information (PII) is the primary target of hackers.

 

Total costs of data breaches to U.S. organizations across technology, government, healthcare, telecommunications and other industries totaled $654 billion in 2018.

 

PII is the focus of hackers as it can be used to conduct additional account takeover attacks on sensitive consumer accounts, such as financial services and healthcare accounts.

PII can also be used to conduct highly targeted phishing attacks and be sold on the dark web, among other malicious activities.

 
To conduct this report, 10Fold partnered with ForgeRock to create data-focused, pitchable assets for ForgeRock's public relations team and a valuable, attention-grabbing marketing asset for lead generation. In addition, the report would reinforce key ForgeRock messages that businesses must adopt identity and access management (IAM) tools to protect users' PII from hackers, and use behavioral analytics and context to prevent fraudulent activity on users' accounts and more.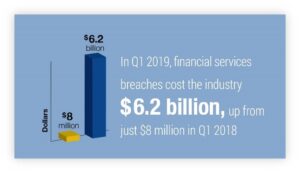 10Fold conducted significant secondary research by analyzing over 1,200 reported data breaches in 2018 across all industries, as well as data breaches through Q1 2019 to compare against Q1 2018 and track possible data breach trends in 2019. To differentiate ForgeRock's report from other industry studies, 10Fold only included data breaches in the report that had a known number of individuals or records affected, data breaches against U.S. organizations, and non-paper-related breaches meaning any digital breach that occurred due to unauthorized access, misconfigured databases, API flaws, malware attacks or human error. 
The findings of the report validated the hypothesis: that hackers primarily aim to steal PII and more than 2.8 billion consumer data records were compromised in 2018 alone at an estimated cost of more than $654 billion to affected organizations.  
RESULTS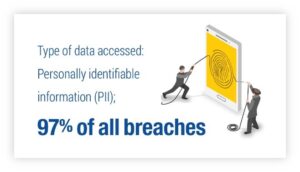 10Fold announced the findings of the report via a press release and targeted healthcare, cybersecurity and financial trade as well as some business publications in preliminary outreach. To date, 10Fold has secured 24 pieces of coverage (and counting) in publications such as SD Times, Solutions Review, Dark Reading, TechRepublic and Beta News. The breach report also led to a 71% increase in page time spend on ForgeRock's website, along with a 200% increase in asset views. Four months after the campaign launched, the breach report remains the most visited asset on ForgeRock's website. 
Between July-December 2018, ForgeRock only had 42 pieces of earned coverage that translated to a 7.7% share of voice (SOV) when compared to editorial coverage of competitors Auth0, Okta, OneLogin and Ping Identity, not including financials. From January-June 2019, ForgeRock increased its coverage to 95 total pieces of coverage, an increase of over 126% compared to the second half of 2018. As a result, ForgeRock's SOV also increased to 18% among its competitors, representing a greater than 133% increase of the company's SOV over July-December 2018.