From the Enterprise Team, Stefanie spoke with Caitlin Haskins, account director, Ross Perich, Vice President of Enterprise Practice, Meghan Brown, senior account manager and Kathleen See, senior account executive.
Tell us about the Enterprise Team.
Caitlin
The enterprise team supports a ton of SaaS products, plus data. We're in this incredible space right now where data is driving everything. So, we focus on what insights companies can provide to their customers that deliver some kind of "light bulb moment."
We primarily work for brilliant software engineers who need help getting to the heart of the value they provide. There's so much investment being poured into this space right now — we've seen clients go from a team of 50 to over 200 — and we all get a charge out of helping them get the attention they deserve.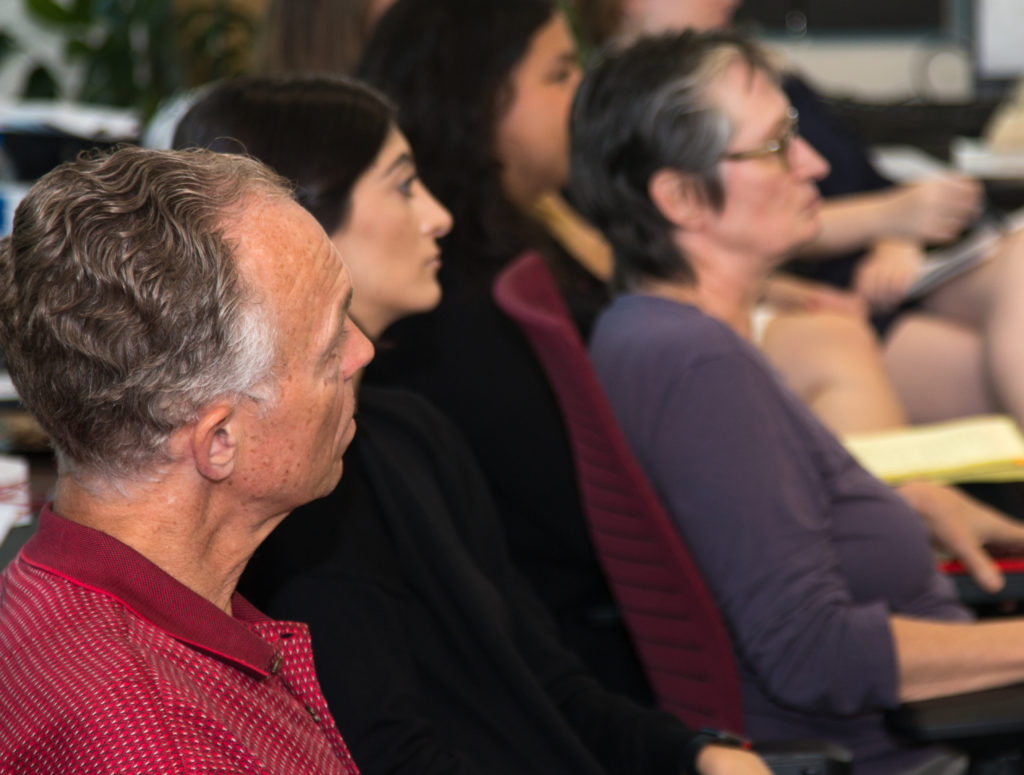 How do you work together on this team and with your clients?
Ross
Our clients are people with similar problems and challenges in the workplace. It's our job to help make their lives easier, solve problems for them, and develop ongoing relationships that will last beyond our current engagements. . Just like us, they all have lives outside of their careers. It's important to get to know them as people, develop those relationships that will extend however long they're a 10fold client. It's not just a client looking for a press release or looking for a strategic campaign. They are passionate professionals who take great pride in their work and careers and they're also "everyday folks" with families and lives. We take time to connect with them at that level.
Meghan
In my day-to-day, I feel like I am more directly responsible for the success of the team members that report to me and rely on me for account needs. I enjoy having the direct responsibility and building out very customized training and gap analysis for the people I manage. For the clients, the focus on metrics is very different. It's changed me in the way I make decisions and propose things to clients. Everything is very quantifiable with respect to the business objective. And it's made me a clearer communicator.
Are there things that make 10Fold different from other places you've worked?
Caitlin
One big difference is that we actually share information. I find I'm routinely sending a question over the fence to another practice group and saying, "Hey! Have you spoken to this guy? How do you win with him?" We have these quick brainstorms where we're throwing out tips and recommendations. That's incredibly valuable.
Every company I've ever worked at says, "We want to hear your ideas." But after your first day, they're like, "Oh, we don't care anymore. Now you need to switch to all of our processes." Not here. Just yesterday I was meeting with all the account managers to work through a list of common challenges. A lot of the solutions we came up with focused on more collaboration and communication. Part of our DNA is sharing ideas, sharing wisdom, and working together to help people grow. We're all about high-performing teams, not high-performing individuals.
Meghan
What's unique about 10fold is the way the company embraces everybody's uniqueness and strengths. There are a lot of agencies that want their teams to conform to a certain culture and spirit. I think the way that 10Fold embraces everybody's differences truly sets it apart. People are encouraged to be open, and we meet people's individual strengths, instead of asking employees to conform within a set of parameters.
Ross
"Teamwork" is one of our cultural cornerstones, and that's more than lip service. It's not like in huge companies where employees have been known to withhold information from colleagues in an effort to get ahead and climb the corporate ladder. That is so not us. Those people won't be successful here.
"We're all about high-performing teams, not high-performing individuals."
Caitlin Haskins
Director
Are there other things that would help someone succeed here, or that might not make them the right fit for this team?
Ross
We're a services business where quality people make the magic happen. There's no one out for their own agenda — we all win together. When you go to battle with your teammates whether in sports or at work, a key success factor is when everyone has each other's back. At 10Fold, we all stand side by side locking arms with one another, and we deliver big time for our clients as a result.
We empower everyone to be leaders, controllers of their own accounts, their own programs, their own revenue. We give people a great sense of ownership in every facet of their job. That's what's make us unique — everyone shares that same DNA.
Especially when you started, was there something that was particularly challenging about this job?

Kathleen
Because I work on larger accounts than I have in prior roles, there's greater diversity in what I work on. Working on larger accounts, I get to go a lot deeper. For example, in previous roles, I was just scheduling analyst calls as part of my analyst relations job. But at 10Fold, I also prioritize analysts and figure out which ones would be the best fit for my clients. Now I'm the one driving that decision and that conversation. And that's been really fun.
Honestly, I have learned so much in just one year — everything from the diversity of the technology that's available to people and that no one realizes exists, as well as how to be a better communicator within your teams and be a better asset for your clients.
How does leadership interact with the rest of the team here?
Kathleen
It's a very open and transparent workplace when it comes down to what makes the business tick. Susan and the leadership are very open about what their goals are for the business and what they need to do to get there and how you fit into that role.
Also, very few agencies are willing to have the upper management put their neck on the line, so you can learn something and grow. In a lot of larger agencies, it's kind of every man for himself — you don't necessarily have a very cohesive work environment. Here either everybody wins, or nobody wins. There's no finger pointing. As Ross says, nobody wins unless we're all winning.
Caitlin
What you see in a lot of companies is VPs being absent. You're not quite sure what they do; you don't actually see them in the office. The thing that I figured out very quickly from my conversations with Ross and others is that they work more than I do. In fact I can prove it — I can pull their hours. I'm like, "Damn it, they beat me again!" It's not a competition of who works the most, but it's incredibly motivating to know that your leaders are bought in.
You also don't have Susan or Angela introducing themselves to you five times when you come on board — because our interview process starts with the leadership. Usually it's the other way around, where the screening is done by people lower down the totem pole. That's something different about 10Fold: From the very beginning of the interview process, we want it to be reflective of how you'll be treated the rest of the time you work here.
Interested in Learning More About Our Enterprise Expertise?