Culture
10Fold Celebrates More than Two Decades of Creating Star Power for B2B Tech Brands
Our own Stefanie Hoffman, former tech reporter, talks to the 10Fold team to determine what makes the agency work so well. To learn more about the 10Fold experience, Stefanie spoke with Susan Thomas, our CEO.
What does 10Fold do?
We help B2B tech companies build their brands with communications services (such as media, analyst, and influencer relations) and content services (such as video, written, and social).  We focus on "deep tech" B2B companies that sell products and services to a developer team, to the CIO or others in the data center, or to telecom operators. Our goal is to build brand awareness by giving these difficult to understand companies "a voice."  Although often not intuitive to understand, the 10Fold team knows that the entrepreneurs and innovators that are developing deep tech solutions are the foundation of the technology industry and their work will literally change the way we all live and work.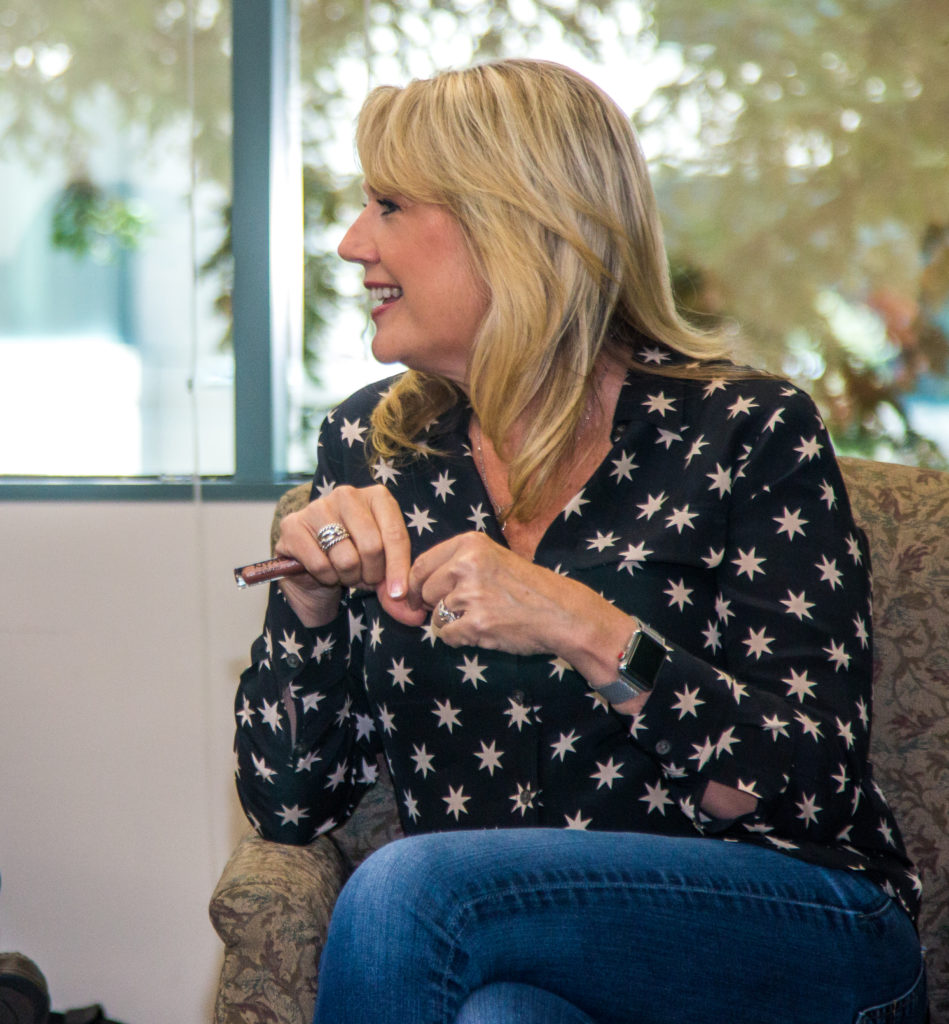 What makes 10Fold different from other PR agencies?
First, we have a dedicated focus around specific domains. Team members can develop a specialty in technologies such as security, enterprise or big data technologies, which in turn, helps them build their careers. We're essentially immersing our employees in a technology that helps them learn faster, while building confidence and credibility with their clients.
Also, our metrics matter system is another major differentiator. Clients can tailor their own KPIs to meet their specific business needs and company vision. And our teams are held accountable to those metrics. We take a very measured approach with clearly defined ROI. Marketing these days is more metrics-driven than ever before, and communications programs are following suit. I pioneered this system 20 years ago, and have seen it grow and evolve since then.  While the metrics have changed over the years, the principles behind our method have remained the same — if something can be measured, we want to keep doing that.
Ultimately, this illustrates our value more clearly to clients. By outlining our methodology, we develop stronger relationships with clients based on trust. It really is a no brainer for them — and it may be why we've had six-time repeat clients.
And finally, our external trainings and team offsites are also something that I haven't seen in any other agency. I've spent tens of thousands of dollars on outside experts and training with outside experts. Most agencies generally conduct training with internal staff (frequently done in a brown-bag lunch style).  I feel a large outside investment helps make each individual team member and the agency as a whole, better.
Tell us about some of your clients.
I know that's something people get excited about.
Clients are something we're passionate about. We work with B2B companies that are typically the foundation – the infrastructure and development solutions companies build their applications and data centers around.    While this may not sound sexy initially, we have some extremely interesting clients – for example we have a drone company that is facilitating information collection in rural and industrial areas – which saves money and sometimes increases safety.  We also have a big data account focused on medical records and billing practices. The amount of data they crunch is helping to optimize treatments and insurance payments for those treatments. We have companies that facilitate data collection and transmission from the edge of IIoT environments – helping businesses to gather important insights about the health of a machine or even a power line (which can save lives as well as money).  We have a few companies in the driver-assist and driverless car industry. And 10Fold is known for its clients in the cybersecurity market (fighting the bad guys never gets old). Finally, we have a really edgy AI development company focused on very interesting geo-based applications.
Although we are often known for our clients that are up-and-coming Wall Street darlings, we also  represent major public companies that include (or have included) Brocade, Itron, Vodafone, and Comcast. We've also helped companies like AppDynamics and Nimble Storage achieve some of the largest exits on record.
How did the company start?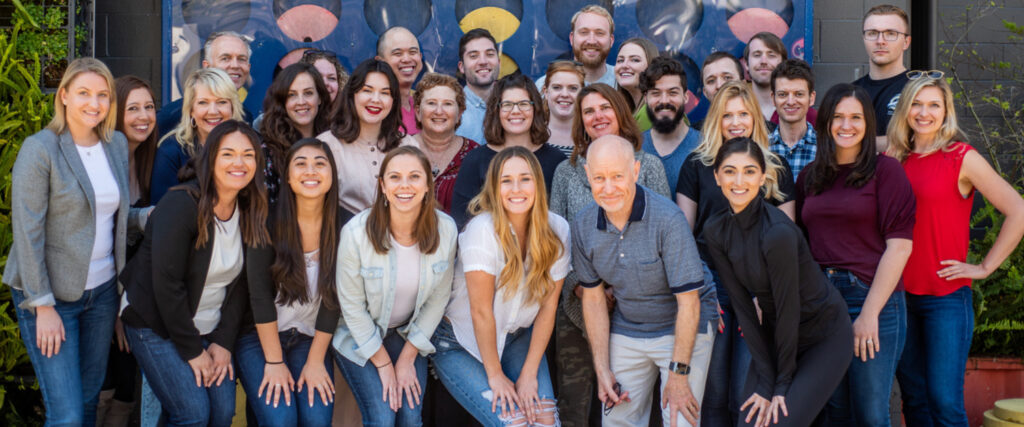 It's been an amazing journey for me as the founder and CEO of 10Fold.
I had left a secure and awesome PR job at Sybase to join a small agency located in my home town. However, that ended abruptly when I told the founder I was pregnant. I had a choice: I was interviewing for a PR manager job at IBM, which would be more of the same and an even longer commute. Or, I could do some consulting work for some of my former Sybase colleagues. At the time I was raising two stepdaughters, I had an infant, and was pregnant. Former colleagues convinced me that a consulting gig would work perfectly for my situation – and that evolved into what is now 10Fold.
And the company blossomed.  Before I had my second son, I had five clients and three contractors working for me. Within six months of starting my consulting gig, I had what amounted to a boutique agency with six clients and three contractors.
Since its inception, the company has grown tremendously – we're now in the top 9 percent of all B2B tech agencies with six offices!
So, How Did You Get There?
Stubbornness. And really hard work. While it's not typical for a young woman in her 20s to start an agency and grow it the way 10Fold has grown, I felt I had the freedom to ignore the parts of the agency business that I didn't care for.  It was hard work, but it was, and is, my passion. Like the old Sinatra song goes, I did it my way. I disregarded a lot of industry best practices. I didn't use a retainer-based method of billing. When I started the company everyone worked out of some remote location, not traditional offices, which at the time was almost never done. I forecasted results, which drove competitors crazy. And I wasn't a traditional founder that expected simply to be one step removed from the clients — I was incredibly involved.
Today, our agency and the business climate has changed, and I've evolved our business model with the changes.   For example, now I have six offices in popular regions — Denver, Austin, Orange County, San Diego, the East Bay as well as a headquarters in San Francisco   — rather than having everyone work from home. A few still do work from their homes, because I try never to pass up an opportunity to hire great talent – irrespective of where they live.
One thing is for sure — we don't do it just because it's the way everyone else does it. Sometimes we do the exact opposite for that very reason.  One thing I believe our staff likes best is that everyone knows we will change the model if it makes sense – no matter who comes up with the idea.
The journey hasn't always been easy. As we've made big business changes, we've had to go through some painful reinvention. But through it all, we've managed consistent growth in a challenging business climate, in addition to my own battle with cancer.
The one thing that has been constant is that we remain a high integrity firm. Our mission is always to help, and our team is entirely about growth – both personal and professional. We deliberately hire very curious people that are passionate about learning, specifically about innovative technology, that can disrupt an entire industry.
We've actually branded our culture TAFFI — T for Teamwork, A for Accountability, F for Fascinated, F for Fun, and I for Integrity, which has been our mantra and our code of conduct for everything we do here. When we assess candidates, we assess them against that set of core values. We put a jar of taffy in every office with our values printed on the jar as a reminder for our team and our guests.
Teamwork
When I look at a traditional agency model, I could see barriers and walls existing between geographies and a sense of competition rather than collaboration. Because we organize around technology domains, you may sit in the Denver office, but you might work with someone from San Francisco, San Diego or Austin.  We find this model breaks down business silos and encourages collaboration.
Fascinated
Our teammates are fascinated. Meaning, they are really curious about technology, our clients, how they got to where they are, where they are going, why they will be successful, and how they stand out against the competition. But being fascinated doesn't stop with curiosity about our clients and their technology. 10Folders tend to be inquisitive, life-long learners, hungry for knowledge and what's next.
Accountability
For us, accountability means doing the right thing even when it isn't convenient. We're so committed to accountability that we use an agency scorecard to track the most important metric associated with our work on a weekly basis.  Everyone in the office participates – even me. Anyone on the team can see anyone else's number and get a sense for how we are doing as an agency. I find people appreciate that transparency.
Fun
We all know PR people are fun, so we make it a point to tap into that as much as we can! Whether it's staying in for wine-thirty or going out for happy hour, we know the value of keeping things loose in the office, from top to bottom. Our philosophy is work hard, play hard!
Integrity
In our case, integrity means doing the right thing, and always keeping promises. Sometimes that's inconvenient or costly, but we always find behaving from a place of integrity wins way more friends than enemies. It's one of the keys to our tremendous client sat and repeat customer record.
Are there things you're looking for in a team member that might be different from other PR firms?
Well, yes.  They have to be a bit of a geek.  The kind of people we're looking for have a passion for deep technology and are fascinated by the way it is applied. . They're not afraid of the hard work involved in getting up to speed, collaborating with others in distributed teams,  or keeping their promises. What's more, this person is really wants to learn.
We also work with a very diverse set of people. It's hard to find a group of really similar people in our team – which makes us think and act differently than other agencies.Because we embrace different ways of thinking, it makes us better.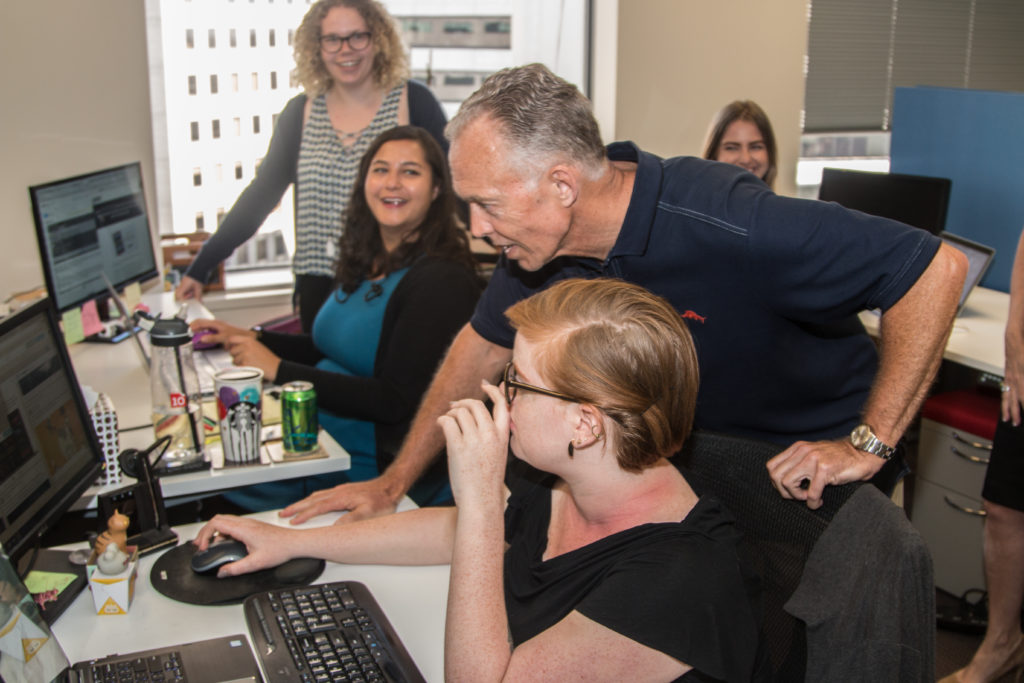 How Have You Built Such a Close-Knit Team?
One way is through daily Huddles. We have "Meet the Editor Mondays," "Tip Tuesdays," "Get to Know You Wednesdays," "Thoughtful Thursdays" and "TAFFI Fridays."
We emphasize collaboration and teamwork and encourage people who have the same title to work together to solve common problems through conference calls, team offsites and events. Even in the work environment, we purposefully have areas where people can sit and hang out with each other.  
And for team members, leaving doesn't mean goodbye. We are in regular contact with people who have left, many of them contract for us or are still in touch in some capacity.  Leaving doesn't mean leaving badly.
---