10Fold Communicates 'Deep Tech' for B2B Stars

10 Fold commissioned this story from Job Portraits, which highlights job openings at Bay Area companies. Usually spread across three offices, the whole team cozied up for the day at 10Fold's 30th-floor San Francisco office, overlooking Market and Montgomery. The conversation began with 10Fold CEO Susan Thomas.
How does 10Fold make the world a better place?
Susan: We provide PR and content services for B2B infrastructure companies, or what we call "deep technology." By giving a voice to the entrepreneurs and innovators in that space, we help create interest and demand for solutions that change the way we live and work.
What makes 10Fold different from other PR agencies?
Susan: First is our focus around domains. We have people who just focus on storage technologies, or big data technologies, or security technologies. That's a differentiator because, when you are working across three or four accounts, especially if the technology is complex, it can be a full-time job just getting up to speed. Without that understanding, PR people are not valued at the level that they could be or should be. Because we have that expertise, we are able to have more impact.
Another differentiator is that we are very metrics-driven. Our clients have their own KPIs, so when they see we're on board with their KPIs and there to support them, it makes everything better.
Tell us about some of your clients. I know that's something people get excited about.
Susan: Sometimes it's better to be lucky than good — we try to be both. We have been introduced to some amazing companies; we've also worked hard and had some amazing successes. Our successes include many Wall Street darlings. You can trace this success back to the late '90s, when we helped Brocade IPO. We were fortunate to have launched big stand-outs like Nimble Storage, and we are now involved with hugely successful companies like AppDynamics, Sumo Logic, and ForgeRock.
How did the company start?
Susan: The company started 23 years ago in my bedroom. I'm very passionate about PR and when I find something I love, I really get behind it.
Talk a little bit about how you thought about growing the team beyond that bedroom office.
Susan: First and foremost it's important we hire very curious people that are passionate about learning, specifically about innovative technology that can disrupt an entire industry.
As for the type of people we hire — we've actually branded our culture TAFI (spelled the unconventional way): T for Teamwork, A for Accountability, F for Fun, and I for Integrity. When we assess candidates, we assess them against that set of values. And when someone joins the team, they get a jar of taffy on their first day.
Teamwork
I think some agencies, especially bigger ones, create a sense of a competition between teammates. That's just not the case here. Everybody helps each other out and when someone wins, we all benefit. We even have a profit-sharing program — so we really do share everything.
Accountability
I've always liked Southwest Airline's measure of accountability: If you see a stray bag, do you pick it up? We have a "pick up the bag" mentality here. Even if it's not your job, can you do something to help a coworker or client?
Fun
It's important for us to find people that are fun to be around. People might write that off, but when you're spending as much time as we do with each other, it matters. Plus, clients want to work with fun people, too.
Integrity
Integrity is a value I've had since I was a very little girl. I was a Girl Scout, my father was a Boy Scouts leader, and my brother was an Eagle Scout, so, doing the right thing even when nobody is looking is super important to me.
Are there things you're looking for in a team member that might be different from other PR firms?
Susan: I think people that are interested in working here are probably tired of being on accounts that they don't have time to learn, and thus don't feel like they're making a big contribution. Somebody who wants to become an expert, or is already an expert, in a specific area would find a great home here.
Another difference is that we produce a lot of content that might otherwise fall under marketing. I think people are excited to see that we are writing brochure content or delivering videos.
Finally, we are flexible. We have two offices, one in the East Bay and one in San Francisco, so you can work where you want, as long as you're still doing a fantastic job.
How have you built such a close-knit team here?
Susan: I have a background in industrial organizational psychology, which means I'm hyper vigilant about creating a great work environment. For instance, I don't ask anybody to do anything that I wouldn't do myself.
"I don't ask anybody to do anything that I wouldn't do myself." –

10

Fold CEO – Susan Thomas
We are also big on communication. We use a fantastic system called The Daily Huddle, where we take ten minutes every morning before work starts to make sure everybody knows what's going on. [Pictured in the cover image.] Each day has a theme, so we have Money Monday, Tip Tuesday, and Woohoo Wednesdays to acknowledge everyone's contributions. Then we have Thoughtful Thursdays, where we look at a big topic, like the Internet of Things, and see if we can put together a story on that topic that involves several of our clients. On Friday we recognize people who have exhibited one or more characteristic of the TAFI culture.
Beyond that, we live by the motto "work hard, play hard." Each of our parties seems to outdo the last. Often we throw progressive parties where we go from one place to another, sometimes with a contest at each venue. Last year we had a private showing in the wax museum, took lots of crazy pictures, and ended with a great dinner — we always end with a great dinner.
---
Infrastructure Team
From the Infrastructure Team, we spoke with Angela Griffo, Vice President of Infrastructure Practice (left), Justin Gillespie, account manager for the storage practice (center), and Grace Nicolas, an account associate for the security practice (right).
Tell us about the Infrastructure Team.
Angela: We cover two main domains: security and storage. Security is more than a third of our overall business and both domains have been part of our business from the beginning.
I think what we pride ourselves on, particularly in security, is our ability to respond very quickly. We monitor the news almost 24 hours a day. On the data storage side, we've launched two of the biggest exits in years: Virident, which was purchased by WD for $685 million, and Nimble Storage, who we launched and worked with for three and half years through their IPO.
How does the team work together and with clients?
Grace: Security is often about rapid response. For example, the news of the Anthem breach comes in, which creates a lot of opportunities for our security clients to talk about why this happened and what enterprise companies need to do to protect themselves. We work as a team to create recommended commentary, work with our clients to finalize the comment, and then collaborate with each other to determine the best reporters to contact.
Justin: In storage we don't have as much opportunity for rapid response, so there's a lot more picking up the phone and talking to reporters. We find out what they're working on and see if we can get our clients included, or talk with an analyst to find out what they are seeing in terms of market changes.
Are you looking to add people to this this team?
Angela: Absolutely. What I'm looking for is someone who really has a thirst for tech. We're not launching PCs or mobile apps. We're talking about deep infrastructure technology that lives in the data center. It can be very complex, so you're often gathering information from an engineer and you need to be able to turn that into something that a layman can understand and that will be attractive to the press. That isn't for everybody, but if you have a thirst for domain knowledge, particularly IT security and data storage, we'll teach you what you need to be successful. You just need to have a great attitude.
Are there specific things you feel you've learned working here?
Justin: I've never worked at other agencies before, but I know more about storage than I ever imagined I would. By focusing on one domain I've gained the expertise needed to have those technical conversations with an engineer or explain a complicated concept to a savvy journalist. For example, I recently got a call about one of our clients from a business press reporter. Because of my domain expertise, I was able to get a second client interviewed for that same article.
"There's no limit to how quickly you can move up at

10

Fold as long as you're willing to put in the effort."  – Account Manager  – Justin Gillespie
Grace: I actually started at 10Fold as an intern about six months ago and worked my way up. I did not have a tech background whatsoever — I came from healthcare — so when I started, everything went over my head. Going from that to knowing as much as I do and having the confidence to work back with the clients and reporters has been a great experience.
Justin: I started as an intern, too, just over five years ago. I'd say there's no limit to how quickly you can move up at 10Fold as long as you're willing to put in the effort. The sky's the limit.
What are the differences between 10Fold and the other agencies you've had experience with?
Angela: I've worked in very large agencies and I've also worked for very small, boutique agencies. What I love about 10Fold is the ability to create your own destiny. In larger agencies you get pigeon-holed into certain activities. You can only talk to that set of press, or you only do analyst relations. The activities or even clients you get exposed to on a daily basis are limited. At 10Fold we don't have those limitations.
Then, in the very small agencies, your clients have small budgets that aren't going to have a lot of activity. To me, that's kind of boring. So, I think we're in that nice place in the middle where we attract really hot new emerging companies that have enough budget to make a difference.
Are there things that set your team apart from other teams at 10Fold?
Angela: Security moves really, really fast. If there's something that happens at 5 o'clock in the morning, that can easily take up the first six hours of the team's day. There's no other practice that has that sort of demand on it. But because of that we get more exposure to the business press and we have quick success, which keeps the team motivated.
I think someone who doesn't like a lot of change or a lot of switching responsibilities might have a difficult time here. Whereas, someone who is excited and motivated by that, I think would have a ton of success at 10Fold.
---
Enterprise Team
From the Enterprise Team, we spoke with Caitlin Haskins, the team's account manager (left), Ross Perich, Vice President of Enterprise Practice (center), and Account Associate Kayla Bongay (right).
Tell us about the Enterprise Team.
Caitlin: The enterprise team supports a ton of SaaS products, plus data. We're in this incredible space right now where data is driving everything. So we focus on what insights companies can provide to their customers that deliver some kind of light bulb moment.
We primarily work for engineers, who need help getting to the heart of the value they provide. There's so much investment being poured into this space right now — we've seen clients go from a team of 50 to over 200 — and we all get a charge out of helping them get the attention they deserve.
How do you work together on this team and with your clients?
Ross: Call me old or "classic," but there is still no substitute for face-to-face conversations. That's the beauty of our office. We're obviously on email and instant message, but at the end of the day, we're a communications company, and there is no more efficient way to advance a piece of work than to have a conversation.
"There is still no substitute for face-to-face conversations." –VP Ross Perich
In that way we're a little like a dev-ops culture where we have daily scrums or huddles and very efficient bottom-line meetings. One of our mottos is, "Fail fast." We're always open to trying something different, because anything goes in PR communications today.
Are there things that make 10Fold different from other places you've worked?
Caitlin: One big difference is that we actually share information. I find I'm routinely sending a question over the fence to another practice group and saying, "Hey! Have you spoken to this guy? How do you win with him?" We have these quick brainstorms where we're throwing out tips and recommendations. That's incredibly valuable.
Every company I've ever worked at says, "We want to hear your ideas." But after your first day, they're like, "Oh, we don't care anymore. Now you need to switch to all of our processes." Not here. Just yesterday I was meeting with all the account managers to work through a list of common challenges. A lot of the solutions we came up with focused on more collaboration and communication. Part of our DNA is sharing ideas, sharing wisdom, and working together to help people grow. We're all about high-performing teams, not high-performing individuals.
"We're all about high-performing teams, not high-performing individuals." – Account Manager  – Caitlin Haskins
Ross: That's company-wide at 10Fold, not just in our practice group. "Teamwork" is one of our cultural touchstones, and that's more than lip service. It's not like in huge companies where you purposefully withhold information from colleagues so you can get ahead. That is so not us. Those people won't be successful here.
Are there other things that would help someone succeed here, or that might not make them the right fit for this team?
Ross: People will succeed if they lean in. Like one of my coaches in Vistage says, "This isn't a spectator sport." We want people who are going to get in the game. It's a natural inclination when you first join a company to get the lay of the land before you speak up. Here, we'd rather you say something that you believe passionately than sit back. When new hires come in and embrace that, they ramp up much faster, grow, and get promoted.
Especially when you started, was there something that was particularly challenging about this job?
Kayla: I came from in-house, so it's really exciting to be on other side where I can see how everything happens. They definitely throw you in. My first week, Ross and Gary called me in to help on a pitch. But I really appreciated that; I think that has helped me grow and develop.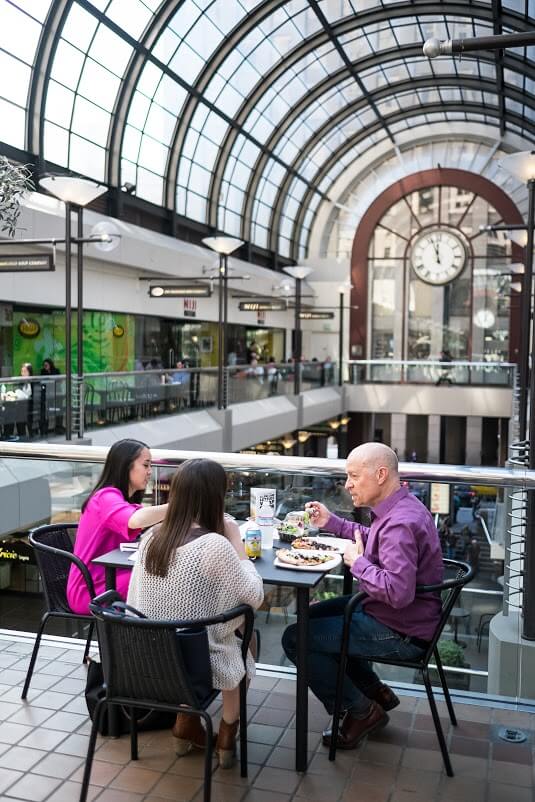 How does leadership interact with the rest of the team here?
Kayla: One of the most appealing things here is that it's not hierarchical. You're never treated differently because of your job title. I'm just as comfortable talking to another account associate as I am talking to Susan or Ross.
Caitlin: What you see in a lot of companies is VPs being absent. You're not quite sure what they do; you don't actually see them in the office. The thing that I figured out very quickly from my conversations with Ross and others is that they work more than I do. In fact I can prove it — I can pull their hours. I'm like, "Damn it, they beat me again!" It's not a competition of who works the most, but it's incredibly motivating to know that your leaders are bought in.
You also don't have Susan or Angela introducing themselves to you five times when you come on board — because our interview process starts with the leadership. Usually it's the other way around, where the screening is done by people lower down the totem pole. That's something different about 10Fold: From the very beginning of the interview process, we want it to be reflective of how you'll be treated the rest of the time you work here.
---
Big Data Team
Left to right: Account Manager Natasha Woods; Account Associate James Cameron; VP of Big Data Practice Fran Lowe, Senior Account Executive Kristina Richmann, Enterprise and Mobile Associate Aradhana Panicker, and Account Coordinator Daniel Tena. We spoke with Fran, Natasha, and Kristina.
Tell us about the Big Data Team.
Fran: It's a fantastic time to be in Big Data because business has finally grasped the concept and is starting to use it for exciting things like business intelligence, predictive analytics, and cognitive computing. We cover the spectrum from infrastructure, right through to interface with the business users and scientists. We are one of the emerging practices at 10Fold and growing very, very fast.
How do you guys work together and with clients?
Fran: A lot of our challenge is helping very technical founders tell their story in a way that's comprehensible. But it also has to have a strong technical piece, because there is always a technology decision maker, as well a business decision maker.
Natasha: Analyst relations are also huge. A lot of companies that are thinking about purchasing Big Data solutions are looking to the analysts to tell them what is out there, if a technology is viable, and if it's going to survive. So we have a chance to make important relationships there for our clients.
Then there's media. A lot of the media don't really understand the details of how the technology works, so we help with education. We help make those big ideas a reality for them.
Natasha: One thing I think makes 10Fold, and particularly the Big Data group, a little different, is we bounce things off each other like a regular basketball team. We are constantly passing things back and forth — it doesn't matter if you are the forward or what position you play. That is a lot of fun and allows us to keep up momentum.
Aside from the details of Big Data stuff, what are some of the biggest things you've learned working here?
Natasha: Gosh, I'd probably say the biggest thing is, putting on different hats, and having to play different roles. I'd worked for really large companies before where you have a very specific role. Here, since we're working with a lot of start-ups, I might be advising on a websites one day and the next I'm giving feedback to an engineer.
Kristina: I've also learned that balance of explaining to the client what we've accomplished, while not seeming like I'm beating a dead horse. There is often some educating to be done, to draw the line between a result and a release we wrote, for instance.
Can you tell us about what it's like to work here?
Fran: I think it really is a learning culture. And that's not just training, which we do have. Starting with Susan right down through the organization, we're always pushing the limits in terms of how we change and do things better. It's about concentrating on the things that move the needle.
"You feel like you are part of running this business, instead of just employed here." – Senior Account Executive – Kristina Richmann
Natasha: I have to say that's not just from the top down — it's from the bottom up, as well. We really empower people at all levels to participate in how we're going to form and grow the company. Everyone is kind of an entrepreneur. On Mondays we go through the revenue of the company, what numbers we need to hit, what new businesses are in the pipeline, what that means for the company and for you personally. There is a level of transparency that really makes you feel like you are a part of running this business, instead of just employed here.
---
Internal Support Team
From left to right: Gary Good, Vice President and "chief writer"; Bart Tillmans, Vice President of Marketing, Operations, and Systems; and Renae Cazet, Senior Account Executive and Culture Lead.
Please tell us about what you do at 10Fold.
Gary: I have been here for 8-plus years and I do our internal training in the crafts: writing, pitching the media, surveying. And now I'm starting to lead technology training. I also help with writing on some of the most "techy" accounts. I'm what they call the "chief writer."
Bart: I invented my title — V.P., M.O.S. — which stands for "marketing, operation, and systems." I'm here to support those three areas, which become very important as you grow a company. I actually came in through a client and just thought, "This is the place where I want to work." Since I've been there, I've done things like rebuild the website from scratch. On the operations side, I'm here to help us build better processes to do things even more efficiently.
"We are constantly evolving, not only in the technology we use, but also in the way we communicate." – Culture Lead – Renae Cazet
Renae: I'm currently a senior account executive and I also lead the culture team. We like to make sure we are always improving when it comes to employee culture. Our industry is constantly evolving, so we want to keep up with that, not only in the technology we use, but also in the way we communicate internally. That's part of what we do on the culture team.
For example, we're using a new process called "Level 10." It helps you get to the root of what you really want to talk about during your client meetings. One thing we can fall into is focusing too much on the nitty-gritty when what the client really wants to know is the overall objective. This helps us stay focused on what's most important to them.
Bart: It's based on the book Traction, which Susan brought to all of us. Nothing in the book is earth-shattering new, it is just a very structured, simple, way of running things. I'm 55 and I'm skeptical about whatever is "new" — but I find it very effective.
It strikes me that the thing you three have in common is that, while everyone is supporting clients, you are also supporting the 10Fold team.
Renae: A lot of agencies forget to support themselves internally because the clients have so many things they need from you. That shouldn't stop us from looking around and making sure we are staying efficient and supportive of one another. And that in turn leads to better services for our clients.
Gary: We are also like every other agency in that we can't ramp up new people fast enough so they are productive from day one. That's what our clients expect from us. So training has become more and more important to make sure people quickly gain the skills they need.
We also have people at all levels on staff. We bring in interns, people who have no experience with technology or no experience with PR, and we need to be able to put them in front of our clients. I personally work with some clients who are the best in their business in the entire world. I want our junior staff to be able to stand in front of them and project that we live and breathe telecommunications. If you want to be able to say you've held your own in the presence of some of the best of the best, this is the place to be.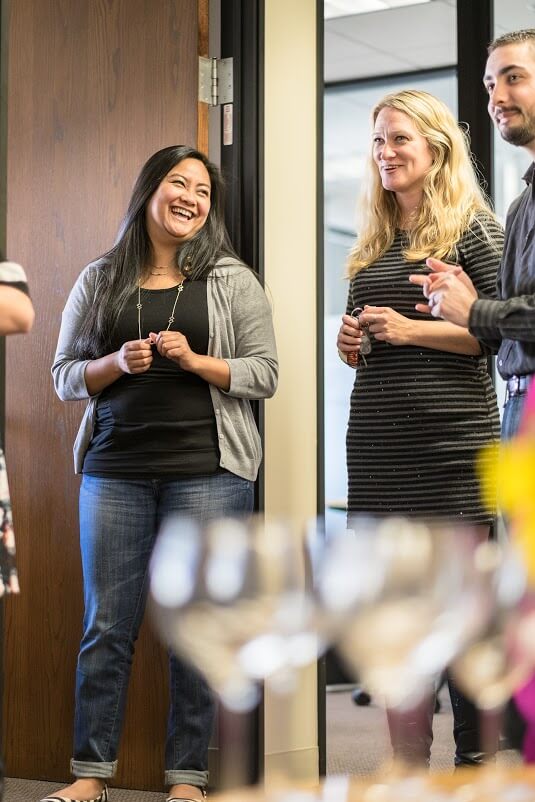 The team gathers for "Wine:30," which Susan describes as "an opportunity take a breather." "You don't even have to drink the wine, it's just a chance to be friendly and not talk shop."
How do you see 10Fold changing in the future?
Bart: In the last two years we've developed an extremely strong middle management layer. That means we have a really good base to grow from. And as new technology evolves, we will be expanding into other practices, as well. That means we'll be adding to the team, even at the VP level.
Gary: We've also recognized that we need to be bringing on people who have been on the media side, because we are pitching those people every day. So we recently hired someone from one of the industry's top publications. She's giving us a perspective that we really need. Not all agencies do that. But we think we can learn as much from the media as we can from PR.
Bart: I also want to chime in to the future and the future of PR. There is an insane value in the craft of PR — that will not change. But coming from a marketing background, in the last five years I've seen a big move toward marketing automation. It has changed the function of the CMO and the marketing organization as a whole.
I often say, "Where PR ends, marketing begins." So I see a wave coming in PR that is very similar to what's happening with marketing. I do believe there is going to be something like PR automation. We see that in the tools we work with. We're investing heavily in these modern tools. So we're going to need a lot of people with understanding in that area too. This is just the beginning of the digital era of PR — it's an interesting place to be.