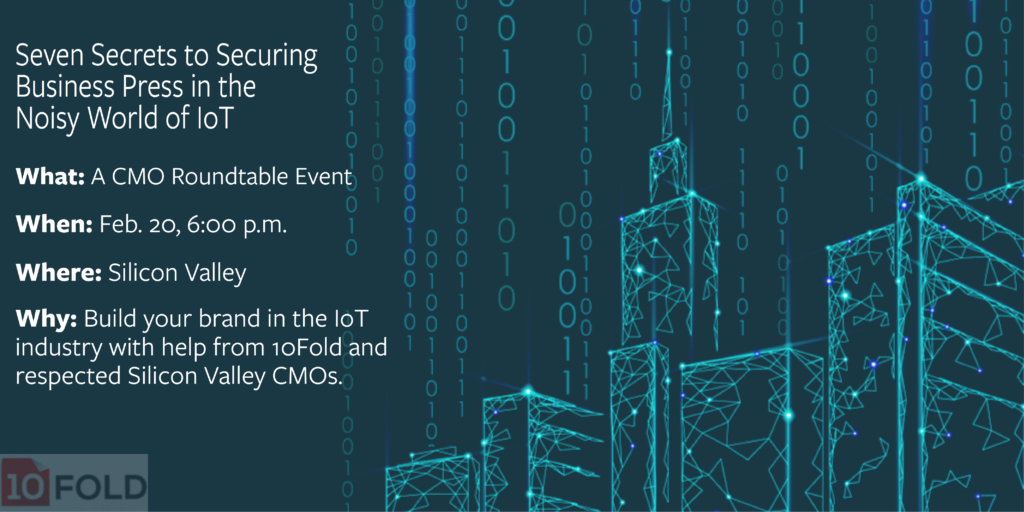 It can be challenging to build market presence in the increasingly noisy IoT market, so we're gathering a select group of IoT marketing professionals, including Marina Donovan, VP of Global Marketing for Itron (NASDAQ: ITRI) and Keith Higgins, VP of Marketing at Silicon Valley darling, Foghorn Systems, for some healthy debate and insights about how to attract business press in 2019. The event is a roundtable dinner discussion on "Seven Secrets to Securing Business Press in the Noisy World of IoT."
What:
Enjoy a delicious dinner and drinks as we banter about business press pitching faux paus and brainstorm secrets to getting your brand noticed in Forbes, NYT, WSJ and more…
When:
Wednesday, February 20, 2019 at 6 PM
Where:
We have reserved a popular restaurant in in the San Francisco South Bay; address given upon approved registration.
NOTE: Space for the roundtable is very limited, so please register ASAP to reserve your spot!
This is not a sales event; rather, we'll be leading the discussion and posing questions to the group to learn from one another. Please submit a form on the event page to register. We look forward to seeing you on February 20th!
Don't forget to subscribe to our newsletter to receive our content straight to your in-box as soon as it's posted!