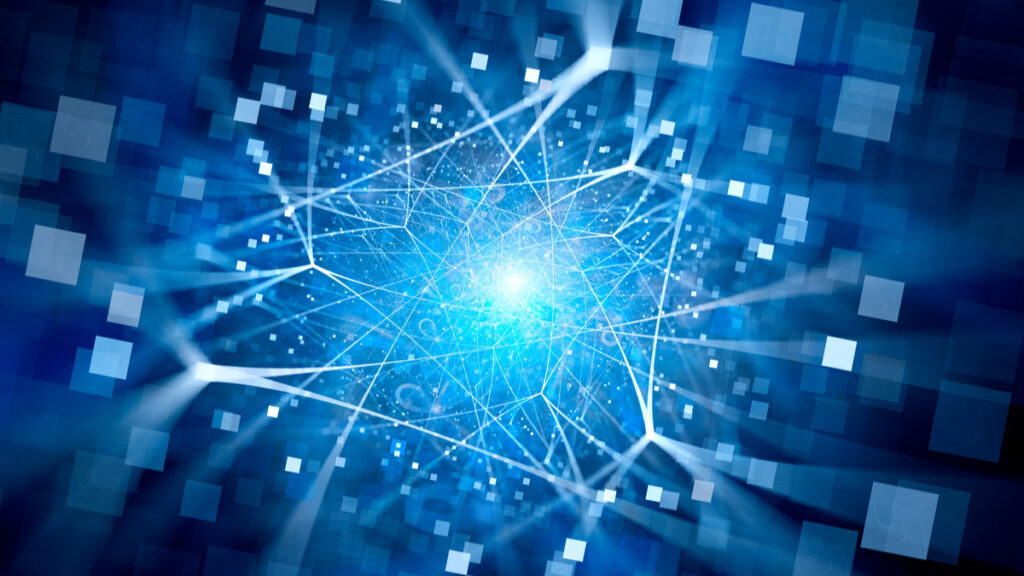 Storage is defined by Techopedia as a process through which digital data is saved within a data storage device by means of computing technology. Storage has become crucial in the generation of new data, which is attributable to many factors, including the plethora of Internet of Things (IoT) devices and big data. With new laws and regulations, such as General Data Protection Regulation (GDPR) and California Consumer Privacy Act (CCPA), data from clients, customers and employees must be securely and efficiently stored or organizations may find themselves receiving a hefty fine and jeopardizing their reputation.
By 2025, it is expected that 175 zettabytes of data will be generated, according to IDC's report: Data Age 2025, sponsored by Seagate Technology. There are currently more than five billion consumers interacting with data daily and by 2025 that number is expected to jump an additional billion. The storage industry will need to adapt to handle big data requests whether it be for capacity and recovery, or intelligently storing and analyzing.
To get a pulse on storage coverage in technology and business press publications, we performed a three-month audit, and here are our findings:
In a three-month media audit utilizing TechNews, we searched for reporters and publications covering storage from April 10, 2019 to July 10, 2019. As 'storage' is a broad concept, we narrowed down the search with the relevant term 'data'. We observed a total of 11,320 pieces of coverage, and from those results, we were able to find the top publications and reporters writing about current storage trends.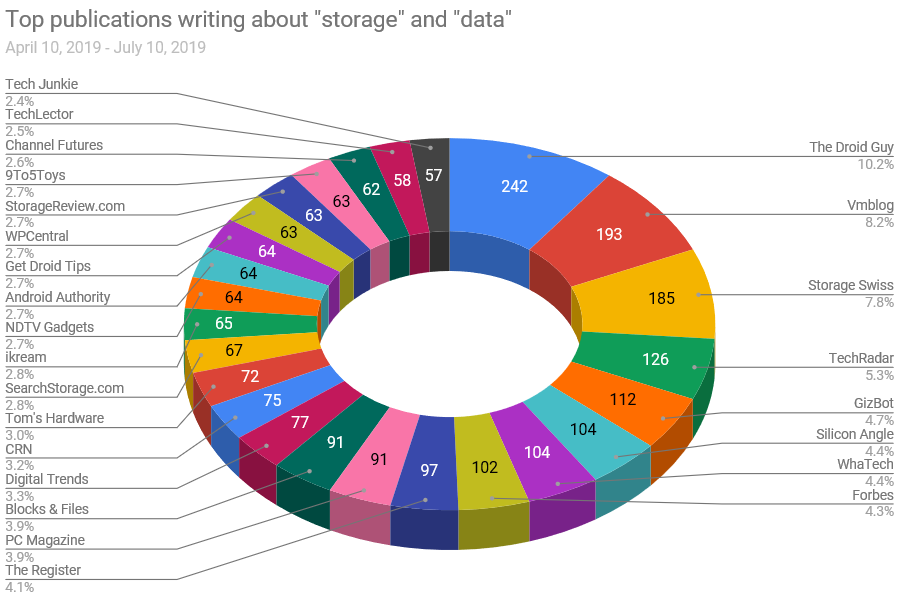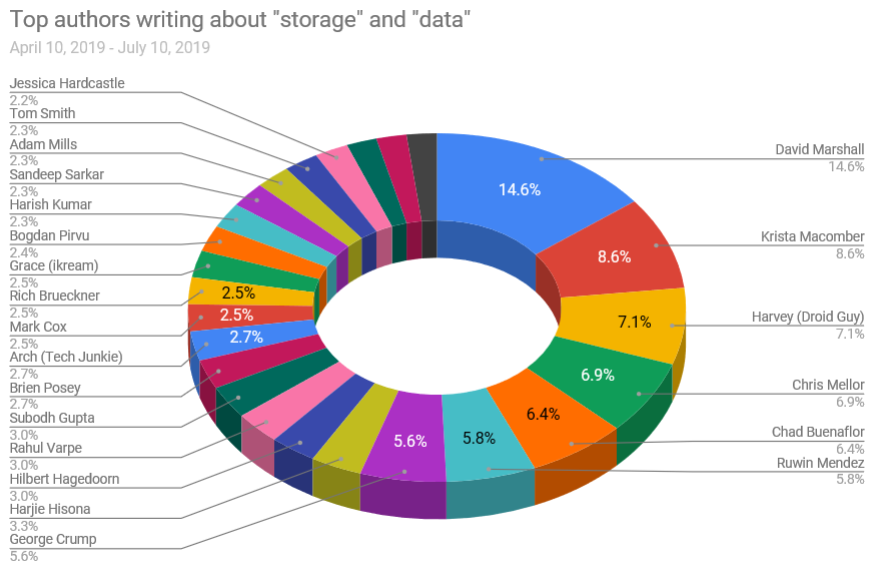 The Droid Guy, VMblog, Storage Swiss, TechRadar and SiliconANGLE are a handful of the top technology trade publications driving coverage in the storage space. Much of the conversations are focusing on product reviews and news, with big companies like Qualcomm, Dell, and Xiaomi leading the way. Reporters covering storage and data often write about major platform announcements and updates from companies like Dell EMC, the differentiators between storage options used for data backup, and security concerns. Lastly, many outlets focus on their future predictions for where the world of big data and storage will go.
But what about business press publications? Forbes, one of the largest contributor networks, was among the top ten outlets reporting on storage. Keywords associated with storage include the cloud, GDPR and breaches, which go hand in hand. Being GDPR compliant means your data management and data storage policies are up to regulation. With organizations now storing a large amount of information, conversations are buzzing on what is the best way to store data. There are some alternative common denominators that elevate storage to the bigger picture. For example, IoT, with the increasing number of devices comes an increase of potential security threats, making storage essential to understand as a resource.
As the rate of data increases, the breadth and frequency of storage coverage from technology and business publications will continue to rise. In a world where strict regulations and fines pop up daily, companies will realize the repercussions and understand the importance of storing their data correctly. As conversations around storage continue to grow, we plan for our clients to be a part of the conversations discussing the innovate technology changing the future.
Want to learn more about storage? Check out this article in TechTarget that includes 10Fold client Cloudian and see how we do it here.
Subscribe to our blog for more news and insights into media in the storage industry!