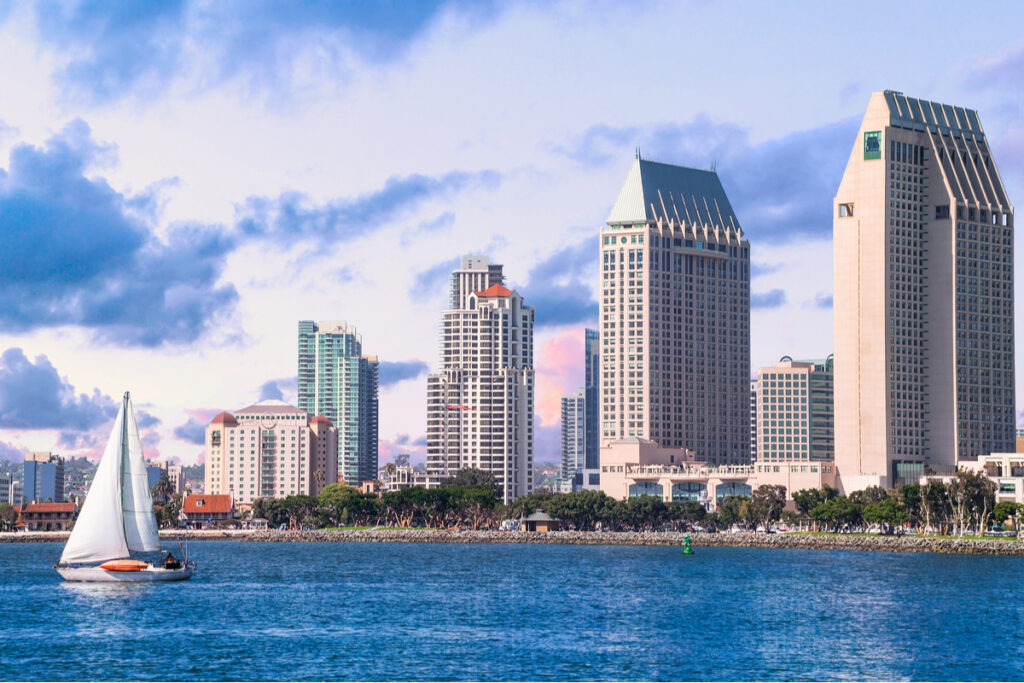 San Diego, Calif., Office Expansion Is Part of Continuing Growth for Leading B2B 'Deep Tech' Communications Agency; Firm Also Makes Leadership Hires and Promotions, Announces Major Award Wins
SAN FRANCISCO, Oct. 09, 2018 (GLOBE NEWSWIRE) — 10Fold, a leading business-to-business (B2B) 'Deep Tech' communications and content agency, announced today it has opened its sixth office – located in downtown San Diego – to accommodate the agency's rapid growth and leverage the area's top B2B tech communications talent.
To keep up with strong client demand, 10Fold has promoted Angela Griffo to senior vice president of client services and Ross Perich to general manager of the content group and large accounts. The company also hired Mike Kilroy as vice president, reporting to Griffo. This expansion comes on the heels of the agency winning nine major industry awards, including Most Honored Agency, Best Places to Work and the Silver Award for the Entrepreneur of the Year from the Women's World Awards.
Griffo has been with 10Fold for 11 years and brings nearly 20 years of corporate communications experience to her role. With 17 years in the high-tech marketing and public relations industry, Griffo had an impressive track record at agencies such as Golin and Weber Shandwick running multi-million-dollar technology accounts. Griffo's work has resulted in lucrative liquidity events for clients and several national awards for publicity campaigns and marketing programs. In her new role, she is responsible for team staffing decisions, growing revenue, increasing operational efficiencies and overall client satisfaction. Her expertise is in technology industries, including cybersecurity, data storage, databases, Big Data, AI and cloud computing.
Perich, who has been with 10Fold for 18 years, has proven expertise as a corporate communications professional, content strategist and video producer. Previously, Ross worked as an award-winning anchor/reporter for CBS and NBC affiliates and as a producer for KTVU-FOX. As the GM responsible for managing the agency's content services and large high-tech accounts, Perich is leading the charge to deliver content assets to drive both sales engagement and high-profile visibility campaigns. His service to 10Fold clients has resulted in dozens of liquidity opportunities and in strong recognition for 10Fold, including more than a dozen national awards for video projects, publicity campaigns and marketing programs for clients in industries such as enterprise software, AI, Big Data, wireless and networking.
Kilroy is an award-winning communications executive with more than 25 years of experience leading results-oriented communications programs for top-tier, mid-sized and emerging technology firms in a variety of markets, including cybersecurity, telecommunications, Big Data and AI. Kilroy's past careers in agencies allowed him to lead accounts such as Toshiba, Epson America and iconectiv, a subsidiary of Ericsson. He is a former newspaper and magazine reporter who also authored a book on the history of Orange County, Calif.
"10Fold is committed to attracting and retaining the best talent, which has led to the opening of three new office locations since 2017 and recent growth in our leadership team," said Susan Thomas, founder and CEO of 10Fold. "The decision to support our portfolio of nearly 50 B2B Deep Tech clients by expanding into San Diego and opening a sixth office was the next logical step in our business growth strategy."
Recent accolades for 10Fold include Bronze Stevie® – Agency of the Year; Stevie® Awards – Most Honored PR Agency of the Year; PR Daily Awards – B2B Campaign of the Year, Reputation.com Product launch; AVA Digital Awards – Gold Winner, Video Production/Graphic Design; MarCom Awards – Gold Winner, Motion Graphic Audio/Digital Video Creation; Hermes Creative Awards – Video/Corporate Image of OVH Company Vision; Telly Awards – Business-to-Business Bronze Winner; PR News – Product Launch Honorable Mention; and Business Intelligence Group Awards – Best Places to Work.
About 10Fold: 10Fold is a leading North American integrated communications agency designed to create thought leadership and build brand value for B2B 'Deep Tech' companies. Our agency is headquartered in San Francisco, with regional offices in Pleasanton, San Diego and Capistrano Beach, California; Austin, Texas; and Denver, Colorado. Our award-winning, highly specialized account teams consist of multi-year public relations veterans, broadcasters and former journalists who have been recognized nationally for media and analyst relations, written and video content, messaging, social media and paid digital services. For more information, please visit www.10fold.com and follow us on Twitter and LinkedIn.
Media Contact:
Gary Good
gary@10fold.com
(707) 494-5859