We Help Innovators Change the World
More than 450 Technology Companies Have Relied on 10Fold to Grow Share of Voice and Corporate Value. We Drive Deep Technology Adoption and Infinite Opportunities.
The First Comprehensive Marketing Stack Reporting Dashboard
Finally, realize the ROI of your PR and Marketing efforts from one enterprise-grade dashboard. Our dashboard analytics platform allow you to integrate the entirety of your marketing stack in one place for easy attribution, traffic analysis and reporting processes.
Track all of your teams' tool analytics in one place for reliable, real-time reporting.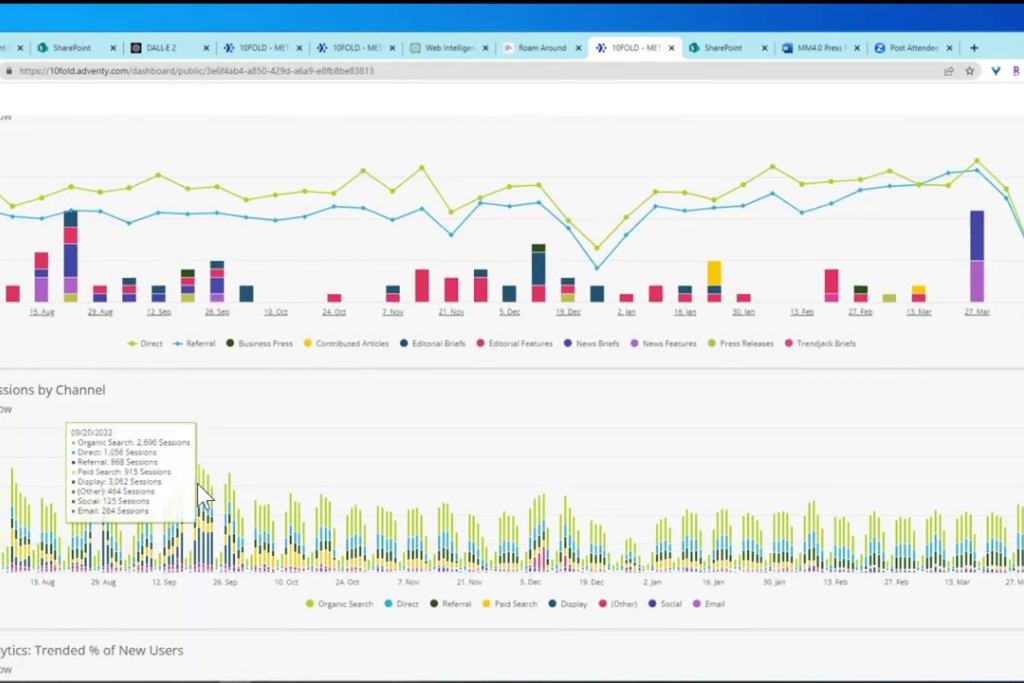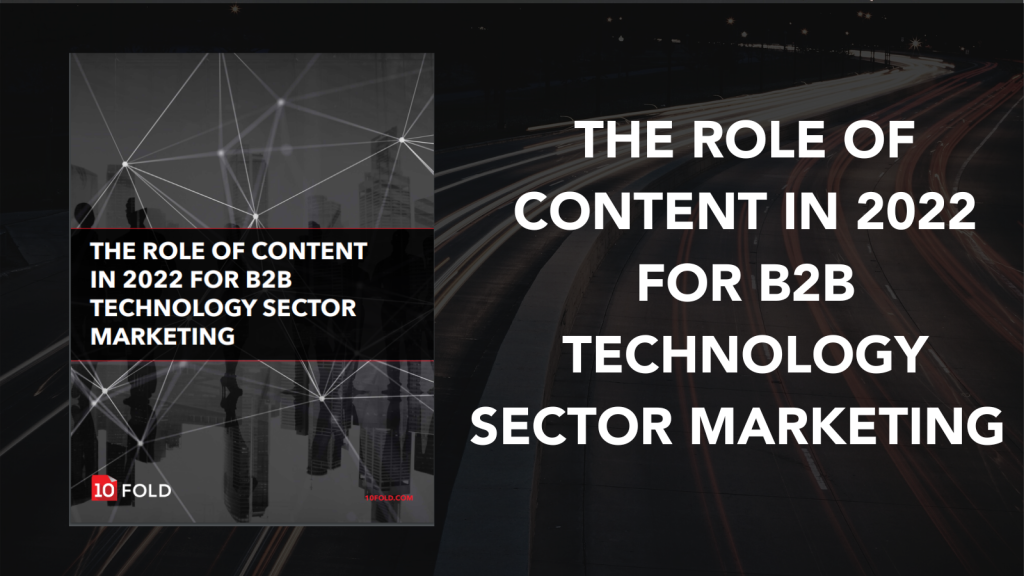 The Role of Content In B2B Tech Marketing
This international study explains what your peers are finding highly effective to engage prospects and increase the number of top-of-funnel sales leads, like:
Key Findings:
52% of B2B companies prioritize video
30% of companies are publishing content DAILY
Canadians look to be ahead of the game in Content Best Practices
The UK and US appear to handle Content Strategy similarly
The largest companies in our survey value Sales Teams Feedback in measuring content efficacy
Positive customer engagement relies on effective communication, and effective communication relies on speed, creativity, and persistence. My 10Fold team embodies all three characteristics and has quickly become a trusted partner to our growing and fast-moving team. 10Fold's media relationships, particularly in cybersecurity, their awareness of the key issues driving conversations, and their creativity in driving those conversations to SecurityScorecard, demonstrate that they get it.
10Fold is an integral part of my PR and social media dream team. The agency's cybersecurity domain knowledge, a quick ramp up, and focus on metrics that align with our business goals enabled me to quickly build and drive a modern communications function that is seen across the company as extremely strategic. Fantastic talent, precise execution, strong media relationships, talented writers, extremely dependable, and fun to work with.
I have hired 10Fold for different companies I've worked with because of their metrics-driven approach and deep understanding of the cybersecurity landscape. Their team's level of transparency and focus on results has created a high level of trust with my team and transcends to the rest of the company leadership. They really take the time to understand what's important to my company in terms of quality media coverage and creating campaigns that drive top of funnel leads.
"In 90 days, 10Fold was able to position our CEO and board members for prominent feature coverage in Forbes, The Wall Street Journal, and Bloomberg TV."
I'm so impressed with the 10Fold team. They are an invaluable extension of our internal team and have exceeded our expectations. They are strategic, smart and creative and have very strong press relationships.
I've partnered with 10Fold multiple times over the years because I trust their approach to delivering high-value PR strategies that support business growth. Since launching FogHorn's Series A funding and product, Lightning ML, in 2016, they've helped us stand out from the IoT pack with recognition from The Wall Street Journal, Reuters, CIO and many others.
No fluff, no B.S., just results. 10Fold has been instrumental in helping drive presence in the market for us. Their Metrics Matter approach, focus on earned media, and deep understanding of our PR helps drive impact quickly. If you are looking for a PR agency, stop looking and give 10Fold a call.
"10Fold's cybersecurity domain expertise and metrics-driven approach helped them win our business initially, but consistently surpassing both their metrics and our expectations has made remaining a client for over four years (and counting) a no-brainer. More than a valued partner, they are an extension of my team and their performance has earned them a level of trust that is rare amongst PR agencies."
We Help Innovators Change the World
The 10Fold team has made more than a few geeks famous. We guarantee it. Worried your tech isn't gaining traction in the market? 10Fold drives deep technology adoption and delivers infinite opportunities.
No matter how complex your technology, 10Fold:
Develops content to maximize exposure
Facilitates industry analyst outcomes
Builds social authority
Elevates thought leadership with industry, business and broadcast coverage
Metrics are the heart of everything we do, so you'll never wonder how we're doing – you'll know. MetricsMatter – learn it, embrace it and become one with it. You'll be hearing a lot about it.
Our Method
At the intersection of modern communication skills and technology mastery, find the metrics that matter to your business through our MetricsMatter strategic services.
Analyst Relations
Content Services
Messaging
Media Relations
Award.
Winning.
Agency.
We could certainly brag about our extensive network of connections, stellar reputation, senior experienced staff, and business impact, but we prefer to let others do the talking for us.
"Working with the 10Fold team, we quickly developed and began to execute on a thought leadership strategy that would elevate the Silver Spring Networks Brand by leveraging an integrated communications strategy. As a result, we catapulted our social authority, snagged the coveted Fortune Tech Brainstorm Keynote, and doubled our business press and broadcast coverage. With this brand validation, the company was acquired by Itron – a multi-billion dollar giant focused on Smart Cities."
Marina Donovan
Former VP of Marketing, Silver Spring Networks
Current VP of Global Marketing and Public Affairs, Itron Inc.
---
Go to the next level.

We've got your back.