Culture
Internal Support Team
Interview with Gary Good, Vice President and "chief writer"; Bart Tillmans, Vice President of Marketing, Operations, and Systems; and Breanna Adams-Kitchen, HR Administrator.
Please tell us about what you do at 10Fold.
Gary
I do our internal training in the crafts: writing, pitching the media, surveying. And now I'm starting to lead technology training. I also help with writing on some of the most "techy" accounts. I'm what they call the "chief writer."
But when I think about my day or week, if there's anything I lament not being able to do, it's not getting away from client work long enough to learn more about a specific technology. That tells me that I'm just naturally comfortable with all different kinds of technology and when I see something happen, and I don't know anything about it, I'm just driven to learn it. That's allowed me to easily sidle into an account that I haven't worked on before. Veriflow, for example does intent-based networking, and I was asked to help out with the launch, and I taught myself.
Bart
I invented my title — V.P., M.O.S. — which stands for "marketing, operation, and systems." I'm here to support those three areas, which become very important as you grow a company. I actually came in through a client and just thought, "This is the place where I want to work." Since I've been there, I've done things like rebuild the website from scratch. On the operations side, I'm here to help us build better processes to do things even more efficiently.
Bre
When I started as data entry, they needed to fill the EA position. I took on that challenge on a temporary basis for the two weeks before the offsite in March. I set up all the catering and decorating within two weeks. After that experience, I felt I could take on any new challenge. 10Fold supports the team in learning and growing, even when they are tackling new areas that are not related to their core expertise, It was gratifying to prove to myself that I could respond under pressure and learn in the process.
Now as a HR administrator, I've taken on more new challenges –and I'm learning a lot of new things. It's been really interesting to learn about the team, what each level contributes to our work, and figuring out the best ways to work   with each person.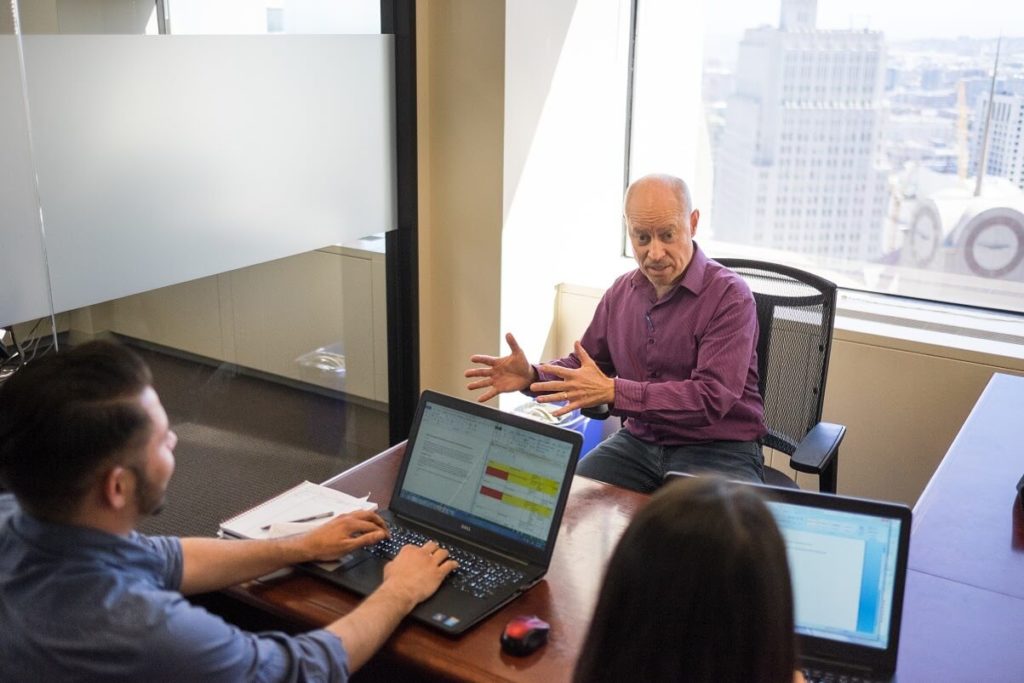 What are some of the ways you've found that best support the
10
Fold team?
Gary
We advise everybody that it's not bad if you don't know something. Nobody does, don't feel bad. The 10fold culture allows you to just ask your colleagues. Maybe one of your weak places will be a strong suit for them. There are no dumb questions.
We're just the opposite of an organization where you're brought in to do something and you just keep doing it. If you think there is something you'd like to do, even if you need some training, at 10Fold you're encouraged to say, "I want to do that, I think it will improve my skills." I don't think anyone is going to say no.
Our clients expect domain and communications expertise from us, even on day one. So training has become more and more important to make sure people quickly gain the skills they need.  We have 38 documented processes and we do trainings (with internal and external experts) several times a month.
I work with some clients who are the best in their business in the entire world. I want our junior staff to be able to stand in front of them and project that we live and breathe their industry and understand their technology. If you want to be able to say you've held your own in the presence of some of the best of the best, this is the place to be.
The team gathers for "Wine:30," which Susan describes as "an opportunity take a breather." "You don't even have to drink the wine, it's just a chance to be friendly and not talk shop."
How do you see 10Fold changing in the future?
Bart
We've developed an extremely strong middle management layer. That means we have a really good base to grow from. And as new technology evolves, we will be expanding into other practices, as well. That means we'll be adding to the team, even at the VP level. It's exciting to be with a company that has both a strong vision for the future and an understanding and commitment to making things work today.
From the CEO to the Internal Support Team,
we have some great team members.
Meet some more of the 10Fold Team!