In our last supply chain-focused mediascape, we explored how media are covering the industry in the wake of COVID-19, and the many supply chain challenges that accompanied it. While the pandemic may have made supply chain issues a household concern, those issues existed long before COVID made them prevalent, and they continue to exist to this day – although COVID is no longer the driving factor.
Now that the pandemic has, in part, subsided, how are media addressing supply chain technology trends and news? What key trends are driving the industry and generating coverage? In this post, we'll examine the media's recent coverage of the industry underpinning economies and legislative priorities around the world: supply chains.
Supply Chain Coverage – Buzzword Analysis
We also examined key terms within the greater span of supply chain technology coverage. The chart below details the number of articles that featured specific key messages we identified as relating to supply chain technology. The chart also shows the number of publications that covered each key message, as well as the average number of unique visitors-per-month (UVM) each publication received. It's not surprising that the topic of "disruption" was the most prevalent narrative in the media related to supply chains.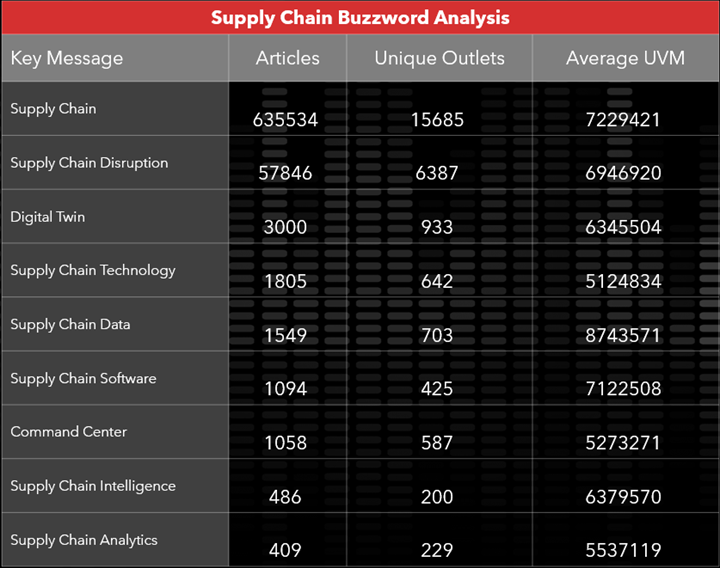 One new term that stuck out to us was "Command Center," which gained traction in 2022 as Gartner pushed businesses to establish greater control over supply chain operations by establishing a command center. Command center tools consist of technologies, such as the internet of things (IoT), digital twin, and advanced analytics driven by artificial intelligence (AI) and/or machine learning (ML). When these technologies are strategically combined, they enable the sharing of updates and information between disparate core business systems – literally becoming a "center" of "command" through which the enterprise can gain end-to-end visibility and break down both data and functional silos.
Another technology gaining significant traction in the past year, although not entirely new, was the "Digital Twin." While digital twins aren't an entirely new concept, the practical application of digital twins for supply chain operations wasn't fully realized until recently. The wider adoption of Industry 4.0 (I4.0) technologies such as IoT, extended reality (XR), AI/ML, and silo-breaking tools like those used by Command Centers, have enabled companies to finally take advantage of digital twins. Using digital twin technology, companies can create virtual models of facilities and entire supply chains. These models enable enterprises to both monitor facility and supply chain assets in real-time, as well as simulate production and procurement processes in a virtual environment to identify the optimal strategy – negating the risk of messing up real-world operations.
We also used Brandwatch, a social listening tool, to pull together the top supply chain trending topics. These top terms were based on social media sites, online publications, and other mediums. The image below shows the topics most featured in supply chain technology coverage, with the most-covered topics being the largest and closest to the center.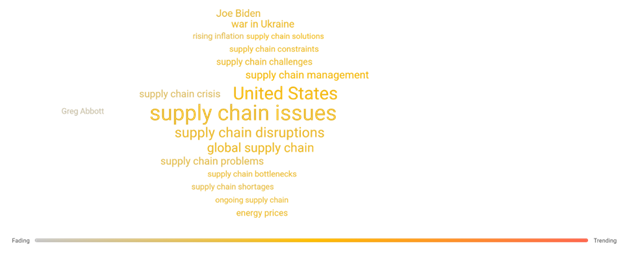 As you can see, geopolitical events and economic trends that upset supply chain operations are a significant driver of coverage, as evidenced by "Joe Biden," "war in Ukraine," "energy prices" and "rising inflation." At the same time, industry-focused challenges like "bottlenecks" and "shortages" are commonly found as topic of supply chain coverage.
Brandwatch was also used to pull together a supply chain-focused word cloud based on information from social media sites, online publications, and other mediums. The image below shows the words most commonly used in supply chain technology coverage.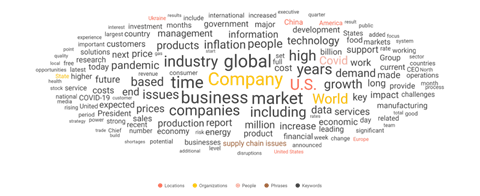 As with the trending topics of coverage, some of the most mentioned words center around economic and geopolitical challenges that caused an increase in coverage throughout the year, including "inflation," "costs," "demand," president," "China," and "Ukraine." However, these terms also provide further insight into exactly how media are addressing, and how businesses are hoping to overcome, these challenges. Technology-focused terms like "data," "information," "solutions" and even "technology" in general, indicate that supply chain-oriented businesses are turning to technology vendors to help solve the numerous challenges plaguing the industry today.
Supply Chain Technology Coverage: Inventory Levels, Legislation and Geopolitical Disruption
There's no doubt that supply chain news is still a hot topic for media. Our initial search for supply chain-focused coverage (from January – December 2022) turned up over 630,000 mentions of the topic. That's a lot of coverage!
Once we drilled down into the data, we identified key terms to bring purely tech-focused supply chain coverage to the surface for further analysis. The relevant coverage of supply chain operations and technology (568 articles in total) is illustrated by the graph below, which tracks supply chain tech coverage over time throughout 2022.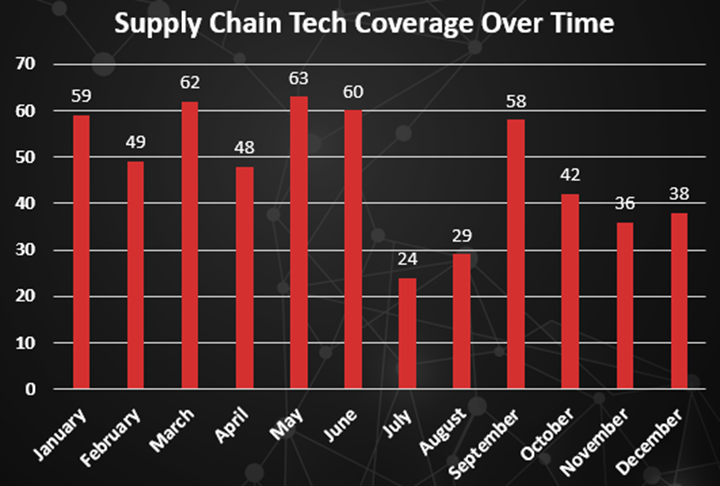 The volume of coverage was fairly consistent throughout the year, albeit with notable lulls in late summer and just before the holiday season. The beginning of the year saw the longest stretch of consistent coverage. From January through June, coverage was driven by news surrounding partnerships and new product offerings from supply chain technology vendors. Within the same timeframe, trend articles tended to focus on consumer and business concerns around inventory levels and a significant drop in consumer demand; they also focused heavily on supply chain obstacles and blockages caused by geopolitical events and new legislation in Asia and Europe.
Between September and December, coverage jumped back up to the previous volume seen before the summer lull. This was largely due to a recessive, inflationary global economy; which, when paired with the ongoing geopolitical events that drove supply chain obstacles in the first half of the year, stirred concerns around workforce shortages, consumer demand, and raw material availability. Once the holiday season rolled around, media tended to focus on the increase in consumer demand and challenges with final-mile delivery programs for logistics – a critical aspect of logistics operations, especially as driver shortages plagued the industry.
Top Reporters & Publications Covering Supply Chain Technology
While COVID may have made "supply chain" a household term, covered by every publication from CNN to Better Homes & Gardens, the publications and reporters that cover supply chain technology were the focus of our research. The chart below details the top 20 publications that covered the key terms listed above in 2022.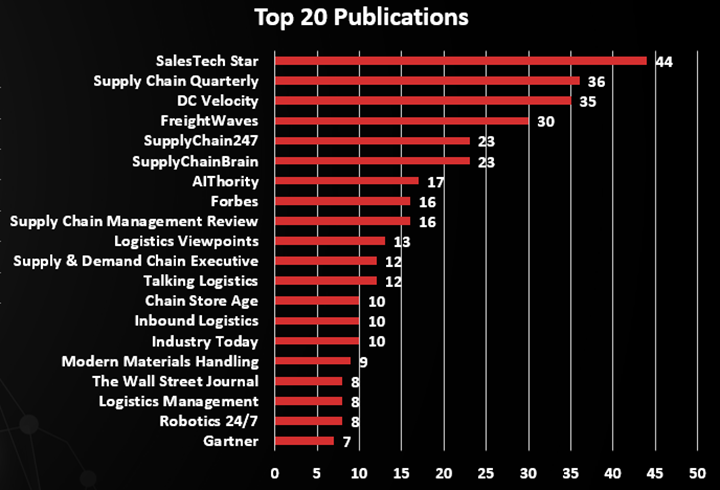 When it comes to business media, Forbes and The Wall Street Journal were the only publications to land in the top 20 list. However, that merely indicates that these publications have larger teams dedicated to covering supply chain and logistics processes. At Forbes, Amy Feldman is dedicated to the manufacturing beat, while Nikki Baird covers retail technology. The Wall Street Journal has more of a focus on logistics coverage. Paul Page manages the publication's regular Logistics Report, while Costas Paris and Paul Berger cover the larger supply chain beat. While there are certainly other business-level publications covering supply chain technology, Forbes and The Wall Street Journal are the most consistent.
On the other hand, trade media reporters and editors fill the ranks of the top 20 individuals covering supply chain technology. The chart below shows the most prolific supply chain technology journalists working in the industry today.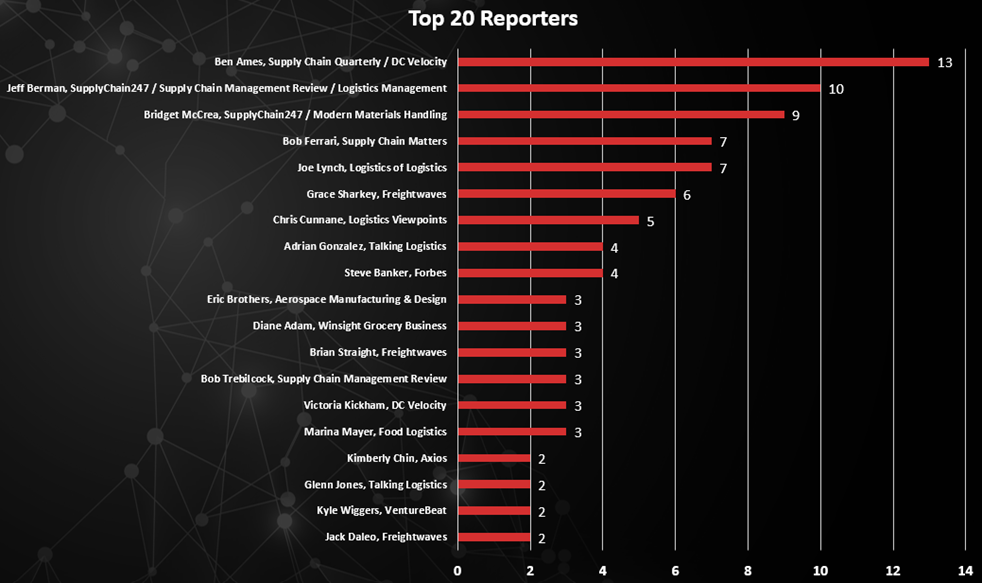 Leading the pack is Ben Ames of Supply Chain Quarterly. As the editor at large for the publication, Ben is seemingly always on the road these days at various events and conferences, between which he somehow consistently covers ongoing news from leading supply chain companies and vendors as well as industry trends. If you have a customer conference or event coming up, Ben would be an ideal target for onsite interviews.
The majority of publicized supply chain disruption in 2022 stemmed from logistics issues, including port backups, driver shortages and skyrocketing container costs. Knowing this, it seems obvious that Jeff Berman of Logistics Management would come in as the second most prolific supply chain journalist. Jeff serves as the group news editor at Logistics Management, but also runs the publication's 247 Podcast, where he speaks with logistics company leaders, technology innovators and key people at the center of the latest supply chain technology trends. For new and innovative approaches to supply chain IT/OT, or for highlighting customer success stories, Jeff is the go-to guy.
Determined to cover what she finds interesting, without being tied to a single publication, is Bridget McCrea. As a freelance writer, Bridget covers a variety of topics for many different publications. However, she regularly covers logistics trends and news for outlets including Logistics Management, Modern Materials Handling, Supply Chain Management Review, and more – as evidenced by her ranking third in our list of the most consistent supply chain reporters. Bridget is always a good target to keep informed of any news from your organization, as you never know what might catch her eye or fit neatly into a piece she's already working on.
Trade Media Engagement – The Best Strategy for Supply Chain Technology Coverage
As mentioned earlier, COVID made "supply chain" challenges a household discussion, which drove business media to increase their coverage of supply chain trends that could impact both consumers and businesses. The coverage of supply chain topics varies slightly between business publications, with Forbes focusing more on leadership strategies and industry outlooks, The Wall Street Journal covering funding and acquisitions, and Bloomberg addressing geopolitical trends on a more frequent basis, as just a few examples. That said, all business publications continue to be heavily interested in funding and acquisition news, as well as stories that address the economic or business revenue impact of new strategies and technologies.
Despite this increase in business-level coverage, supply chain and logistics trade publications remain the most prolific in their coverage of ongoing trends and are willing to dive deeper into industry-specific topics – especially B2B trends that don't impact consumers directly. While there is certainly significant value in business-level coverage, trade publications are where supply chain technology vendors will best reach their target audience on a consistent basis.
Stay tuned for more mediascapes and trend analyses on industrial IoT DevOps, Networking and more!