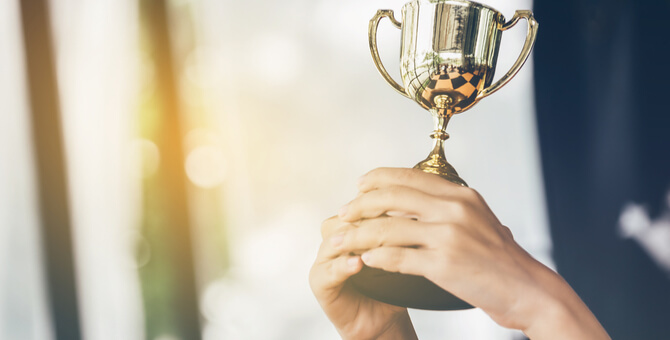 Leadership, team development, and community building comprise winning principles
So, you might think that 10Fold winning the Stevie Award for Agency of the Year is pretty cool, right? What about adding that 10Fold also won Most Honored Agency of the Year from the same awards organization on top of that? Wait, did I mention that 10Fold has won the Best Places to Work Award from the Business Intelligence Group too? Now, I know what you're thinking: "That's a lot of winning, surely there cannot be more?", but you would be so very wrong, because our CEO Susan Thomas has just won Entrepreneur of the Year from the Women World Awards!
The Women World Awards are an annual industry and peers recognition program honoring women in business and the professions and organizations of all types and sizes in North America, Europe, Middle-East, Africa, Asia-Pacific, and Latin-America. The Annual Women World Awards is part of the SVUS Awards® recognition program, which sponsors many other awards.
Susan Thomas founded 10Fold in 1995, and the agency has grown consistently since. Beginning in the San Francisco Bay Area, 10Fold has now grown to six offices, and is considered to be among the top 10 percent of all public relations agencies in the US. Susan is best known for her drive, which is explains how she finished a master's degree by the age of 21 and started the agency in her late 20's. Susan continues to be a very active contributor for the agency – she is best known for building a large network of prospects, clients, and technology executives that have created opportunities for 10Fold and its clients. And, Susan still loves all things communications: her out-of-the-box thinking has helped her to create unique campaigns that have increased brand value for 10Fold clients. Susan's passion for leadership helped her create a unique culture that is focused on team and individual growth and development.
In the press release, Susan thanked her staff and management team and recognized their contributions as vital in the success 10Fold has achieved: "This award would not be possible without the dedication from our entire team, and I am very proud to share this honor fully with them."
Looking for more B2B marketing content? Check in with us here again soon. If you are looking for more great content from our team, make sure to peruse our other blogs here and sign up to our newsletter to get content straight to your email as soon as it's posted!