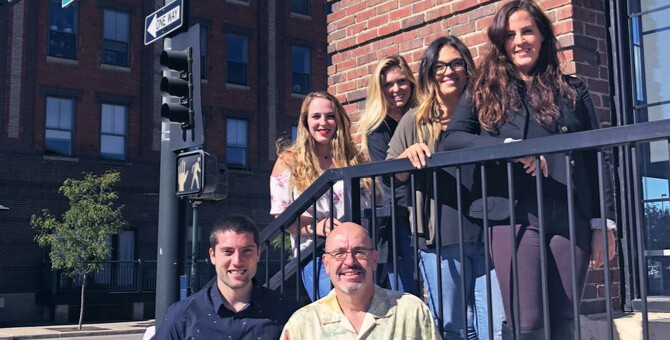 SAN FRANCISCO, CA–(Marketwired – Aug 23, 2017) – 10Fold Communications, an award winning, full-service B2B technology public relations agency, announced today its expansion into Colorado's thriving tech hub, unveiling a new regional office in Denver on the heels of opening an Austin office earlier this year. The new office, located in the RiNo (River North Art District) neighborhood, is the result of the agency's rapid growth and demand for B2B technology PR services, while also supporting the agency's ongoing recruiting efforts for top PR talent.
For more than two decades, 10Fold Communications has served leading Silicon Valley and global tech companies by utilizing competitive differentiators including:
Established in 1995, 10Fold has represented nearly 400 B2B technology clients, launched more than 1,800 new companies and products, issued 13,000+ press releases and secured more than 5.5 million client articles and mentions in technology, vertical, business and broadcast outlets.
"Over the last several years, 10Fold has experienced double-digit year-over-year growth. To support nearly 50 tech clients, including start-up, public and global companies, we've expanded our footprint this year to include offices in Austin and now Denver," said Susan Thomas, founder and CEO of 10Fold Communications. "I'm very excited to welcome Sarah Thorson as the new Director of the Denver office, and we are quite pleased with the three account executives that will work with Sarah to support our growing list of B2B tech accounts. Denver is a great community with an upcoming tech opportunity and we are happy to be part of it."
"Denver's high quality of life attracts talented professionals, which draws companies to the thriving city," said Sarah Thorson, director of 10Fold Communications. "It's a natural fit for 10Fold to join Denver's growing opportunities. I'm thrilled to be a part of 10Fold's innovative team and look forward to supporting the overall success of the agency."
10Fold specializes in providing award-winning services for B2B technology companies in Big Data, enterprise, mobile, security and storage industries. Accolades include Hermes Creative Awards, PRSA awards, MarCom awards, Videographer awards, Bulldog Media Relations awards, etc.
About 10Fold Communications
10Fold is a leading North American public relations firm with regional offices in San Francisco, Pleasanton and Capistrano Beach, California; Austin, Texas; and Denver, Colorado. As a privately-owned company founded in 1995, 10Fold provides strategic communications and content expertise to B2B organizations that specialize in networking, IT security, cloud, storage, Big Data, enterprise software, AppDev solutions, wireless and telecom. The award-winning, highly specialized account teams consist of multi-year public relations veterans, broadcasters and former journalists. 10Fold is a full-service firm that is widely known for its media and analyst relations, original content development, corporate messaging, social media and video production capabilities (through its division, ProMotion Studios). For more information, please visit www.10fold.com and follow us on Twitter or LinkedIn.
Morgann Dulle
mdulle@10fold.com