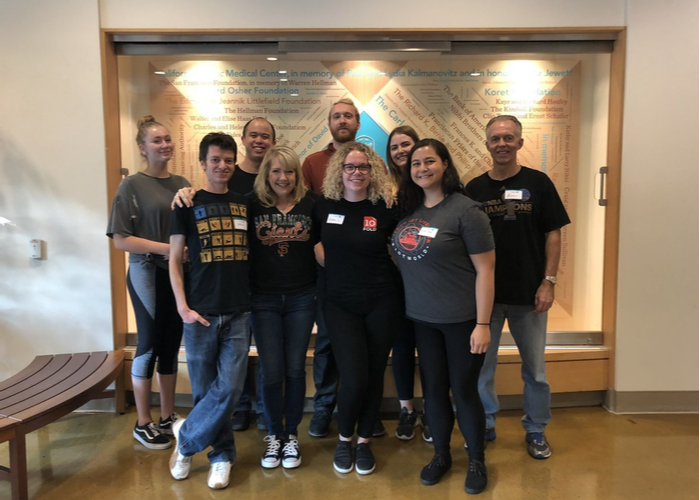 From warm meals, to warm smiles – our Bay Area teams kicked off 10Fold's month of charitable work by volunteering at St. Anthony's in San Francisco's Tenderloin neighborhood. During the month of November, 10Fold offices give back to their communities by volunteering at local organizations.St. Anthony's is an organization that provides support to San Franciscans living in poverty. With dignity and respect at the organization's core, the nonprofit offers thousands of individuals hot meals, fresh clothing and opportunities to connect with the world. St. Anthony's dining room serves an average of 2,400 meals a day, every day. The meals served feed individuals and families who need a helping hand: seniors, homeless, veterans, the working poor, low-income residents, recent immigrant, the ill, and recent parolees.
The volunteer experience came with several eye-opening lessons and experiences. Before heading to the dining room, a St. Anthony's staff member shared a presentation to set the context for why the nonprofit's services are needed. One stat that took our team by surprise was the fact that there isn't even one grocery store in the entire Tenderloin neighborhood. The presentation underscored how everyone at St. Anthony's treats individuals with respect and dignity, no matter their circumstance.
We put on our gloves, hairnets, and aprons and got to work in the dining room! Our team served up nutritious meals, which included sloppy Joe's loaded with veggies, cornbread, fruit and dessert. From loading up meal trays in the assembly line, to bussing tables in the dining hall – we quickly learned that this work can make you work up a sweat! We were impressed by the staff and volunteers of St. Anthony's, who are incredibly organized, dedicated, helpful, friendly and professional.
During our lunch break, 10Fold team members enjoyed their meals with the patrons of St. Anthony's. The diners seemed truly appreciative of the volunteers and grateful of the meals. All of received "thank you for volunteering here today" messages from patrons, which was heart-warming. We learned that these individuals are everyday people just like us, and a smile or kind word can really make a difference.
We're thankful we were able to give back in even just a small way to our fellow San Franciscans. We encourage everyone to get involved by volunteering, too. To learn how to get involved with St. Anthony, visit their website for volunteer opportunities.
Be sure to subscribe to our newsletter to see how our other offices are giving back during 10Fold's month of charitable work!
Don't forget to subscribe to our newsletter to get our content and other updates straight to your email as soon as it's posted!