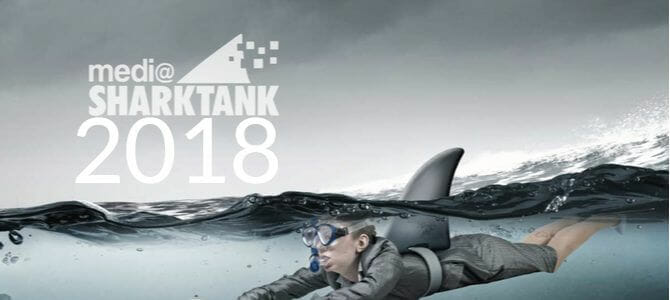 10Fold's Media SharkTank, now in its eighth year, allows Bay Area startup executives to "test" their business pitch with top members of the print, online and broadcast media. On the evening of Thursday, Oct. 25, 14 marketing execs delivered their three-minute pitches to a panel of the nation's sharpest broadcast and business press journalists, who provided valuable, private, 1:1 feedback based on their expert opinion. This year, 10Fold held the Media SharkTank event at San Francisco's Palace Hotel.
The returning sharks (many return each year to volunteer for this event) said that the quality of pitches was at an all-time high and that they really enjoyed the opportunity to work with these executives.
Our media judges shared some great feedback to the presenters. Here are some pro pitching tips:
Help the business press see the value in your technology by being able to draw a clear line of sight between a problem facing the general public and a company providing a practical solution.
Provide tangible examples of how your technology relates to and addresses a pain point for your customers and their customers
Explain how your technology helps make lives better, easier, and more affordable
Our judging list was full of top-tier press!
» Scott McGrew, Technology and Business Reporter – NBC Bay Area
» Don Clark, Contributor – New York Times
» Andre Senior, Anchor and Reporter – KTVU FOX 2
» Larry Magid, Contributor – Forbes
» Dean Takahashi, Lead Writer – Venture Beat
» Chris J. Preimesberger, Editor-in-Chief – eWeek
» Michael Liedtke, Technology Writer – Associated Press
» Connie Guglielmo, Editor-in-Chief – CNET News
» Mark Albertson, Senior Writer – siliconANGLE
» Kym McNicholas, Editor At Large – Vator.tv
» Andre Senior, Anchor/Reporter – KTVU FOX 2
» Peter Burrows, Tech Reporter – MIT Technology Review
» Ethan Baron, Reporter – San Jose Mercury News
» Katherine Ann Rowlands – Bay City News
10Fold kept our Twitter audience informed on some of the most useful insights from the judges, find a few below!
RELATED: Is it Time for Media Training? Three Questions to Test Your Media Savvy
When executives were not pitching to the business press, they socialized with other tech presenters while mingling with big names in Venture Capital, such as Reza Malekzadeh of Partech Partners, Vignesh Ravikumar of Sierra Ventures, Amir Nayyerhabibi of Benhamou Global Ventures, and Carl Chiou of William Blair! More than a few conversations took place leading to hot leads and potential strategic partnerships, and more than a few fun pictures were snapped on TapSnap, a green screen photo booth service, or had their caricature created by Jon Casey's Caricatures – something to take home even if not everyone was able to win one of the coveted 3 finalist awards.
At the end of the pitching process, the judges tallied the scores based on the pitches they heard as the crowd awaited the results. A higher than usual number of exciting startups attended the event this year. Our top three contestants this year were Scott Shadley of NGD Systems, John Aisien of Blue Cedar, and Kevin Payne of Zest Labs, which entitled them to deliver their pitches to the entire crowd. 10Fold determines the winner via "crowdsourcing", AKA, the voting for the top pitch is governed by the volume of cheers from the crowd for each participant! This year NGD Systems, pictured below, took home the prize for our crowd-favored pitch.
To participate in the event, each firm donated to the San Francisco Baykeeper organization. Baykeeper has worked to stop pollution in the San Francisco Bay for more than 25 years, and have been a staple in keeping the San Francisco water clean, the ecosystem healthy, recreation safe, and have kept wildlife thriving! The Media SharkTank was able to raise $22,000 for the organization this year, marking 10Fold's eighth year of support for Baykeeper and a record for 10Fold's donation total!
All in all, This year was a fantastic Media SharkTank for 10Fold and all of our guests! We would like to extend a special thanks to all of our participants and the incredible media 'sharks' who made this event happen! Find a collection of impressions from the event in our latest Wakelet!
By Katrina Cameron and Tyler Trainer
Don't forget to subscribe to our newsletter to get our content and other updates straight to your email as soon as it's posted!