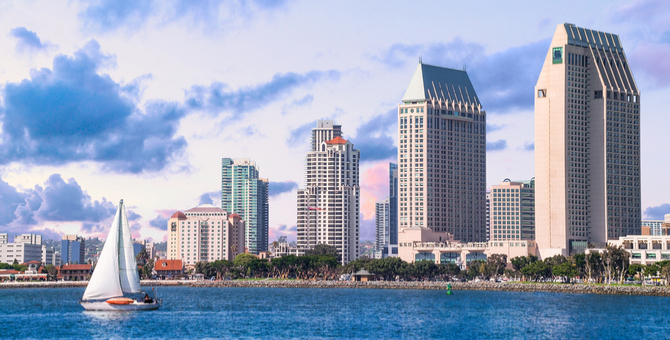 In a move that has doubled the company's geographic footprint in just the last year, 10Fold has officially opened a new office in downtown San Diego. Located blocks away from the beautiful Petco Park (home of the San Diego Padres) and surrounded by rooftop bars, creative culinary options, and enough Mexican eateries to satisfy even the hungriest burrito connoisseurs, 10Fold snagged a great location in America's Finest City for the company's sixth office.
San Diego has been a growing tech hotbed for years now, and continues to see both startups (Apricorn, Attack IQ) and established companies (Walmart Labs, Amazon, Qualcomm) take root here. As a firm specializing in PR and digital communication strategies for high-tech, B2B companies, the establishment of a locally-based team is a strong strategic investment in supporting current and potential clients in the area.
The tech scene coupled with San Diego's numerous colleges and universities offering superior PR and communications programs (SDSU's PR program is ranked sixth in the nation) also makes the city a prime location to recruit top-notch talent. And with a world-class convention center and hospitality market, San Diego is the destination of choice for countless high-tech conferences and analyst events each year (it's not just Comic Con, folks).
The new San Diego office is just the latest strategic move as 10Fold continues to grow its Southern California presence. In its Orange County location, 10Fold recently welcomed a new vice president, Mike Kilroy, and promoted Angela Griffo to senior vice president of client services.
B2B tech companies looking for integrated communications support from a team of experienced, tech-savvy professionals, or those looking to explore a career in the fast-paced world of high-tech PR, please don't hesitate to contact us. We look forward to hearing from you!
Read the full press release here: 10Fold Launches Sixth Office to Keep Pace with High Demand for Integrated Communications  
By Emily Ashley
Don't forget to subscribe to our newsletter to get our content and other updates straight to your email as soon as it's posted!