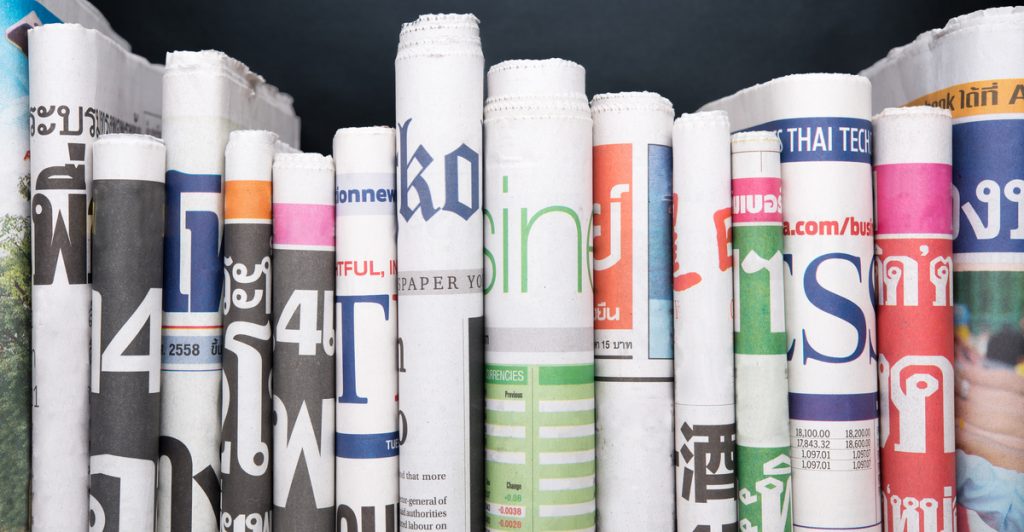 The news media landscape has changed drastically since the first printed news pamphlets were published in Germany in the 1400s. The major shift from print to digital is a trend we have witnessed unfold over the past two decades, but 2020 has been a turbulent year for digital-native news sites, too. Major publications, from Forbes to RFID Journal, implemented paywalls in 2020 to boost revenue and profits with digital subscriptions. Other publications, like Quartz, Vice Media, Buzzfeed and even the New York Times struggled with layoffs. According to this article, more than 300 mainstream publications laid off staff. Some publications, like Cheddar, permanently closed entire offices. 
In a pivotal year for journalism, we have also observed bright spots. New publications have emerged, niche readership is carrying valuable clout and newsletters are gaining more traction than ever before. 
As we look ahead to 2021, these are five publications to watch: 
Bloomberg News tech reporter Eric Newcomer left the news organization in October 2020 to start a subscription newsletter about startups and venture capital, Newcomer. He vows to address technology reporting head–on with transparency: telling you what he thinks while ensuring readers have the facts to make up their own minds. He wants to write "for the industry." This newsletter will be a paid subscription in the early days, but we believe it will be worth the investment. To read Newcomer's manifesto and subscribe, click here.   
The name Polina Marinova will ring true for anyone following the tech and entrepreneur landscape. Marinova, a staple at Fortune, quit her job in March 2020 to start her own media company, The Profile. Delivered to your inbox every Sunday, The Profile tells the best long-form stories on people and companies in business, entertainment, tech, sports and more. These in-depth profiles aim to educate, interest, and inform. To sign up for The Profile, click here.  
Industry Dive, founded in 2012, has expanded to niche vertical publications, and one of the newest is Cybersecurity Dive, launched in 2020. Senior Editor Naomi Eide and reporter Samantha Schwartz team up with other colleagues to highlight the biggest trends shaping cybersecurity. As we look ahead to 2021, the security landscape will remain complicated and challenging. We expect Cybersecurity Dive to become a go-to vertical publication in the industry. To read and subscribe, click here.  
The Morning Brew made headlines in October 2020 when Insider Inc., the parent company to Business Insider, acquired the newsletter in an all-cash deal valued at $75 million. Consisting of four business-focused newsletters, The Morning Brew's largest newsletter has 2.5 million daily subscribers. The Morning Brew's average subscriber is 29 years old and the newsletter has developed a hyper-loyal fan based of business-minded millennials. The publication has also attracted top talent, with Hayden Field (formerly writing for Entrepreneur, Protocol, Mashable, Fortune and more) joining the ranks in August 2020 as the emerging tech, business and investigative feature reporter. To subscribe, click here. 
Protocol, the newest publication from the team behind Politico, was introduced in the beginning of 2020 as a source of news surrounding the intersection of technology and politics. The publication could not have launched at a more perfect time, as the global COVID-19 pandemic soon followed. Throughout the pandemic Protocol covered technological advancements and how they were being used to lessen the negative impact of the pandemic. As digital transformation continues to be a priority for enterprises in 2021 – along with leveraging new technology solutions powered by AI, ML, cloud, and IoT – and as the closely watched transition of the U.S. federal government to a new administration progresses, we're going to keep a close eye on Protocol's coverage to stay up to date on the latest political policies and how they relate to technology. To read more, click here. 
To subscribe to the 10Fold blog, please visit:  

Want more? Find our surprising media moves for Spring 2021 here.