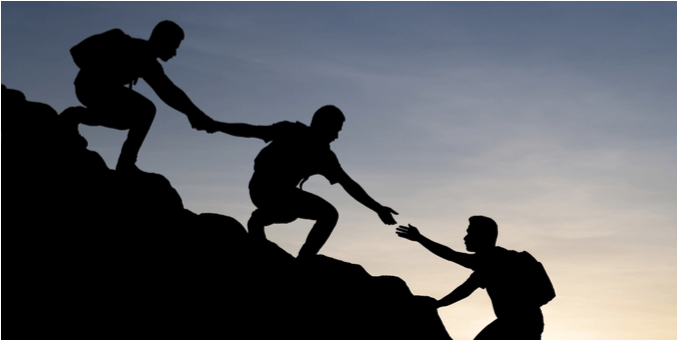 One of the things we are most proud of here at 10Fold is our employees, not only because they are smart, accountable and talented professionals (although they most definitely are that, too), but because they all care deeply about the community in which they live. It's no coincidence, then, that an overwhelming number of our employees are involved with and committed to charities and non-profit organizations with a wide range of missions, including cancer research, empowering underserved populations and providing resources to individuals suffering from mental illness.
In short, our employees reflect 10Fold's strong culture of helping others in need and giving back — a value that 10Fold has promoted and supported since its inception. And we want to see them to continue to thrive and grow as leaders – not just as PR professionals, but in various capacities throughout the greater world. As such, 10Fold has made it a point to support our employees in their charitable efforts.
Most recently, an employee on the board of the San Francisco chapter of the National Alliance on Mental Illness (NAMI), the largest grassroots organization dedicated to the education, outreach and advocacy for the mentally ill and their families, was hosting a fundraiser at a local venue. 10Fold recognized the personal connection she had to this issue, and our significant donation to her efforts was critical in helping put the project over their fundraising goal. The money went directly to programs that linked those suffering from mental illness with mental health resources that would help them thrive.
But it hasn't stopped there. Since 2008, 10Fold has consistently been an annual donor to the San Francisco chapter of the Leukemia & Lymphoma Society when another employee lost a good friend to leukemia. As an assistant coach for Team in Training's SF Bay Area Cycle Team, he now rides in his friend's memory by doing a "century ride" one season each year to raise money for the Leukemia & Lymphoma Society in their efforts to cure for all blood cancers. His last century ride was in November at El Tour de Tucson, where the team rode their bikes 108 miles around the city of Tucson, Arizona.
10Fold also contributes regularly to the Junior League of Oakland East-Bay (JLOEB), which has been near and dear to another 10Fold employee for going on eight years. The JLOEB partners with local organizations to support efforts that help East Bay families secure food, clothing, housing and jobs.
Last year, 10Fold donated a significant amount to the Young Texans Against Cancer Austin Chapter for their PowderPuff game/fundraiser, an event launched in 2013 that has grown considerably each year. The money helped raise $30K for local cancer research and support organizations, as well as cancer patients and their families.
Perhaps not surprisingly, our employees mirror 10Fold's own charitable endeavors as a team. Every year, the entire 10Fold team spends an afternoon sorting and boxing food at the Alameda County Community Food Bank, providing much-needed nutritious fruits and vegetables, as well as protein and canned goods, to families in need. Team members – led by our fearless CEO, Susan Thomas — have also raised money by participating in the Avon 39 Walk to Cure Breast Cancer, a lengthy 39-mile, two-day hike that extends from Marin County to the San Francisco Marina.
The list goes on and on. But safe to say, we don't just pay lip-service to our philanthropic endeavors – we walk the walk – because we want to see the communities in which we live, work and raise our families to flourish and thrive. It not only makes us feel good, but it's the right thing to do. After all, it takes a village – and we take that to heart.
If you would like to volunteer or donate to any of our favorite charities, more information can be found below.
The National Alliance on Mental Illness in San Francisco (NAMI SF) is the community's voice on mental illness. The organization is part of the grass-roots, nonprofit, national NAMI organization, and also an affiliate of NAMI California. Its mission is to support and educate people with mental illness and their families and advocate for more research and awareness around mental illness.
The San Francisco Chapter of the Leukemia and Lymphoma Society is the voice for all blood cancer patients. Their mission is to ensure access to treatments for all blood cancer patients, find a cure for blood cancers such as leukemia, lymphoma, Hodgkin's disease and myeloma, and improve the quality of life of patients and their families.
The Junior League of Oakland East-Bay (JLOEB) is an organization of women committed to promoting voluntarism, developing the potential of women and improving communities through the effective action and leadership of trained volunteers. Its purpose is exclusively educational and charitable.
The Young Texans Against Cancer Austin Chapter is an independent, nonprofit organization that is run completely by volunteers. The board is comprised of young men and women who have either lost or witnessed a loved one fighting cancer. The organization is focused on raising funds for local research and support organizations in Central Texas, using our member base to increase awareness of volunteer organizations and helping to educate our community on cancer research.
The Alameda County Community Food Bank distributes millions of healthy meals every year, and is on the forefront of new approaches to ending hunger and poverty. The food bank is committed to food distribution, ending child and student hunger and community education and outreach.
Avon 39 Walk to End Breast Cancer is the largest fundraising event for the Avon Breast Cancer Crusade. Since its launch by the Avon Foundation for Women in 2003, more than 235,000 participants have raised nearly $620 million in the fight to end breast cancer. Funds raised at each event provide direct impact in the area where the event takes place, and also help make sure that care and research programs nationwide have adequate resources to make the most progress possible.
Need more great insights? Check out some of our other content here, and subscribe to our email list below: