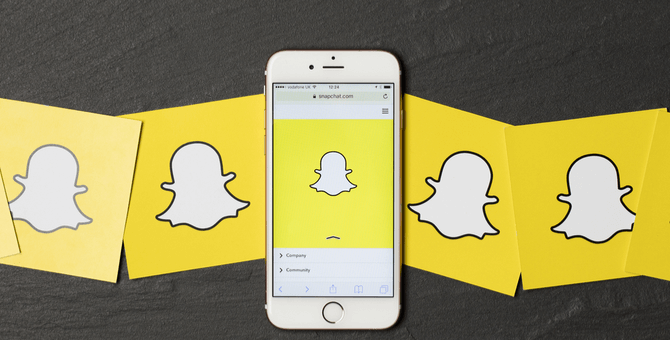 Since its release in 2011, SnapChat has been known as a fun way for young people to goof around and send non-committal messages to their friends. The platform is based on the idea of a 24-hour cycle – no image lasts longer than a day. Nothing you post will last forever, a conundrum that has been a staple of the Internet since its beginning, plaguing those who've made poor decisions in the past. Of course, SnapChat isn't just for the individual user. Numerous consumer brands use the channel to engage with current and potential customers, using the same tactics that SnapChat was invented for – to have a lot of fun and then move on.
'Well that makes sense,' you say, 'but it's hardly applicable for serious B2B technology companies looking to build relationships and brand awareness with customers and prospects. Surely vendor companies selling to business audiences are not on SnapChat, right? I mean, why would they bother?'
The SnapChat Difference
Think about this: companies are not people themselves, but they are made up of people. Individuals. SnapChat has over 180 million users every day. It's safe to assume that at least some portion of these users work for companies that are clients or potential clients of B2B companies. Bloomberg even claims that SnapChat has more active users than Twitter.
The demographics on SnapChat might, in popular culture, appear to be just teenagers, but research shows that 41% of all 18- to 34-year-olds in the U.S. use SnapChat daily. So while SnapChat's primary users might be perceived as teens below 18, a large portion of users are older and are starting their careers in a variety of industries. This is not that different from the Facebook effect where social pass-along or sharing of media coverage by individuals being written about or quoted in the news makes the channel a major amplifier of earned media coverage.
Beyond the numbers game (considering an account is free to create and has the benefit of these high audience numbers), SnapChat offers special features that can improve engagement. With geofilters and the 24-hour rotation, SnapChat is positioned to offer new opportunities for B2B companies. These features can keep companies relevant with trends, able to cycle new posts every day, and be in the know with hot topics from filters that often have nods to pop culture like movies and music festivals.
Making a SnapChat account is easy enough. Knowing how to use it is a whole other beast to tame. Consider three major uses for SnapChat: integrated communications, engagement, and recruiting.
Integrated Communications
This seems like an obvious one, but consider the value from SnapChat when used as part of an integrated campaign. Cross-channel promotion is one of the strongest benefits SnapChat offers. B2B companies can post with tags that lead viewers to other social platforms like Twitter or Facebook.
Building one-on-one conversations with users, regardless of where they are., means B2B companies can engage decision makers and innovative thinkers anytime, anywhere. You can showcase your products, your company, your tech, your people as an individual experience for each viewer.
Demoing your product becomes a personal experience too. SnapChat can offer video demos that aren't stale. These videos act as live action demos. Users opt in to engage with the demo by way of simply watching it.
Consider the last time your B2B company sent out a press release. It goes out online and reaches reporters and analysts. But it's a slow go. You have to wait for stories to be written, wait for briefings to happen. SnapChat gives you the chance to fill that time immediately. You can post brief interviews about the press release, share a video of it officially going over the wire, showcase the product or service or partnership that's at the center of your release. SnapChat integrates the instant feedback loop of social media with the traditional style of reporter outreach and pitching.
You can even schedule your posts with StoryHeap, just like you'd use Hootsuite for other social. You'll not only be able to time your posts but you can archive your stories and access analytics like views, screenshots, open rate and complete rate. That means that you can have a social plan that utilizes the quirkiness of SnapChat with the momentum of your brand's current social campaigns.
SnapChat also excels in providing individual viewers with exclusive access not only to product demos but thought leaders. Take Mark Suster (@msuster on SnapChat), a VC with Upfront Ventures, for example. Suster has invested in a variety of companies and has years of financial and marketing advice in the startup realm to draw from. He uses SnapChat to pass these tips on to an audience of executives, entrepreneurs and anyone who can make a SnapChat account. This one-on-one access provides high level thought leadership in a casual, low-stakes environment. Suster has even kept an archive of his stories at snapstorms.com.
Engagement
Individual potential clients can be a part of the daily operation of a B2B company through exclusive interviews, insider scoops and event or tradeshow video.
Utilizing geofilters from industry events not only provide the audience with a view into where and how the company is engaging with an industry, but also showcases company observations and insights gained at these events, where not everyone can attend in person. Including insider scoops from these events makes SnapChat, users, who could be current or potential customers, feel included and in-the-know while further establishing your company as a thought leader. Take DocuSign's (@DocuSignInc on SnapChat) custom geofilter at Domain-Specific Modeling in 2016. Attendees were able to simply add the image overlay to their stories and have bought into the brand's storytelling. Not only did the user engage with DocuSign but every viewer of their stories – their friends on SnapChat – saw the geofilter too.
Bringing these kinds of events directly to SnapChat users can make them feel like a part of the company's' activities in real time. They see where you're going. They see what you value. They understand your brand as more than just a name. Your enterprise and everyone who contributes to it, projects a personality. Doing things like showcasing your employees or your facilities like IBM (@ibm on SnapChat) did in their SnapChat stories, can make your company feel relevant to viewers. In the B2B world, this can differentiate your company from others who may focus relentlessly on products and engineering specs before they engage and build context for a relationship.
Recruiting
By displaying the daily work of a company, SnapChat can help you showcase your employees as real people. Potential employees get to see what it's really like to work for your company. You can show – versus simply talking about – company perks, culture and philosophy. Professionals in all stages of their careers can see the value in working for your company. And who doesn't have a recruiting challenge these days whether it's for engineers or masterful marketers.
A great example of this is Cisco's "WeAreCisco tribe." This recruiting and careers team took over the Cisco company SnapChat (@wearecisco on SnapChat) in 2016. They kicked it off with a blog post to generate awareness and excitement, providing a preview of what viewers might see. Cisco featured employees at annual events, working in the office and exemplifying the Cisco brand. They had one major goal: showcase what it's like to work at Cisco and encourage others to work there too.
Beyond reaching potential employees, other professionals in your client target industry can see your business environment. Decision makers at companies that buy B2B services can be recruited as new clients simply by seeing how well a company is run (in addition to the product/service demos, of course).
Using SnapChat as a recruiting channel can break through some of the hype found in the tech world, and help establish your company as an authentic voice. Just like the audience, a B2B company is made of individual people – maybe even SnapChat users themselves – that contribute to the philosophy and the quality of the company.
B2B Opportunity Awaits
Going to an industry conference or event? Schedule a fun story about the product you're showcasing. Post live videos of your travels there. Promote your Twitter page that has links to the full press release. Use a local geofilter to show where you are.
The SnapChat benefit is endless. Even for B2B companies. And if you're not using it yet, it's time to join. And if you are, we'd love to hear what working for you and lessons learned. Of course we'd also love to field any questions you may have.
By Morgan Eisenstot
Don't forget to subscribe to our newsletter to get our content and other updates straight to your email as soon as it's posted!