Wired Magazine – 11.18.15 – By Alex Davies – Author
Levi's Stadium is a technological marvel and one of the most sophisticated sports stadiums in the world. That makes sense, given that the new home of the San Francisco 49ers football team sits in the heart of Silicon Valley. The Wi-Fi network, some 600 access points strung together with 400 miles of cable, can transfer 40 gigabits of data per second. Some 1,200 Bluetooth beacons guide fans to their seats and other locations. More than 2,000 TVs scattered throughout the place ensure no one misses a second of action while waiting in line for hot dogs and beer.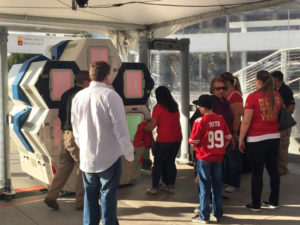 That's all well and good, but nothing new to 21st century fans accustomed to being connected everywhere they go. Far more novel is the tech fans will see outside the stadium in the security line. Levi's Stadium is the anchor customer in the US for Qylur Security Solutions and its innovative scanner that promises to to make the security gauntlet significantly less of a pain in the ass.
The Qylatron Entry Experience Solution is a honeycomb-like machine of five pods that replaces the surly guy who pokes through your stuff with a stick to make sure you aren't carrying contraband. The process is simple, designed to improve not just security, but the entry experience. Hold your ticket aloft and a ticket scanner assigns you to one of five "pods," each the size of large microwave oven. Pop in your bag, close the door, and walk to the other side. By the time you get there, the machine will have scanned your stuff for any number of things, as determined by the security team. The system can handle up to 600 guests in an hour (each with one bag), and needs just four people to keep it running.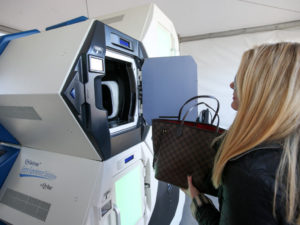 Qylur doesn't say much when asked exactly how the Qylatron works, but we know it uses radiation and chemical sensors to look for explosives. A multi-view X-ray uses machine learning to identify things like weapons, and the software can be updated to look for new threats as they're identified. If the machine sees something it doesn't like, it alerts a security officer and the door turns purple. If you're good to go, the door turns green, and you use your ticket to unlock it and take your bag. You don't have to open your bag or let anyone touch it. With five people moving through at once, you're through security almost as quickly as you can roll your eyes.
The National Center for Spectator Sports Safety and Security at the University of Southern Mississippi evaluated the Qylatron in 2010, calling it "very impressive technology with tremendous potential." On a scale of 1 to 3—2 being meets expectations, 3 being exceeds them—the system scored 1.98 out of 2 in guest experience, 1.94 in operational efficiency, 1.97 in core security and detection capability, and 1.98 in total. "Overall, the [subject matter experts] were very impressed with the Qylatron's technology and its ability to screen using over 200 different detection parameters," the report concluded. "Some noted that a detection system like this has never been seen in the sports venue market."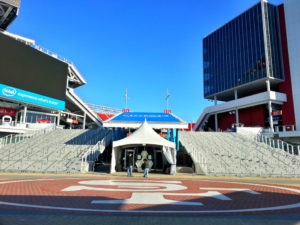 Qylur tested tested the Qylatron at the World Cup in Brazil last year, and installed it at Disneyland Paris, but its appearance in Silicon Valley is a bigger sign the company's moving forward. Qylur's been in talks with various arenas, says CEO Lisa Dolev, but Levi's Stadium's focus on consumer-facing tech and its place in Silicon Valley—also home to Qylur—make it a natural partner. "They really made the most sense," Dolev says.
Qylur's machine was installed at the stadium in October, but it's not monitoring game day fans just yet. For now, it's screening people coming in for daily tours. It's something of a trial run so the company can figure out things like how best to train security employees accustomed to poking through your bag with what look like oversized chopsticks. Training started about seven weeks ago, and in the past three weeks, hundreds of fans have been screened. "Nobody really likes having to rummage through people's bags, it's not a pleasant experience," Dolev says.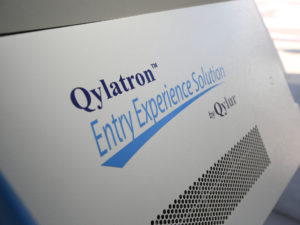 If the setup at Levi's Stadium is successful—if fans are kept both happy and safe—Qylur could move on to screening VIP guests at games, and maybe eventually searching the red and gold-clad hoi polloi. From there, it could spread to other sports venues, serving not just 49ers fans, but patrons of other teams and sports. "We expect several more rollouts in 2016 across stadiums, amusement parks and other large public venues," Dolev says.
Most awesomely, it could be used for air travel: The TSA is interested. In October, the Transportation Security Laboratory, the agency's R&D arm (what, you're surprised that exists?), announced it will test and evaluate Qylur's system over the next 18 months, with an eye to putting it in use in airports.