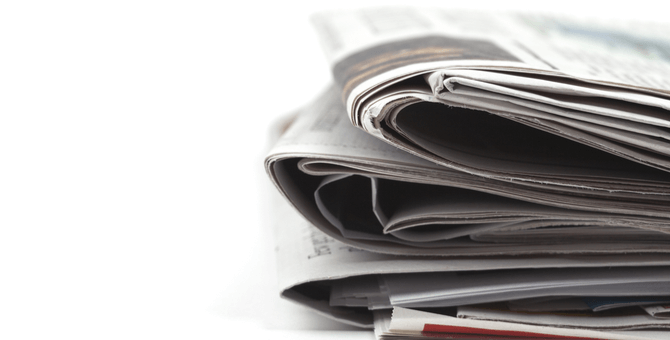 Building a strong brand is an essential element in the formula for achieving business success.  Having "an industry footprint" is important, irrespective of your industry, company size or location. While there are many approaches to building a brand, one of the fastest, and most effective is generating coverage in top-tier business media.  But that's not easy.
That's why 10Fold created Media SharkTank – on the premise that you'll learn more about pitching your company if a half dozen members of the top-tier business media are sitting in front of you, reacting to your pitch, and providing suggestions for scoring coverage in their publications.
This event has had such a great impact that we are now celebrating eight years of bringing business press together with company executives.  With that, I want to share a few observations about how the business media landscape has shifted, and what drives a good story – even as the process, preparation, and delivery required for a strong pitch have remained constant.
"Cool Vendors" are cool, but not yet great
Smart business reporters are hungry to find vendors that are driving trends, and not just riding those trends.  And what client does not want to be mentioned as a trend driver by Fortune, or Barron's, or CNBC?  So, winning a Cool Vendor mention in a Gartner report, or in a story in Fortune, Forbes or Bloomberg is an accomplishment.  But a little perspective:  If your company is one in 50 named a Cool Vendor, that's good, but it's not monumental to this crowd, unless, for example, you're the only wireless vendor on the list.
Also consider that a cool vendor may have "all the right stuff" to be great, but there's a deep chasm between potential and true greatness.  I've represented cool vendors that got my clients past the business editor's first filter.  The remaining filters will be focused on how the company has used the potential to create a business event – meaning that they have used their vision to save companies in automotive millions of dollars, or they have reduced the cost of healthcare insurance by billions across America or they will transform the way giant industrial companies collect and analyze data – having a trillion dollar impact on the industrial world.  Simply put: members of the business press don't like to speculate on what might happen – they far prefer what has happened.
The "What's Hot" list of technologies is . . . well . . . hot!
There's no end of industry lists, it seems.  After all, lists drive page views, they're concise, and they're memorable.
But there's been a not-so-subtle shift in the significance of the "Hottest Technologies" lists that dominate business, tech, and scientific publications.  Some business reporters may only cover AI and machine learning – currently two of the hottest technologies, whereas others may almost exclusively focus on driverless vehicles or be assigned to "big company beats" such as Google, Facebook, Amazon or Uber.
But where does that leave you if you're in the data storage space?  Dig deeper, and, chances are, you will find that nobody covers data storage at the publication you're pursuing.  But persistence pays, and it may require only a Google search.  For example, search on "Forbes AND data storage," and you'll find that a respected industry analyst with 35 years in data storage also acts as a contributor to Forbes.  See a recent story here.
Never give up, even if hot technologies are winning.  I can imagine a killer story angle that links storage, AI and analytics – and no doubt you already have.  So go out and pitch that story!
Dig In: Sean Captain – Media Sharktank is a chance to clear many waters
And remember that the business media still prize any company that is disrupting major markets, picking up market share, and winning business at the expense of entrenched vendors.  The storage industry, for example, is an industry ripe for disruption.  That's their stock in trade, and it's not going to change anytime soon.
Good things come to those who persist
It's common knowledge that proactively generating feature business coverage can take six months or more to secure, start to finish.  Even the first interaction – the icebreaker meeting — doesn't come easy.  Today, business reporters and editors simply can't take the time for a meet-and-greet, when they have a quota of feature pieces to write each week, in addition to breaking news.  They want the whole story, in a nutshell — they want disruption, they want validation, and they want proof as in customers.
Let's face it, in the thinning ranks of business reporters, few are industry specialists.  They still need education, they need assurance that they're getting the straight story, they want to connect with visionaries, and they want to talk to customers. Often industry research and reports your company has backed, or played a role in, can come in handy. Then, if it all feels right, the business reporter may even ask for an exclusive.
OK, no surprises so far, right?  What's new is that an indirect approach to coverage is sometimes the set-up piece that may grease the skids for feature coverage at a later date. A simple Google search can reveal that some start-ups or up-and-comers are first getting coverage in contributed content submitted by a hired-gun writer – typically an industry insider (such as a former industry analyst) whose role is to demonstrate how the company is an innovator and is set to change an industry.  Business publications trust industry insiders because they been vetted for their knowledge and can demonstrate a successful track record of credible articles.
Although you are, undoubtedly, the best person to tell your story, you won't have near the impact that a third-party expert will have with influential business press.
As a recap, follow this advice for securing business press coverage:
Look well beyond the potential of a company, and ensure you have facts and anecdotes about the real business impact your company is having.
Don't despair because you aren't on the "cool kids" list – there are plenty of older industries that experience exciting disruptions – you'll just have to dig deeper.
Your entree into the business press may not be the traditional way – that is, sitting for a story with a well-known reporter. It may be the clever alternate route of working with a technical industry expert that serves as a bridge for you into the business press.
If you'd like to know more, please consider joining 10Fold at SharkTank – this year it will be on October 25th at the Palace Hotel in San Francisco, take a look at whom you could be pitching live and in-person at Media SharkTank.
By Gary Good
Don't forget to subscribe to our newsletter to get our content and other updates straight to your email as soon as it's posted!