Deliver Industry-First Recovery Platform for Scale-Out and Cloud Database
The company was founded by former Data Domain (EMC), Veritas and IBM Research veteran Tarun Thakur, CEO, and Dr. Prasenjit Sarkar, CTO, who spent more than 15 years at IBM Research.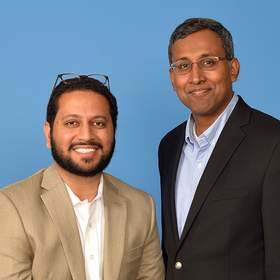 Datos IO received $2.75 million in oversubscribed Seed funding and $12.5 million in oversubscribed Series A funding, for a total of $15.25 million, from leading investors including Lightspeed Venture Partners and True Ventures along with a number of angel investors. John Vrionis, partner at Lightspeed Venture Partners, and Puneet Agarwal, partner at True Ventures, will be joining Tarun and Prasenjit on the board of directors. The funding will be used to build the sales and engineering teams needed to bring the product to market, onboard the first revenue-generating customers and continue product innovation.
The company also has an impressive team of advisors, including BJ Jenkins, CEO of Barracuda Networks; Matt Pfeil, chief customer officer at DataStax; Debashis Saha, vice president, eBay Cloud Services; and Dr. Remzi Arpaci-Dusseau, professor of computer science, University of Wisconsin-Madison. The team includes five members from IBM Almaden Research Center, five PhDs and senior technical architects from Google, Netflix, Data Domain (EMC), CommVault, NetApp and Oracle.
Cassandra Summit
Datos IO will be making its first public appearance as a Gold Sponsor of Cassandra Summit, being held September 22-24 at the Santa Clara Convention Center in Santa Clara, Calif. Datos IO will be presenting two speaking sessions: Reinventing Recovery For Next-Generation Databases and Datos IO: Consistent Repair-free Recovery for Cassandra. Datos IO CEO Tarun Thakur will appear in an executive-track panel discussion with DataStax, Accenture and British Gas Connected Homes. The company will also give demos in its booth (#114) and hold a prize drawing for a three-day exotic car rental.
Additional resources
Follow us on Twitter: www.twiter.com/@datos_io
Tweet this: Datos IO emerges from stealth and raises $15.25M in funding to deliver industry-first recovery platform for scale-out and cloud databases
Introduction to Datos IO: Reinventing Recovery for a Data-Centric World
https://youtu.be/yavvb_iuNsQ
Notable Quotes
"In today's invasive threat landscape, we observe many threats that can be damaging cyber attacks on enterprise applications, and other threat assets. By providing recovery agility for the Cassandra database, Datos IO enables us to time-travel in threat timelines so we can enhance the machine-learning algorithms of our Cassandra-based classification engines, making those engines more accurate in catching new true threats and ignoring the noise."
– Fleming Shi, vice president, technology, Barracuda Networks

"For today's massively distributed data infrastructures, enterprises need a consistent view of the data across their infrastructure for recovery needs. Datos IO delivers this consistent view, which will enable enterprises to accelerate the adoption of distributed databases."
– Debashis Saha, vice president, eBay Cloud Services (Executive Advisor, Datos IO)

"Datos IO is releasing the right product at the right time for the Apache Cassandra ecosystem. A versioned data store will remove an entire class of operational issues for businesses looking to onboard and scale next-generation web-scale applications and scale-out data stores."
– Aaron Morton, Apache Cassandra Committer, co-founder and principal consultant at The Last Pickle

"Datos IO will help customers accelerate the adoption of MongoDB, providing the safety and security that relational database users take for granted."
– Doug Garrett, MongoDB Master (2015)

"Threat Stack collects a very large amount of fine-grained data from all of our customers' servers, analyzing it in real time for threat indicators and compliance alerts. Doing so on a multi-tenant platform makes data motion and tenancy critical operational factors for our team as we scale multiple data solutions, including Cassandra, highlighting the importance of Datos IO's filtered replication and point-in-time versioning."
– Sam Bisbee, CTO, Threat Stack

"Many enterprise DevOps departments lack operational maturity. They find innovative apps that will let them do something better or faster, but are met with resistance during deployment as IT departments are still required to maintain the integrity of the process. It's refreshing to see companies like Datos IO coming up with new approaches to solve this challenge."
– Nik Rouda, senior analyst at ESG

"The majority of new web, mobile and IoT applications being created today are using NoSQL databases. These applications are rapidly becoming the core, mission-critical workloads that IT is being asked to support for businesses to compete. Data management and protection have to be revolutionized for this to happen, and we believe Datos IO has the technology and the team to capitalize on this massive high-growth opportunity."
– John Vrionis, partner at Lightspeed Venture Partners

"We believe in the massive potential of the emerging ecosystem around unstructured data and that Datos is the first recovery management solution in the space. We initially invested in Datos IO over a year ago, leading their seed round when there was no product and just two people. Since then, Tarun and Prasenjit have built a great product and an exceptional team of technologists that have partners and early customers alike very excited."
– Puneet Agarwal, partner at True Ventures

"Datos IO is the first to address a huge enterprise need and a huge market opportunity: a recovery solution that's built for today's distributed applications and scale-out databases. Traditional recovery approaches work great for relational databases, but using them for next-generation databases doesn't work; it's like being held back by an old, rusty anchor. With our industry-first distributed versioning platform, Datos IO is setting enterprises free of that anchor so they can innovate and compete effectively in today's mobile, social, cloud-native world."
– Tarun Thakur, CEO and co-founder, Datos IO
About Datos IO
Datos IO provides enterprise-class recovery products for the next-generation applications and scale-out databases that organizations need to compete in today's economy. Founded by Silicon Valley veterans, Datos IO is headquartered in San Jose, Calif.