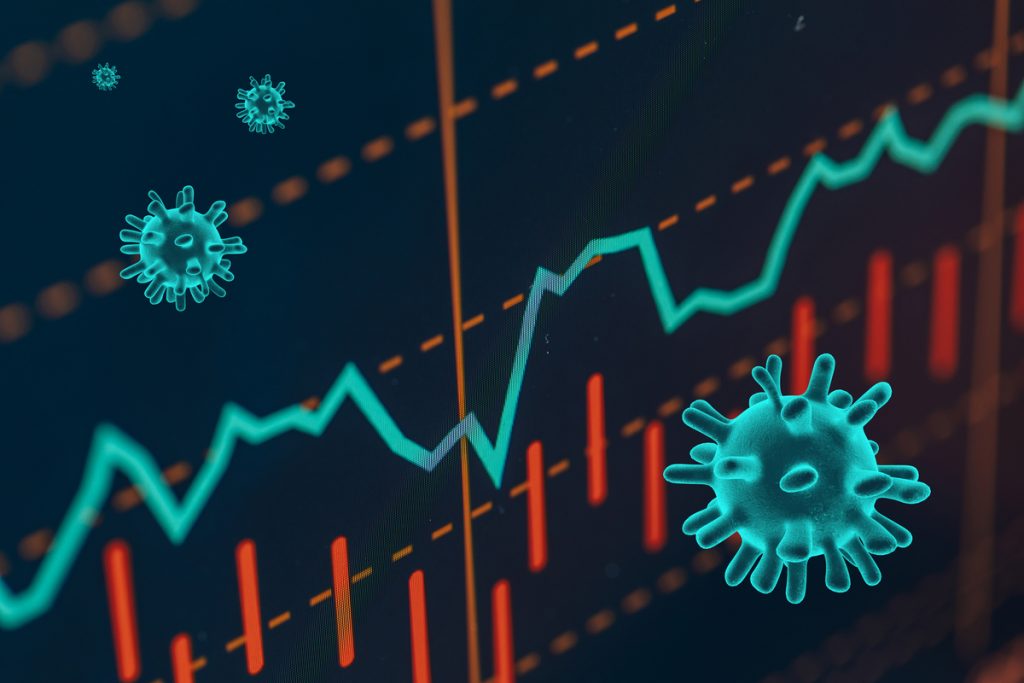 Initial rumors of a coronavirus outbreak began percolating through global news media channels at the end of 2019. In less than three months, the coronavirus (now officially known as COVID-19) has reached full global pandemic status. The media's progressing frenzy of coverage relating to the coronavirus pandemic is illustrated by the graph below, which tracks mentions of "coronavirus" and "COVID-19" over time.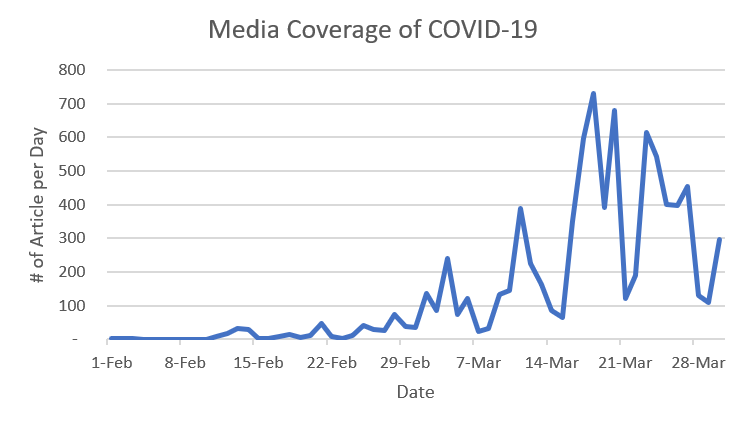 Figure 1: The spike of coverage on March 18 aligns with the announcement of the signing of the coronavirus relief package by President Trump.
In addition to the general media coverage of COVID-19 responses from governments and the public, business and technology media outlets have been scrambling to respond to the wide reach of COVID-19 coverage and provide organizations with information and tools they need to weather the economic and social storm. Businesses and individuals from across the globe have grappled with the ramifications of the viral pandemic and are turning to media outlets to find answers. The increase in attention paid to coverage of the coronavirus pandemic is demonstrated in the graph below, which tracks the reach of COVID-19-related articles have received over time.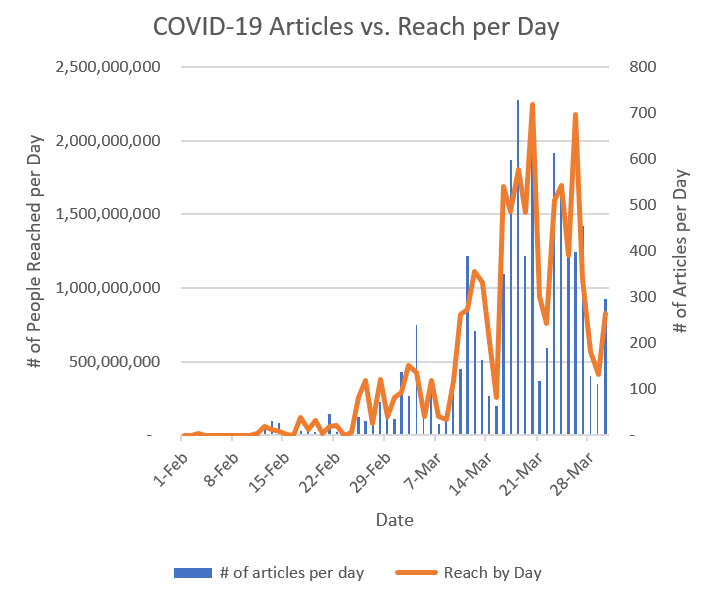 Industry experts and business leaders have been offering useful advice on COVID-19-related topics, including what issues to address first; how to manage a remote workforce; how the outbreak and remote work complicate security protocols and concerns; and how to be prepared for the next global market upset. As illustrated by the pie chart below, the primary topics of technology and business media coverage relating to the coronavirus outbreak are security, AI and remote work.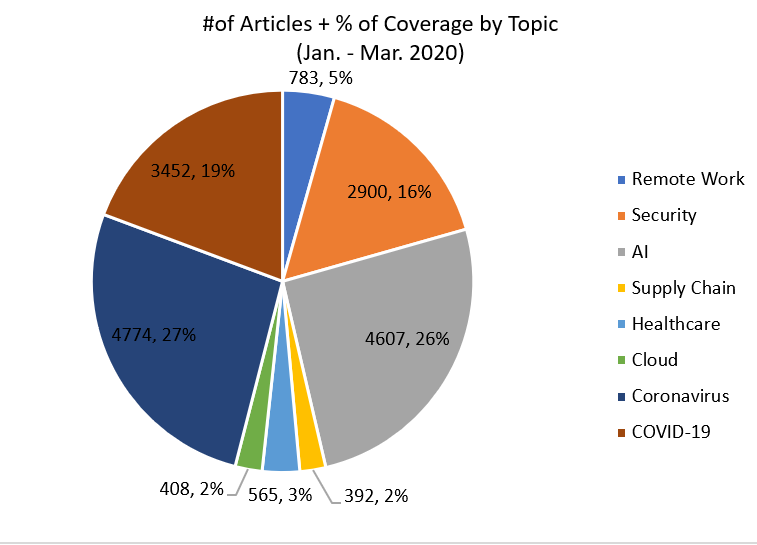 We've pulled together some suggested strategies to consider when discussing the outbreak with media, based on the media's focus on the topics demonstrated in the chart above and the technology-related coverage we have seen surrounding COVID-19.
What Issues to Address First
Many businesses are struggling with identifying the first issue they need to tackle – employee productivity, threats to the supply chain, customer retention and more. Business publications like Forbes, Entrepreneur, Harvard Business Review are heavily covering general business survival strategies and tips for companies of all sizes – from startups to corporations – who are navigating the murky waters of doing business in the face of the outbreak.
RELATED: Coronavirus – A Lesson in B2B Crisis Communications
The items that need to be addressed first will vary from organization to organization, based on the services they provide and the clientele they support. For some organizations, it will be how to transfer business-critical processes to the cloud, for others it will focus on how to secure inbound and outbound communications during the explosion of remote work.
How to Manage & Enable a Remote Workforce
Due to the quarantine and "social distancing" strategies most governments are implementing in response to COVID-19, management of their now-remote workforce – especially if their workforce and management teams are not accustomed to working from home – is a top priority. Not only do these organizations need tools in place to manage employees, but they must also enable their staff to remotely perform necessary business operations. This has been a huge topic of late for publications, such as NPR, Business Insider, the BBC and CNN, among others.
How the Outbreak & Remote Work Complicate Security Protocols & Concerns
While enabling and managing a remote workforce is vital to continuing critical business operations throughout this pandemic, it doesn't help to take one step forward and two steps back. Business and IT leaders should take caution and gauge whether remote control of business operations will compromise the security standards of an organization. This topic has been more heavily covered by technology-focused publications including TechRepublic and CIO Dive, but has also been a topic of concern for industry-facing media outlets, such as FierceHealthcare.
How to Be Prepared for the Next Global Market upset
Even though hopes are high that the pandemic will soon run its course and begin to recede come summer, some analysts and healthcare leaders are predicting that the COVID-19 epidemic will return with the standard flu season later in 2020. Businesses that have already seen the ramifications of being unprepared for a viral pandemic will want to be prepared for the next market upset.
We at 10Fold have our finger on the pulse of media trends and take special care to observe media coverage and priorities during market upsets and Black Swan events like the COVID-19 pandemic. Be sure to regularly visit our blog for the latest tips and updates on media strategies relating to the ongoing pandemic and future events.
Don't forget to subscribe to our newsletter to get our content and other updates straight to your email!