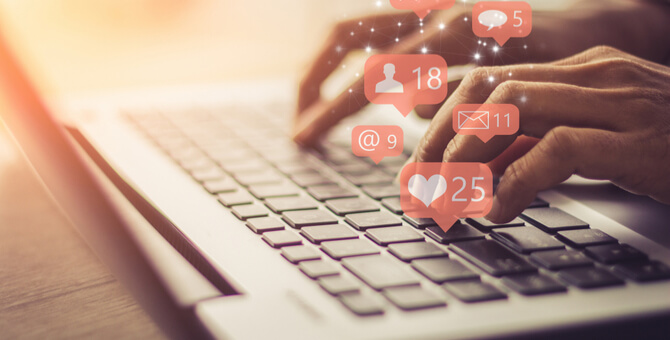 With the increasing hype around social media, and now evidence that social media strategies are a solid business practice, digital specialists are heads down trying to develop solid plans that will deliver a return on the investment. It's easy enough to set a metric and work towards it. However, knowing which KPIs and metrics deliver maximum value against your goals matters. Too often, a team will set a target follower base, engagement goal, or an ideal number of shares and call it a success without a thorough understanding of exactly what each target means and how it relates to the goals you've set for your social media presence. While boosting all social media engagement is always preferable, 10Fold has found success in designing custom engagement goals to gain the maximum value for our clients.  Following are a couple of our best practices.
Content Discovery and Lead Generation
Sharing your native content on social media is the best way to boost your lead generation and broadcast your thought leadership. For this approach, your team will want to prioritize link clicks. The definitions of exactly what the term 'link clicks' constitutes tend to vary across platforms, however for our purposes we will define them as content clickthroughs, I.e., someone clicking the link to your blog). An account focused on getting form-fills from leads that has high post engagement but little clickthrough may seem visibly successful but is misleading in the fact that its content is not actually being interacted with in a productive way.
Your best bet to boost link clicks organically is to use specialized hashtags that individuals interested in the topic will be searching for. 10Fold uses RiteTag to determine hashtag post volume, as shown below:

The three colors indicate whether a hashtag is popular (green), good for long-term viewing (blue), or should be avoided (gray). A quick note here: It's tempting to want to cram your posts full of high volume hashtags, however, if the post's engagement is low, then the post will get sent to the bottom of that hashtag feed. Make sure to have your team engage with posts that use high-volume hashtags or give them a paid boost to make sure you capture your target audience!
Brand awareness
Building your brand awareness and industry recognition is an important part of maintaining your clout on social media channels. Key metrics should center on impressions to maximize viewership, so organizing your campaigns around post engagement to boost positioning in social media platform algorithms will also be very important. With this approach, we recommend a stronger focus on the aesthetics of your channel, which includes increasing impressions, followers and visible engagement (likes, comments, and shares).  To monitor this, or be found by other users, you can use user profiling programs such as Brandwatch Audiences and Followerwonk.  These programs will monitor activity on your accounts and identify your account content to others searching for related information.  All of this will boost your influence and social authority scores.
The most effective and simplest process to increase your brand awareness is always going to be a paid strategy, but if you're not willing to shell out the big bucks for a social media plan, then some approaches at influencer marketing will be a good first step! Check out How Do I Build an Influencer List? and Reciprocal Relationships: The Key to Influencer Partnerships that Work for more insight into this strategy. The biggest mistakes made by teams attempting to boost brand awareness include 1) investing in broad-interest targeted ads (unless you want a follower-base of pure bots), 2) engaging in follow-for-follow relationships, and 3) interacting with the bot posts on Twitter (example shown). Remember, if you want to build an engaged and influential group of followers, avoid those three mistakes!
For more strategies for promoting yourself or your corporate brand on social media, check in with us here again soon. If you are looking for more great content like this, make sure to peruse our other blogs here and sign up to our newsletter to get content straight to your email as soon as it's posted!