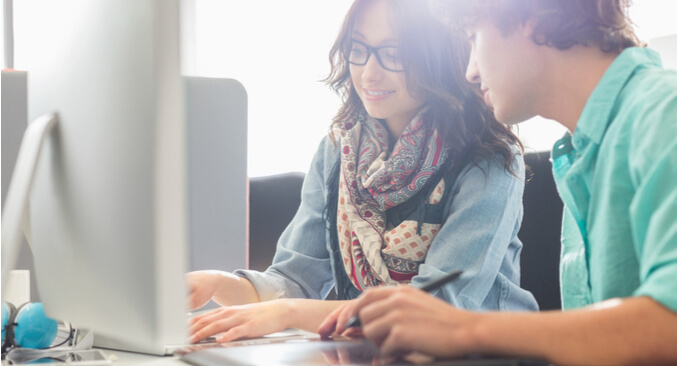 Have your friends convinced you that an internship is a waste of time that only the losers even bother considering? Are you pretty sure you have the skills to skip the whole process and jump straight into a hired position? Think again, kiddo. There's more to an internship than just a roadblock to the hiring process, and this is especially true when it comes to the value of experiencing your profession up close and personal.
But what is it exactly that is so valuable about internships that you should spend so much time and effort in trying to get one? We can't speak for any other of the other PR guys, but you can check out what Account Associate Kyra Tillmans has to say about her experience with the 10Fold internship program:
RELATED: How do you pick a good internship?
"10Fold was my first, real internship, so I wasn't sure what to expect. Moreover, at that time I was an international student at a local college, and because I did not grow up in the United States I had no other experiences to compare it to. I also had no previous experience in PR. When I first began my application process, I expected an internship to be a hands-on learning experience in your chosen field, where you help your teams with non-client facing research tasks. My 10Fold internship experience was that and much more!
What I liked best about the 10Fold internship experience, was that they really make you feel part of the team. You are respected and recognized for all your abilities and this shows – you are invited to all team brainstorm sessions and even get pulled aside for special projects depending on your expertise (video, social, visual etc.). 10Fold uses TAFI as a rule book, and the TAFI values are something each employee embodies.
T – Teamwork: Only a very small portion of your work is done individually. Many tasks focus on teamwork, and it is great practice for whatever is next in your career. You learn how to work with different people (and geo) on the team, and quickly learn that every individual can teach you something new.
A – Accountability: There is a great, friendly and energetic vibe, and there are no cliques. Everybody owns their workload and takes care of their part.
F – Fun: 10Fold has the perfect balance of getting stuff done while also having fun. The team parties are a great way for all offices to come together, and the company-wide off sites are day-long training and brainstorm sessions, unique to the company, that allows employees, managers, and leadership to come together and discuss what we're doing right (and how we can improve).
I – Integrity: 10Fold treats everybody equally and with respect. The team helps each other out – no matter what level."
RELATED: The Intern Experience at 10Fold
"My managers and teams (both direct and team-wide) gave great tips and advice during my 10Fold internship and truly set me up for success. They took a lot of time and effort getting me introduced to the world of B2B tech PR and guided me through difficult technical terms, industry acronyms, the media landscape with a great attitude and a willingness to help me and my peers grow.
The 10Fold internship is very hands-on. Even though you are not directly communicating with clients, you are involved every step along the way, and there is a great amount of visibility and transparency. You are not only researching (building media lists, coverage reports and more), but also drafting social content, writing, and even pitching. I feel like this is unique to the 10Fold experience, and is something you will not find at other PR internships.
I strongly believe my internship at 10Fold prepared me for my career, as I not only learned about all aspects of PR and the tech industry but also learned great organizational and time management skills. You are inspired to become a hard and effective worker, and it often leads to a successful bottom-up management style. This allows managers to focus on other aspects of the accounts, which is a big help to the VPs as well. You know that you are valued, and it is a very rewarding experience."
Sound like our workplace is something you could thrive in? Check out some more information on each listing we have available.
Gain some good insights from this piece? Check out some of our other content here.