What did you most recently get recognized for as embodying our tenet of TAFFI (Teamwork,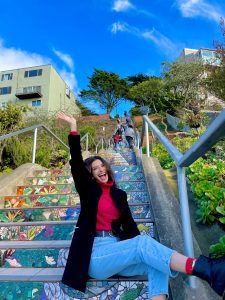 Accountability, Fun, Fascination and Integrity)?
The latest recognition I received was when Caitlin announced my promotion to Senior Account Associate (SAA) on huddle last week. Prior to that, I was given a shoutout for my writing skills after developing a strong proactive pitch (my first one for that client) and my first Q&A for another client. I recall Meghan saying that I write "like an old pro," which is an absolute honor coming from an actual pro like herself.
What is something you have learned while working at 10Fold that has aided your success?
10Fold is really big on transparency, which goes hand in hand with the accountability component of TAFFI. I've learned that honesty is key to building trust with your team, whether you're feeling overwhelmed or struggling to meet a deadline. Your team might be willing to help you out, but can't do so if you aren't clear about what you need support on.
What advice would you give someone who is just starting out in their career?
Show initiative. It's easy to wait for your managers to tell you what to do, but being proactive really makes you stand out. Don't be afraid to share your ideas, even if it means going out of your comfort zone. We're often intimidated when we feel like others have more experience than us. At the end of the day, people want to hear fresh perspectives and won't judge you for sharing your thoughts. Your team will respect you for showing that you care and that you're going out of your way to learn.
At the same time, it's totally okay to feel lost and confused, especially if you're new to an industry like B2B tech. Nobody expects you to understand complex technological concepts right off the bat, but trying your best to research and learn will help you move in the right direction. Technology can be a challenge, but it's incredibly rewarding once you finally understand it.
Do you have a favorite hobby?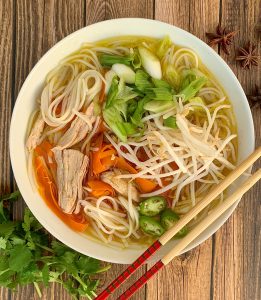 I spend a lot of my time in the kitchen, cooking and creating new recipes. I enjoy using new ingredients I've never tried before and incorporating them into my dishes. I could spend hours at the farmer's market or my favorite grocery stores (Trader Joe's and Whole Foods could sponsor me) just looking at their selection. Growing up in a Greek household, Mediterranean flavors are my ultimate comfort, but I still like venturing out to other cuisines. My favorite dishes I've made so far are definitely ratatouille, beef bourguignon, and chicken pho.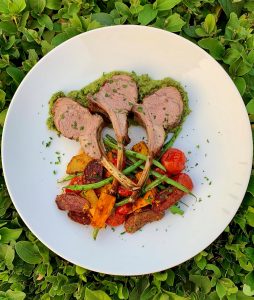 What's your favorite thing about 10Fold?
The growth opportunities at 10Fold are endless. It's crazy to think that I had just started as an intern last August, and now I've reached the SAA level, writing bylines, communicating with clients, and drafting my own pitches. 10Fold promotes employee success and pushes each and every one of us to do our best. A goal-oriented environment motivates staff to move on quickly to the next level, so long as they show that they're ready. At 10Fold, every employee is given a set of goals, created specifically for them, that they need to accomplish in a span of several months. Having criteria for what I need to get done to move up the ladder has helped me work harder and reach beyond my goals. My managers are always asking me where I'd like to get more experience in and if there's something that interests me that I haven't had the chance of trying yet.
Why did you decide to join 10Fold?
I had originally interned at 10Fold before my senior year of college back in 2019, and was really drawn to the people. I was impressed by how well the employees were treated and how the whole agency felt like a team, despite being located in different offices. Most importantly, I was truly inspired by our CEO, Susan's confidence and leadership. Before my internship, I was still uncertain of what I wanted to do after college. As a communications major, it can feel like the career options are endless and it's hard to narrow down what the best fit for you is. 10Fold helped me decide that tech PR is ultimately the path I wanted to pursue.
Unfortunately, I was one of those college students that graduated in the middle of the pandemic. Finding a job in any industry was practically impossible, as most companies halted recruiting efforts altogether. I decided to reach out to 10Fold again and our HR Executive, Bre, contacted me almost immediately, letting me know 10Fold was interested in having me start as an intern-to-hire. If it wasn't for 10Fold, I'm not sure how long I'd still be hunting down a job after college.
What's your favorite thing to do in Walnut Creek?
Walnut Creek is a pretty suburban area, but there's still a lot of things to do here. I'm sure most people would agree that Walnut Creek has one of the nicest outdoor malls in the bay area. I probably go downtown at least once a week, either for shopping, trying a new restaurant, or grabbing drinks with friends. Aside from the downtown area, Walnut Creek also has great open space trails. I'm fortunate enough to have some nice hiking spots that are walking distance from my house. I started getting into hiking this past year, so I take advantage of those trails as much as I can.
What differentiates 10Fold from other agencies in the industry?
Although I don't have any previous agency experience, my teammates are constantly telling me that 10Fold is one of the best agencies they've worked at. Everyone really cares about each other and is supportive of one another, without any sort of competition. Regardless of our level, we're all a team working together toward the same or similar goals.
Anyone who works at an agency will agree that the fast-paced agency life can make it difficult to differentiate work and personal life, especially now that we're all working from home. 10Fold doesn't just recognize that, they've taken action to promote it. We recently introduced the concept of summer Fridays, where employees get to leave early on Fridays between Memorial Day and Labor Day, so we can get back some additional hours in our week. We've also had a couple virtual offsites, including a scavenger hunt and a beer and cheese tasting. 10Fold's commitment to employee satisfaction really sets it apart from other companies in the PR industry.