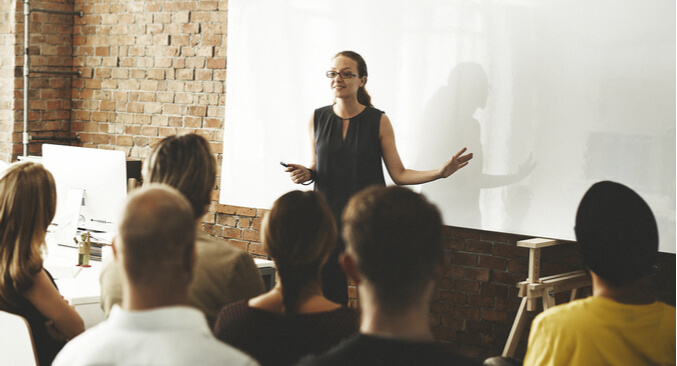 Who doesn't want to be called a 'thought leader'? Public relations, marketing, and business professionals hear the term on a consistent basis, albeit its exact definition is nuanced. Thought leaders offer one-of-a-kind insights regarding a topic, problem, or trend, with the goal of becoming the go-to-resource for that specific industry, vertical or market space. Their content is not about themselves, and they show – not tell. The thought leaders take an outside-in approach: they focus more on solving others' problems than on themselves. Sound obvious? There are many wanna-be influencers talking about how great they are, and the goal is to help you avoid that – by advising how to become a true thought leader.
WHY IS IT IMPORTANT?
In October 2017, 10Fold and Dimensional Research published research findings providing insights on content types and efficacy. The goal of the survey was to capture hard data about the role of content as part of the marketing plan, and it investigated specifics around content creation such as budget, channels, resources, metrics, media types, key challenges. Key findings include:

76% of companies will generate 3 or more times more content than last year

32% of companies release content daily or hourly

42% of companies will spend $250,000 or more on content in 2017
Looking ahead, as the importance and frequency of content continues to rise, it is crucial to ensure the quality stays on-par. This is easily achieved by identifying the thought leader within your organization.
Dig Deeper: Content Is Still the King!
Some might think C-level executives are the best fit, but there are likely others equally as valuable in your organization with ideas, passion, and experience that may be credible thought leaders. The overall goal is to bring a new perspective to the table, so it is important to not repeat what everyone else is saying. To achieve this and find the ideal candidate, look for the individual who has a perspective that dives deeper than the surface of a topic or trend.
WHAT'S NEXT?
Pick a topic – take note of interesting conversations, with colleagues, partners, customers and more. The most interesting ideas might follow a conversation you didn't expect. Additionally, scan the industry, stay up to date of trending topics, and attend/speak at industry events for new insights from industries or technologies you normally don't come across.
Establish credibility – to have people see you as their go-to person for relevant industry insights, you need to ensure you know what you're talking about. A great way to achieve that is back-up from trustworthy, informed third-parties such as academics or industry analysts.
Target your content – create communication channels that connect you directly with your desired audience, customer, client and supporter segments.
Consistency is key – you don't become a thought leader overnight. Stay consistent, post frequently, make predictions about the future, and explain to people where you think the industry is headed.
Pick your platform – the rise and evolution of social platforms provided us with a wide variety of options. In addition to blogs or vlogs, you can now also use: Twitter, LinkedIn, and Medium to name a few.
Want some more? Check out these example pieces by The Qt Company, Coresystems, and FogHorn Systems.
Navigating the nuances of the Internet of Medical Things
The new reality of connected field service
Taking Machine Learning to the Edge
Looking for more great insights? Check out some of our other content here, and subscribe to our email list below: