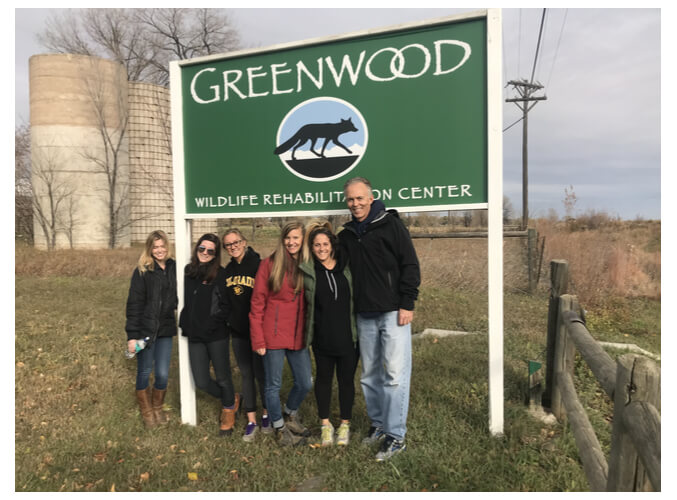 We're excited to kick off this month with the spirit of November in mind – giving thanks! As part of 10Fold's month of charitable work, the Denver office traveled to Greenwood Wildlife Rehabilitation Center in Boulder.
Greenwood Wildlife Rehabilitation Center is a nonprofit organization devoted to the rehabilitation and release of orphaned, injured and sick wildlife. They are the largest wildlife rehabilitation center in Colorado, treating over 3,000 mammals, birds and waterfowl representing about 200 different wildlife species a year.
And guess what? They don't go out and find any of the animals. Loyalty from the community is so great that individuals from all over Colorado hand-deliver injured animals that they find in their backyards, on the side of the road, and in other places. The Center provides much-needed care for critically injured animals of a variety of shapes and sizes – from medium-sized mammals like coyotes, down to tiny chipmunks, birds and waterfowl like swans and pigeons – that would otherwise die if not nurtured back to health.
Since it's nearing the end of the year, the Center has already released most of their rehabilitated animals back into the wild. Also, the influx of injured animals had slowed down, meaning we were tasked with organizing and cleaning the Center's facilities for the upcoming rush of animals next spring.
SEE ALSO: 3 Best Practices for B2B Social Media
We put on our gloves and got to work! Half of our six-member group cleaned the raccoon quarantine room. The other half were tasked with cleaning the kitchen where all the food for animals is kept. Luckily, there were no racoons on the loose (just a few creepy-crawlies)!
In fact, the bugs are the Rehabilitation Center's sustainable approach to food for their smaller animals, which was particularly interesting to learn! The Center is fully committed to "growing" maggots and other larvae and beetles to maintain a constant food source. Yum, right?
We were fortunate enough to meet some adorable animals such as: a northern flicker, a beautiful white swan and several squirrels. Out of all the squirrels, Louie and Gnocchi were our favorites!
It was an eventful day for the Denver team, and we encourage everyone to get involved.
To learn how to get involved with the Greenwood Wildlife Rehabilitation Center, visit their website: http://www.greenwoodwildlife.org/get-involved/