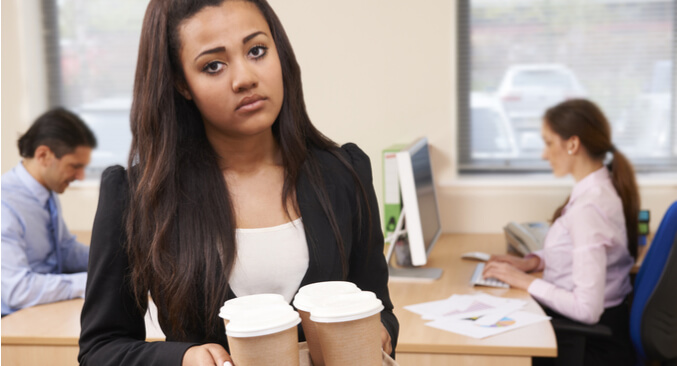 Now that we have established that an internship is definitely a good idea, let's talk about how you know you are choosing the right one. Here at 10Fold, we know what it takes to make an internship an experience that ensures you grow as a professional and gives you a realistic expectation of what your future career will look like. Here are just a few of the perks that a 10Fold internship provides:
Dedicated One on One Meetings with a Mentor
Every junior member of the 10Fold team is assigned a mentor to show them the ropes when they first come aboard. Meetings between the two happen regularly and offer a helping hand as well as a resource for answering any questions or dealing with situations that are challenging for our staff. Each week, you have the opportunity to discuss what is challenging for you and ideate on potential solutions. Additionally, you are getting feedback on how you are doing against your goals.
A Clear Advancement Structure
Interns are not expected to read minds, 10Fold lays out very specific goals to be considered for advancement, and these are made clear to new interns on their first day. Most importantly, these criteria are centered around building your public relations, social media and writing skills. Interns also have the opportunity to work with important software tools such as Nuvi, Meltwater, Cision, FollowerWonk, and others. Beyond learning skills and software, the internships at 10Fold are great because we actually work on client projects – what we do makes a difference in how the senior team delivers results. What we do matters – and it prepares us for doing even more, faster.
Unique Company Culture Events
10Fold has awesome offsite events that foster a culture of inclusivity and fun for the entire team, including the interns. These team-building exercises are always fun, and are at the coolest venues! Our latest offsite was at the Tonga Room in San Francisco where we had a fun white elephant exchange, a live band played, there was great food and bottom-less drinks, and more!
10Fold also hosts great and unique events like the Media SharkTank where we meet top press members, VC's, and innovative tech execs. These events give our team insight into our industry and put us a step ahead of our competitors. Oh, and did we forget to mention our notorious #Wine30 breaks on those stressful days?
Cheers! Happy Wine 30 from some of the SF team at @10FoldComms! #TGIF #PRlife pic.twitter.com/UgaYi9XzKT

— Katrina Cameron (@KatCameron91) September 29, 2017
Oh, and one more thing… the internship is paid!
Sound like our workplace is something you could thrive in? Check out some more information on each listing we have available.
Enjoy your read? Check out our other content here.