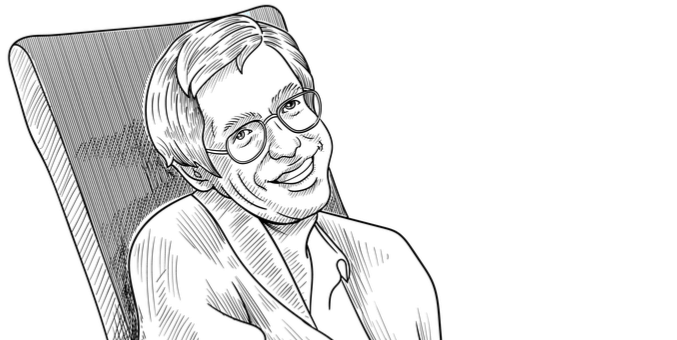 The Contributions the Late, Great Stephen Hawking, the renowned physicist, cosmologist, and author, made to the tech industry
This Wednesday, Hawking, who had ALS, died at the age of 76. During his lifetime, he became what many considered the world's greatest living scientist, and was widely known for his ideas about the universe (including theories about the big bang and black holes).
Hawking and his extraordinary ideas inspired many, some of whom, including big names in technology like Google CEO Sundar Pichai and Apple CEO Tim Cook, turned to social media to pay tribute this week. But why was he so respected within the tech community? Even though most of his contributions were related to science, his clever insights regarding the future state of technology made a significant impact.
How Technology Helped Him
Hawking's used a wheelchair to move around after his disease left him paralyzed, and he was dependent on others and technology for most everyday tasks. Hawking lost his ability to speak when he caught pneumonia on a trip to Geneva. He started using Equalizer, an innovative program by California-based company Words Plus, that allowed the user to select words and commands on a computer using a hand clicker, linked to a speech synthesizer. As his disease worsened and his ability to communicate declined, Hawking met with Intel, who applied state-of-the-art computing technology to improve his communicating speed with the use of a keyboard on the screen and a word-prediction algorithm. This system later improved with modern artificial intelligence (AI) and machine learning technology.
His Commentary on Artificial Intelligence
According to Quartz:
"Despite the help machine learning gave Hawking in communicating, the physicist was somewhat pessimistic about the technology's potential impact on society. He was known for his skepticism of developing "strong AI," or general artificial intelligence, that would have similar reasoning capabilities as a human."
Thanks to his innovative, assistive technology, Hawking could share this views on the future of computing and how technology improves the way we live. He believed that everyone played a role in engaging current and future generations with the study of science to create "a better world for the whole human race." He predicted that technology could reverse harm caused to the planet by industrialization and help end disease and poverty, but AI needed to be controlled. He said: "computers can, in theory, emulate human intelligence, and exceed it." Hawking's comments were part of the escalating debate about the pro and cons of artificial intelligence, also commented on by technology innovators like Elon Musk and Bill Gates.
Stephen Hawking took the world on a remarkable scientific journey through the universe. He was a brilliant scientist, a great communicator, and his revolutionary ideas and arguments were inspiring to the scientific community and beyond. Although he will be missed, his legacy will live on forever.
"Remember to look up at the stars and not down at your feet. Try to make sense of what you see and wonder about what makes the universe exist. Be curious. And however difficult life may seem, there is always something you can do and succeed at. It matters that you don't just give up." – Stephen Hawking
10Fold salutes you, Stephen Hawking, you will be missed!
Need more great insights? Check out some of our other content here, and subscribe to our email list below: