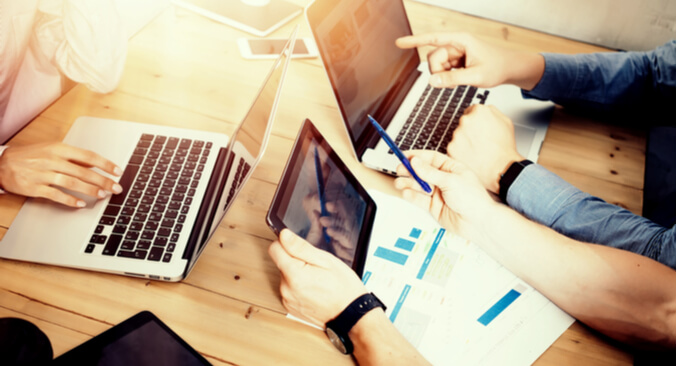 Most Prospects Purchasing B2B Tech Do Their Research BEFORE They Talk to Any Vendors – Content is the Lynch Pin to Ignite Sales
10Fold recently commissioned a survey with Dimensional Research to better understand U.S. tech marketing executives' plans for content as part of their marketing initiatives for the coming year. We uncovered five interesting trends – all that surprised us, and will definitely surprise you too! In this first blog, we'll be discussing the amount of content marketing execs have planned for the next 12 months.
First, a bit about our research.
Survey respondents included 172 U.S. technology marketing executives that had both budget and approval authority over content development. Vice Presidents of Marketing, CMOs, and CEOs all qualified as participants. Responses were evaluated as a whole and based on company revenues, vertical market focus, and headquarters location.
But, here's the punch line.
Seventy-six percent of tech marketing executives expect to TRIPLE content production in the next 12 months. Let that sink in for a moment.
10Fold had a hunch that demand for content was increasing, but even we were surprised that these tech marketers were planning an increase of 300 percent. We think that it's largely based on the pivotal role content is having in the B2B sales process. A new report from Forrester suggests that prospects have completed more than 50 percent of their buying process BEFORE they ever speak with the vendors they are considering.
Dig In: Content is Still the King!
The line of site is pretty clear: Companies need to produce more videos, blogs, and articles detailing customer successes, technology differentiation, and vendor stability so that when the research is complete their name ends up on the short list for that RFP.
But how are they going to produce all that content? Over 40 percent of our respondents claimed they plan to have at least a $250,000 budget dedicated to content next year and 90 percent suggest that will be an increase in budget.
One more thing: It's not just the big companies that plan to spend on content – small companies also have aggressive plans to produce content.
For additional information about content quantities and budgeting, including budgets for small companies, check out our full report here. As we approach 2018 and begin to finalize marketing plan and budgets, consider taking your content marketing to the next level.
This blog is the first in the series, Content is Still King.
Looking for more great insights? Check out some of our other content here, and subscribe to our email list below: