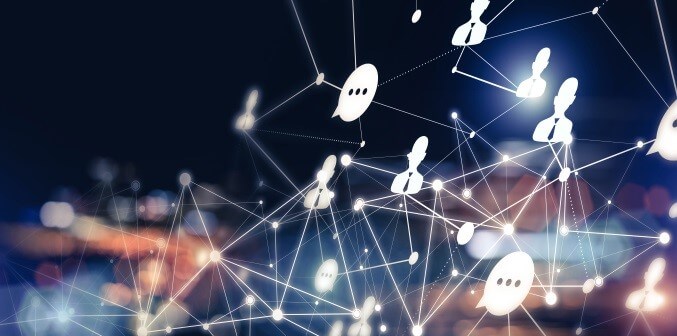 "Dark social" – sounds dangerous, right? Although it may sound like a new hacking technique, it's actually a recently developed term that refers to social media links that are shared outside of the social platform, which prevents tracking. Meaning – you are getting shares that lead to website clicks – but you are in the dark as to where the traffic has come from. For an official definition, Techopedia suggests:
"Dark social […] refers to the social sharing of content that occurs outside of what can be measured by Web analytics programs. This mostly occurs when a link is sent via online chat or email, rather than shared over a social media platform, from which referrals can be measured."
Let's Break This Down a Bit
So, essentially dark social refers to sharing social links that marketing analytics miss when people share content through private channels such as instant messaging programs (Skype, Join.me), messaging apps (Facebook Messenger, WhatsApp, Slack), and email (Gmail, Outlook, Yahoo etc.). The 'dark' traffic originates from someone sharing a URL but is essentially "miss-marked" as direct traffic by marketing platforms and tools. Why does it matter? Direct traffic arrives at a site without a referrer and, of course doesn't contain referrer data. This means that instead of going through a URL, the user directly types (or copies) the URL address into the search bar. As noted by Simply Measured:
"In the early days of the web, everything was link-based, so we either discovered something via search, via link, or we went to the site directly by typing it into the browser or via bookmark. […] if a site visitor arrived at the site without a referrer s/he had to be a direct visitor. But this is […] before the rise of mobile."
Dig In: 3 Best Practices for B2B Social Media
Now with the help of private, mostly mobile, channels there are many new ways a visitor can arrive at a site without going to the site directly (for example, a colleague Slack messaging a recent industry announcement). "These methods don't automatically attach any tracking tags unless the shared link was copied with the tag included (if you were to copy the URL of an article that I originally found on Twitter, including the UTM parameters attached to it)", says Hootsuite. According to RadiumOne, dark social shares as a percent of on-site shares jumped from 69 to 84 percent globally over the last couple years. If you notice a large amount of traffic labeled 'direct' in Google Analytics, dark social may be the reason. The problem is, of course, it's hard (meaning: nearly impossible) to replicate the techniques you used to get the "direct" traffic — so if 20 percent of your sales are coming from 'direct' there's very little you can do to repeat that performance.
Now that we know what Dark Social is…how can you shine the light on the data?
If your day-to-day job includes publishing content online (marketer, social media manager, entrepreneur, content specialist or something similar), you want to know where your traffic is coming from. Encouraging social sharing is the primary goal of your efforts, and tracking how people (ideally prospects) are finding you matters more than ever. Furthermore, understanding your audience and their sharing habits will significantly improve how you reach them in the future.
Dig In: Becoming an Industry Thought Leader
The good news? There are strategies that will help you qualify where website visitors came from. Here are just a few ideas:
Shortened URLs – use Bitly (also included in Hootsuite) which creates a unique link – averaging between 15-20 characters – with tracking capabilities
Social share buttons
Specific analytics tools (for example Simply Measured, Buffer, or Oktopost)
Also, SearchEngineLand offers a straight forward formula for you to identify your estimated dark social traffic:
When properly mined, dark social data can provide the same interesting insights about your prospects that our clearly marked referring traffic provides. It may take a bit of work, but it is definitely valuable to identify these visitors, and how you can use this information to further improve your social reach and create better connections with your audiences.
Looking for more great insights? Check out some of our other content here, and subscribe to our email list below: