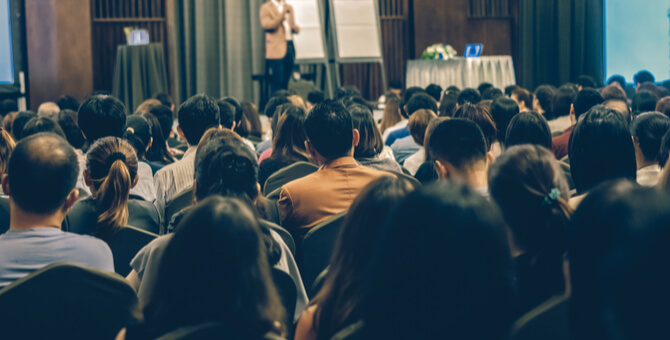 The efficacy of social media is generally underrated by the B2B marketing community. Too often the common consensus when it comes to building a social media presence, regardless of the goal, is to post relevant industry trends, relay company news, and perhaps distribute a few original blog posts every now and again.
10Fold has addressed best practices in 'Building a Social Media Plan – Content is King' and 'How Do I Prioritize Social Media Metrics?' and now we're focusing on the power of live-tweeting from industry events. Tradeshows and other industry events are some of the most powerful opportunities to borrow credibility and exposure from an event and showcase your brands thought leadership. However, every time events like IoT World, VMworld, and Brainstorm Tech come around, to name just a few, Twitter is full of tweets that clearly don't fully leverage the reach of the event. Find 10Fold's best practices for live-tweet events below.
Before
Before heading to the event there are some obvious but often overlooked steps to take. For a start, make sure your brand's followers and your colleagues know you will be attending or presenting to maximize engagement and reach! For starters, this means promoting your company's presence at the conference or tradeshow across all social channels at least two weeks before the event. Be sure to share key details such as your booth number, speaking sessions or panels and the times and dates of any activities you are involved in. And don't forget to share the event hashtag in all posts, and handle in some posts, to ensure that attendees following the conversation are in the know.
If someone from your company is speaking during the event, use their presentation deck or talking points to pre-draft content so you don't have to worry about typing as quickly as the presenter can speak (your thumbs can only move so fast!). Make sure you have the speakers' Twitter handles readily available so you can tag them in posts during the show.
We also recommend drawing up some notes on major topics and stats to reference so you're armed with plenty of knowledge on the topics that will be covered before you start live-tweeting. You can save your pre-drafted tweets in your preferred notes app, like Evernote or Google Docs, so all you have to do is copy, paste, and attach a photo before sending out the tweet. Trust us, your followers and anyone seeing your tweets for the first time, based on use of the event hashtag, will be impressed by how many well-written and thoughtful tweets you were able to post. This will help you avoid random posts like the following:
https://twitter.com/anide89/status/1022592392392626176
Last but not least, make sure to charge your phone and pack a portable charger! Tweeting all day will suck up your battery, and you don't want to miss anything important while you're charging your phone in the corner!
During
Be prepared for and be on the look-out for fast-emerging opportunities such as a spontaneous Facebook Live interview or entertaining activity at the booth that you should promote (see Itron at IoTWorld below).
Join the #Itron #IoTLive World Tour & get a t-shirt! During the tour, you'll learn how innovators around the world are joining the Itron Developer Program. Stop by booth 510 for a demo. #IoTWorld pic.twitter.com/na4LYYWfix

— Itron, Inc. (@ItronInc) May 16, 2018
In addition to using the event hashtag in every post so that attendees following the hashtag will see your posts, also use other relevant hashtags to broaden your audience and attract engagement from Twitter users who are in your same industry but aren't attending the event. For example, during IoT World the following hashtags would be most appropriate: #IoTWorld, #IoT, #IIoT, #SmartCities and #SmartGrid.
It's easy to get distracted by all the sights and sounds of a tradeshow event, but don't forget to capture all the excitement for your tweets! Take several photos and videos of speaking sessions, panels, the tradeshow floor and of course your booth and signage showing attendees, media, partners, customers engaging with your brand. Remember, either clear your beloved cat photos or store your event images on the cloud or a laptop when your phone starts running out of space while you're at the show!
Although your pre-drafted tweets will be really helpful, don't forget to draft occasional live posts the relate to the event at large and not just your company. These posts can catch humorous, on-the-spot insights and quality quotes from speakers and panelists. Listen for great one-liners or comments that nicely sum up an issue or industry and be sure to include comments from notable thought leaders. Tweet these nuggets and tag the speaker. This can boost your engagement and increase your chances of gaining followers during the event.
Typos and mistakes can happen when you're tweeting up a storm. Have a colleague proofread your posts before you hit send. If you're solo at the show, text the content to your colleague or a trusted copy editor. Unfortunately, Twitter doesn't allow users to edit posts and you don't want to delete content after it has already received engagement.
After
The fun doesn't stop when the event ends! Remember to tag and mention the event panelists in posts recapping their ideas and attendance, as well as any reporters and analysts that may have stopped by your booth. This may seem like a small gesture towards these individuals, but it helps to maintain your brand in the minds of these influencers, and firmly establishes that you will engage with them and their content in future interactions you have. Taking every step possible to maintain influencer relationships can lead to great results. Find more information on that in Reciprocal Relationships: The Key to Influencer Partnerships that Work.
This will give you a great starting point for your live tweets, but there's so much more for us to cover! Come back to the blog soon or subscribe to our blogs newsletter below for more content on ghost live-tweeting, measuring your social media programs success, and many more B2B PR and marketing insights!
By Katrina Cameron and Tyler Trainer