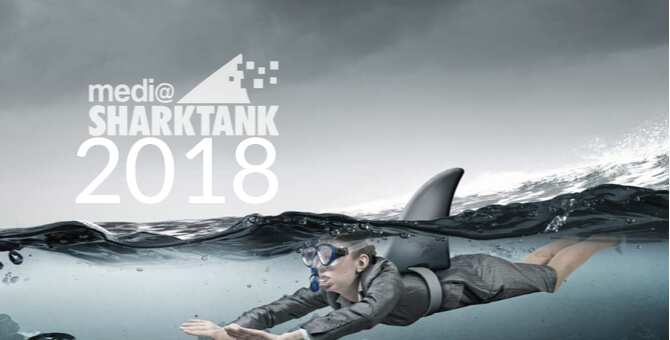 Pitch your story to top broadcast and business press at 10Fold 's annual Media SharkTank charitable event. SharkTank, now in its eighth year, allows executives to "test" their business pitch and receive feedback from the experts. Join us on October 25th at the Palace Hotel in San Francisco to deliver your three-minute pitch to an expert media panel who will tell you what did and didn't work in telling your story and how to do it better next time. This type of feedback is invaluable and rarely offered.
Who will be there?
10Fold has lined up some of the most coveted, top-tier 'Media Sharks' in business and broadcast journalism for first-hand feedback on your pitch. The panelists confirmed so far are:

Jon Swartz, Senior Writer – Barrons

Sean Captain, Technology Journalist – Fast Company

Scott McGrew, Technology and Business Reporter – NBC Bay Area

Don Clark, Contributor – New York Times

Dean Takahashi, Lead Writer – Venture Beat

Chris J. Preimesberger, Editor Features & Analysis – eWeek

Heather Somerville, Technology Reporter – Reuters

Michael Liedtke, Technology Writer – Associated Press

Connie Guglielmo, Editor-in-Chief – CNET News

Kym McNicholas, Editor At Large – Vator.tv
Sounds great! What do I do now?
Pitch the Media SharkTank:
Participating companies are asked to donate only $1,995 for the opportunity to interact with the media, in this educational format by participating in the SharkTank media pitch. By making this donation, the executive spokesperson will present to eight of our elite judges (four judges per session and two sessions) and may even have the opportunity to catch a story of their own.
Not ready to pitch? Attend the Media SharkTank reception:
Network with the media panelists and B2B tech executives while enjoying a cocktail reception and hors d' oeuvres by making a $595 donation to the San Francisco BayKeeper. Industry analysts and VCs in-the-know also regularly attend 10fold's Media SharkTank event, so don't be square!
All proceeds from the event will be donated to the San Francisco BayKeeper chapter, which keeps our bay and the communities that rely on it safe and healthy.
Ready to register? Find more details about the event and our panelists here, and watch a short video recapping past events below!
Don't forget to subscribe to our newsletter to get our content and other updates straight to your email as soon as it's posted!