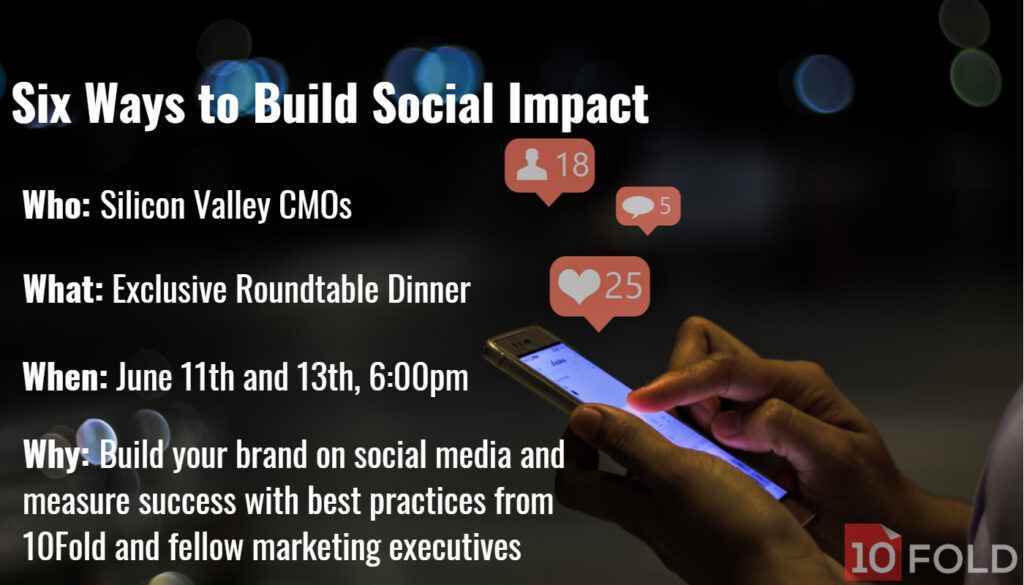 Social media is becoming a bigger priority in B2B marketing, and it's vital to have a clear direction to get the most out of social media campaigns. We know that it's important to be hands-on and proactive with social media, so we're putting together a roundtable dinner discussion about the value and best practices of social media marketing. Join us for a night of informative debate and insight into "Six Ways to Build Social Impact:"
Social personas offer insights for sales engagement—How do you structure your content development? Are you writing for your audience(s) or are you writing for engineers that develop the technology? By creating audience personas, you can tailor your content to them.
Paid and organic go hand-in-hand—So many companies promote posts before understanding their efficacy on an organic basis. 10Fold's philosophy is don't promote what doesn't work! Double down on what is strongest and what is performing well already.
Audit content to evaluate efficacy—If you are like most CMOs and VPs of marketing, you are constantly answering the question about what you are getting for your communications spend. An audit provides valuable insights into audience preferences and efficiency can be gained from an in-depth look at posts.
Media, analysts, and customer influencers maximize impact—Leverage the trust of influencers in your social programs, but don't limit that to one single category of influencers. Engaging with influencers whom your audience trusts can drastically increase your impact.
Visual media and hashtags boost performance—Visual assets give your content more appeal, but what strategy and voice are you communicating? Make sure your assets compliment the content to increase post performance.
Audience size DOESN'T matter as much as engagement—Having a ton of Twitter followers doesn't mean much unless you're getting engagement. Get the most out of your posts by making sure your Audience will engage with your content.
The Event:
What: Enjoy a delicious dinner and drinks as we discuss the opportunities with social media and how it can deliver marketing and sales impact.
When: 6:00 PM Tuesday, June 11th
Where: We have reserved a popular restaurant in the San Jose area. Address given upon approved registration.
NOTE: Space for the roundtable is very limited, so please register below or on the event page ASAP to reserve your spot!
CMO Dinner - Social Media
This is not a sales event; rather, we'll be leading the discussion and posing questions to the group to learn from one another. We look forward to seeing you on the 11th!
Don't forget to subscribe to our newsletter to receive our content straight to your inbox as soon as it's posted!