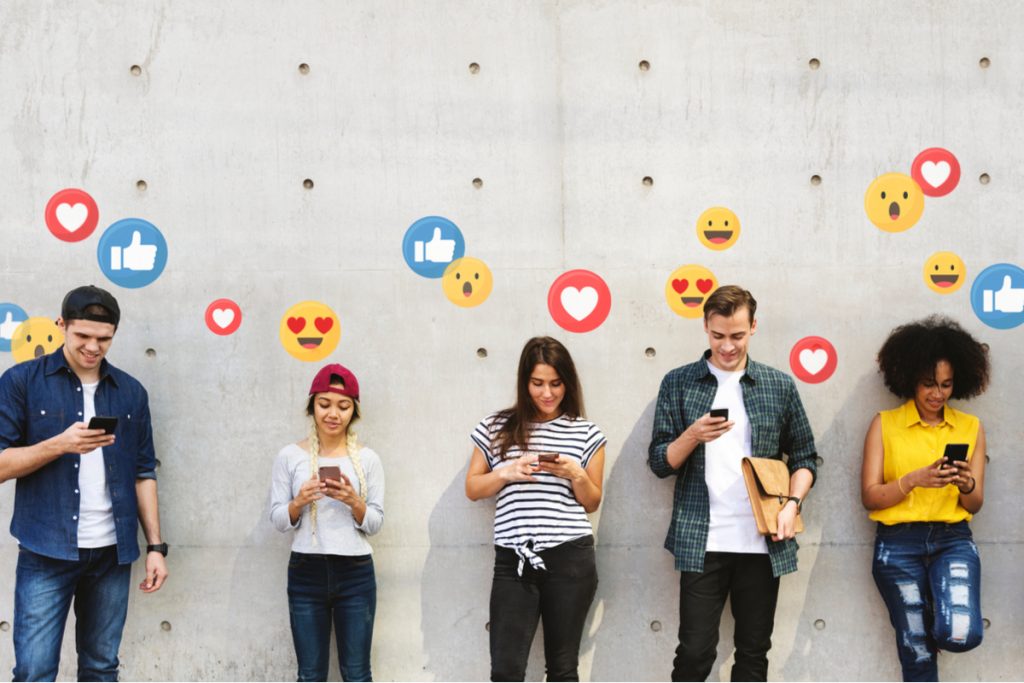 Is your social media team having trouble interacting with influencers? A few years ago, we posted a blog titled "How Do I Build an Influencer List?', which received a lot of traction and sparked valuable  conversations at our Social Media CMO Happy Hours. Recently, we've found new ways to leverage two of our favorite social media tools to get even better results.
Leveraging Brandwatch Audiences
In an effort to better identify and qualify potential targets, we're now using Brandwatch Audiences, which is a tool from Brandwatch, another favorite social media analysis tool by the 10Fold team. While we've trialed a number of tools, Brandwatch Audiences allows us to identify an Influence Score, which is a measure of how often a user is mentioned on Twitter. This is an incredibly useful metric for several reasons. First, with the Audiences tool, we can determine if a user has genuine interest from their own audience and if they are a thought leader whose content is widely shared among your company's prospects. This means you won't fall into the trap of mistaking a person that has a lot of followers (that might not even be relevant or real), for a true influencer. It also assures you that they have a sizeable audience and the audience believes in and shares the content from that influencer.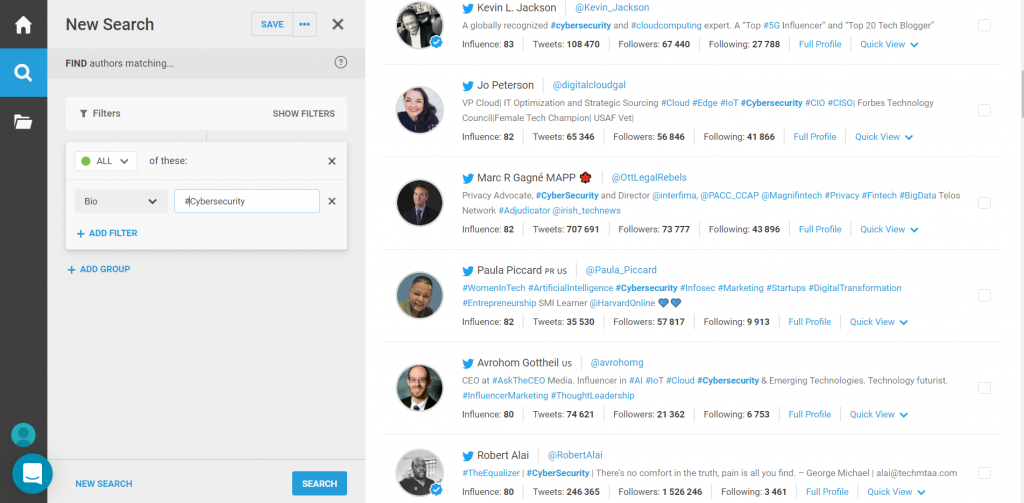 Second, the follower demographics data provided on each individual influencer is extremely useful in determining if the influencer is a fit based on your strategy. The demographics data includes the top professions, interests and keywords that their followers most commonly use in their bio. This allows social media teams to see a more in-depth view of whether the majority of the influencers' audience is interested and will engage with the content you propose that they share, whether it is a paid or organic engagement.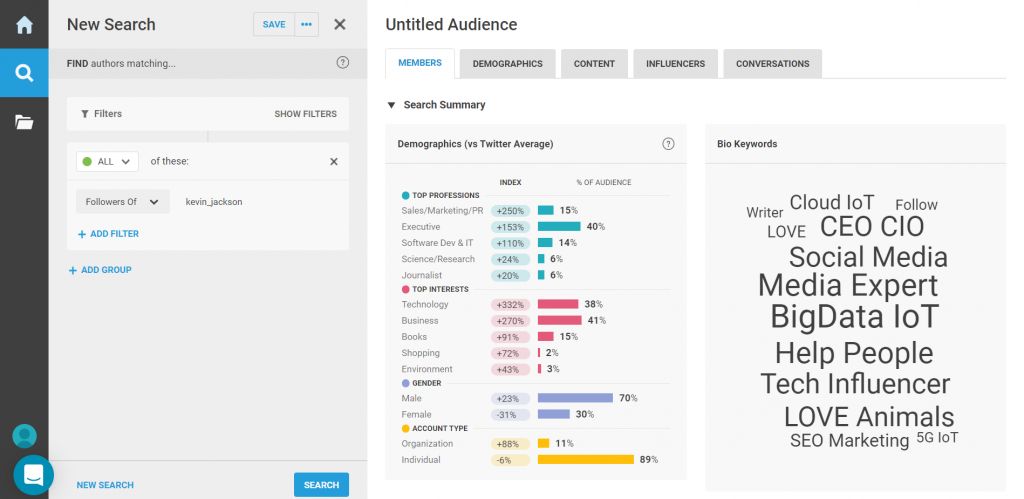 RELATED EVENT: Social Media Marketing CMO Happy Hour September 17th
Finally, you can drastically reduce the time you spend on identifying additional influencers that follow the original influencer you were targeting. Because influencers tend to engage and follow those who participate in similar conversations and content tracks, this method will create an opportunity for you to engage with quite a number of new influencers in a very short time. After adding a few filters, you can eliminate irrelevant users and focus in on those influencers who are most related to your campaign objective.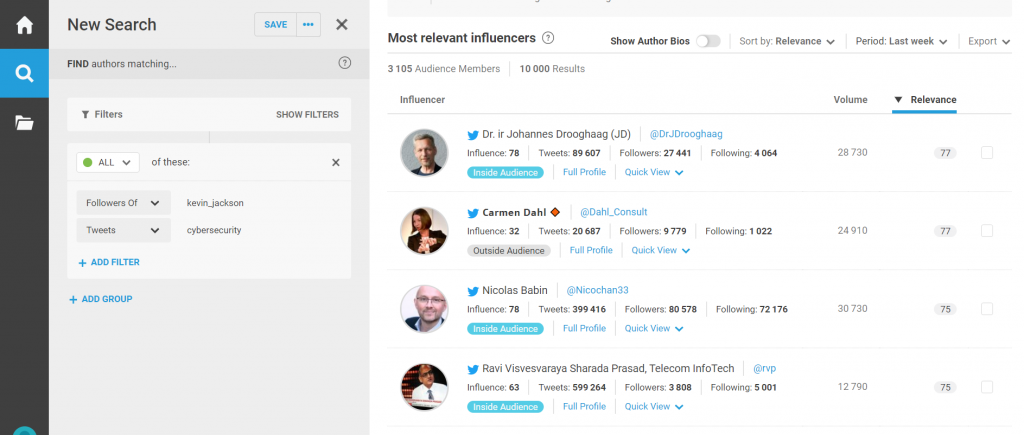 RELATED: Common Social Media Marketing Misconceptions for B2B Tech
Followerwonk Comes in Handy for Influencer Campaigns
We have found a valuable new use for Followerwonk since our last post on this topic.  Now we use the program to qualify your initial influencer selections from Brandwatch Audiences.
After finding our top influencers based on social influence or relevant audience, we use Followerwonk to determine an influencers' Social Authority score. Social Authority is a measure of an account's engagement and provides a great way to qualify a person's Influence Score and ensure they are receiving regular engagement from their audience. This is different than the Brandwatch Influence tool mentioned above, which identifies the number of mentions.  If an influencers' Social Authority score is high enough, we can be certain that engaging them will be much more likely to reach your company's prospective audience.  Influencer scores can vary widely, depending on the topic, so you'll have to determine top influencers using the methods described above.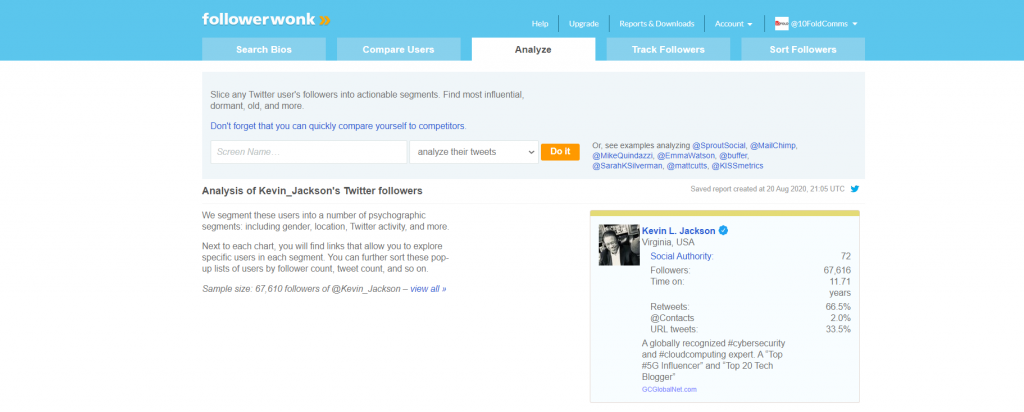 We also use this tool to verify if an influencers' audience is influential. This can be a very important metric if a campaign goal is to maximize the reach of your content. Shares from high engagement accounts can help to build more impressions, likes, retweets, and other engagements which are favorable to Twitter's algorithm and will help your company's tweets reach more of your target audience in its own organic posts.

We know that trying to build an influencer list can be a difficult task, but we hope these tools can assist your social media team in simplifying the process!
Looking for Next Steps?
Download our checklist on social media best practices below:
Don't forget to subscribe to our newsletter to get our content and other updates straight to your email!