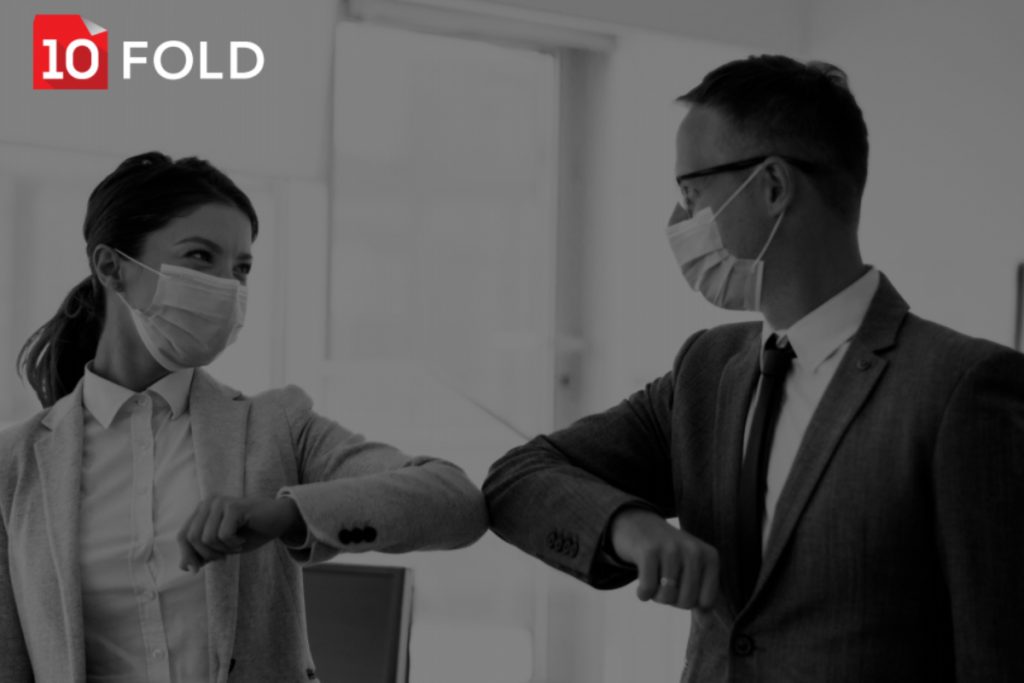 Without a doubt, COVID-19 had a tremendous economic impact this year, with businesses tightening budgets across the board, conducting layoffs and rethinking their 2020 revenue plans. Today, 10Fold released its 2020 CMO Report which reveals the way business-to-business (B2B) technology marketing leaders have adapted to pandemic-induced challenges – including shrinking budgets, demanding KPI numbers, and fewer options to achieve these KPIs.
To gain a deeper understanding of how CMOs are coping with the challenges brought on by COVID-19, 10Fold surveyed 150 marketing executives from B2B technology companies, which represents approximately 5% of B2B technology companies in the U.S.    
The 2020 CMO Report Reveals Four Key Takeaways:
1) Most marketing budgets were lowered, but KPIs/goals remained the same as before the pandemic. 
2) CMOs are falling short of their original KPIs based on the business impacts of COVID-19, yet most remain optimistic about hitting year-end goals.
3) Looking ahead to 2021, CMOs plan to continue to move away from in-person events
4) Only 49% of CMOs surveyed believe they will get a bonus if they achieve their KPIs, and just slightly more, (50%) believe there will be a consequence if they don't achieve their KPIs.
Same Results, Less Budget, More Problems
The report revealed that 91% of surveyed CMOs measure goals by using KPIs, and 60% of those executives confirmed their KPIs remained the same, despite the COVID-19 challenges including  cancellation of in-person events and work-from-home mandates that may have had an impact on productivity. Making matters even worse, 61% of marketing budgets were reduced due to the pandemic, but only a quarter of respondents reported reduced marketing KPIs. In fact, 10% of marketing leaders even reported their goals and KPIs increased, even when budgets stayed the same or were reduced.
CMOs Are Feeling the Pressure
Given all these challenges, it's surprising that the majority of CMOs still expect to achieve either the original or revised KPIs. However, less than half of that group expects to receive a bonus this year.  However, despite the business challenges of COVID-19 and budget cuts, most CMOs surveyed are achieving the original or revised performance goals. Of those achieving goals so far, more than half were meeting revised KPIs and less than half were meeting original KPIs.
Looking ahead to whether 2020 year-end goals will be met, one-quarter of respondents were not sure, roughly 5% said they would not achieve them, and 70% were optimistic that they would achieve their KPIs. This means that CMOs may need to have conversations with their executive team about adjusting goals if they still haven't reached their metrics in the next month or so.  
All the Pain, None of the Gain
When asked about rewards and consequences associated with meeting KPI targets and goals, 72% of the respondents did not know, or were sure they would not receive a bonus for achieving the target metrics.  About the same number, 71%, of respondents felt there would be a negative consequence, or were uncertain if there would be a negative consequence, if they didn't deliver the expected results and meet their KPIs this year.
Virtual Events Are Here to Stay
Nearly all respondents say that the pandemic has forever changed the way they will allocate marketing budgets in the future. When asked about the strategies these CMOs used to cope with the pandemic, nearly all reported redirecting budget designated for conferences and regional tradeshows toward virtual events and webinars. When budgets were cut, most of the executives slashed conferences (of course), but also digital ads, public relations and paid social media programs.
The normalization of virtual events and conferences has been a significant byproduct of COVID-19. Even the largest consumer electronics show, CES, has announced it will be completely virtual in 2021. Meanwhile, lots of organizations are adopting a hybrid approach where events are half virtual with small in-person gatherings. 
What can CMOs Expect for 2021?
When asked about planning for 2021 and beyond, 79% of respondents said that the pandemic has changed how they budget for marketing programs for the future. Specifically, CMOs will still have to deliver leads and results with less budget, but they will have adapted their post-COVID strategies to focus on the most impactful and engaging channels, such as non-paid social media, webinars and virtual events. The data in this report showcases the "do more with less" pressure that tech CMOs are facing today and how the current business climate will greatly affect 2021 planning. One thing is very clear: CMOs are not planning to factor in in-person events or lead-generation initiatives heavily into their 2021 budgets and they will focus more on digital initiatives that can be easily measured.
To view the full 2020 CMO Report findings, please find it below: